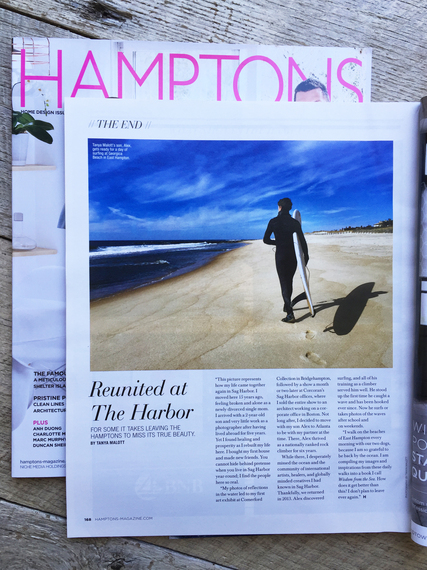 How appropriate to see this story pop up in my Facebook feed, from a year ago today. Though I still hurt at times, I'm ready to tell my truth and move on. Hamptons Magazine published this story I wrote about my healing journey after my 2001 divorce that originally led me to Sag Harbor. The article title "The End", refers to Montauk at the end of Long Island, and also the last page in the magazine, but ironically that day turned out to be 'the end' of my then decade-long relationship. The day I saw this story was to be our last as a couple.
The next day, just a week before the 10th anniversary of our first date on a nearby beach, as we walked our dogs for what turned out to be the last time, I discovered that my 55-year-old love had been secretly dating his 28-year-old coworker for months. My intuition had seen it coming when we all briefly worked together six months earlier, and I saw her openly flirting with him. I figured she was too young and I brushed off my intuition. I noticed, but ignored, his tiny little signs of disengagement like taking our photo off his phone screensaver, and no longer addressing his emails to me with "my love". Yet I suddenly felt like I was hit by a truck, living in a cliché midlife crisis story, and feeling unbearably shattered that someone I loved, trusted and so deeply respected was choosing to behave this way after so many years together. I knew I wasn't the first woman to suffer this fate with him, but I thought we both had learned to do better from past painful mistakes. I never imagined this would happen to us. Did I bring it upon myself? I felt angry at him, even more angry at her, I blamed myself, and for the next year my feelings traveled all over the map.
I was determined to find the silver lining, even from the beginning of this breakup. I don't always remember to embrace it, but I always believe there is one. In bed, the night before I guessed the truth, I had read a passage from Abraham-Hicks ("I Am Getting Divorced and Feel Lost") about how the ending of any relationship opens the door of opportunity for a better relationship for both people, sometimes with the same partner, sometimes with a new one. What an odd but appropriate choice of bedtime reading that turned out to be. For a long time, I hoped for a better relationship with the same man. But truthfully, I wanted him to come back different, more emotionally available, more vulnerable and honest, more expressive of his feelings. In short, I wanted him to be different, which is not the same as truly loving him as he is.
At the same time that my heart was breaking, and I was clinging to some hope he would return and we would rebuild in new ways, I had other days when I thought of our breakup as the day I was set free, free to have a bigger and better life without him. I wanted someone willing and able to share his heart more fully with me, someone willing and able to work through difficult patches. That wasn't the relationship we had, but it was the relationship I wanted. Perhaps I was receiving the very gift I desired most. I began to wonder if he needed to leave my life, simply to make space for me to have this better relationship I imagined.
With a sometimes clear mind and a very determined heart, I felt ready to open up and communicate more honestly with my love. I wrote him long and loving letters about so many of the things I wished we had been talking about for years. But he had truly moved on with the young woman, and could not hear me. He had no interest in trying to fix what went wrong between us that had led to such a breakdown in communication. In the face of a challenging time in our relationship, he ran. More importantly for me, though I could not change the outcome, I noticed that my instinct was to stay, forgive, and take on the challenge to go deeper and head on into the problem. I had trouble imagining my life without him, but now I had no choice, and maybe that could be a good thing. My heart ached for months on end, but I considered the idea that his departure was actually a gift for me. Maybe he could never be the open hearted and loving man I wanted him to be, but maybe I was becoming the open hearted and loving woman I always wanted myself to be.
I look back and see how I slowly shut down over those 10 years too, how I ate and drank too much and gained unwanted weight to protect myself from the pain of thinking I might be in the wrong relationship, how I stopped writing or speaking my truth and sharing my dreams and vulnerabilities, how I gave up so many activities I once loved, how I pretended all was fine but I had stopped feeling like my radiant self long ago. I gave away so much of my power in that relationship, and I put him on a pedestal as if his past achievements meant that he was the important one and I was simply his 'plus one'. I had abandoned myself over the years, to the point where I felt quite numb. This shakeup was probably the only way to jolt me out of my funk and back into living my life with the passion and intensity I once had.
Our connection never felt like a perfect match, but I cherished his tender, traumatized heart and could see the beauty of his soul so I always believed he was worth the compromises. I do tend to see the best in everyone. I imagined that after my son left for college we would live together again, reconnect as a couple and re-ignite our spark together. In these last couple years, I had pulled away from him because I found deeper and more meaningful communication easier with other friends (mainly female). Since our breakup, I have learned so much more about myself and about what I do and do not want in a life partner. But I didn't want to start over with a new man, I wanted to break new ground with the one I had. I could forgive whatever happened, because I know that he suffers from old wounds of trauma too. We have a lot of that baggage in common. As much as I wanted to help him, I have learned the hard way that I cannot heal his wounds, I can only hold space for him while I examine my own, notice how I am still suffering from old stories of neglect and abandonment and holding stuck emotional energy in my body. Letting that energy and those old stories out has been anything but pretty. So many tears. So much grief and anger to release. So much gunk to process. I have been processing with such intense determination, because I really want to stop repeating these painful lessons created by covering up deep but unhealed emotional wounds. I am tired of the deep dark secrets, and I am tired of pretending things feel ok when they don't.
We are no longer friends, even though we have over 100 friends in common. We do not speak. We broke all social media ties, which of course feels strange when Facebook sends me "memories" of years past I would rather not see, particularly as Father's Day approaches. I tried to be his friend a few times but after several days or weeks of hopelessly shallow communications, I could not rise above my feelings of betrayal, pain and anger. I wanted to want him to be happy, and at times I achieved that, but I also said angry things I regretted. I suffered senselessly from his cold, short, businesslike responses to my long heartfelt letters. Cutting all ties felt necessary, even though he said he "only wanted to end our partnership, not our friendship". I don't know how to be friends with a man who hurt me so deeply and claimed to be very happy with his new girlfriend just a couple years older than his daughter. Total disconnection has been necessary for me, and I cannot say how long it must last.
I struggled enormously this past year. I could barely work, and I lost a job I loved that involved traveling and working with him. My heart is so connected to what I do, that I simply turned down other jobs that required me to be happy and 'on'. Nothing has been easy, particularly knowing he continues to date the now 29 year old political campaign staffer, rather than grieve the end of our relationship. Maybe we just grieve differently. Untangling 10 years worth of memories and letting go of the dream that we would be together forever has been painful. Crazy ego-driven emotions have crippled me when I least expected it. In the past I might have chosen to dull the feelings with various substances or behaviors, or even a wild rebound relationship. This time I wanted to face my fears and emotions head on, feel the feelings, and continue straight through the hardest parts until the feelings passed. I have been dancing around a fine line between feeling like a powerless victim (which I know I am not) and feeling I am headed to a better place (which doesn't always feel real either). Many people told me it takes a 10th of the length of the relationship to get over it. So today would be that day. And though I know I am not fully over this relationship, I am very close.
I look forward to the day I don't think of him at all. Maybe in the fall I will consider dating again, though I barely know where to start since the last time I really dated was back pre-1994 when the internet barely existed and I was a 28 year old with a killer body and an exciting career photographing weddings and families all over the world. This year I will turn 50, and my friends are encouraging me to try things like Tinder and online dating, the thought of which makes me almost sick to my stomach. I still believe another great man will appear in my life when I am truly ready. My last blind date, arranged back in 2005 by friends I met while photographing a wedding in Lucca, led to ten mostly happy years with a good man, so I am optimistic there is a friend of a friend out there somewhere for me when I am ready to ask.
Today, more than anything, I am grateful for my incredible friends, for so many wise women (plus a few men) and powerful healers who have stepped up and held me and helped me to turn this story into something positive....particularly when I resisted most. There were so many days when I couldn't see the many beautiful gifts of my life, couldn't feel gratitude for anything, and didn't know how I would make it through this dark time. Those beautiful souls were my mirrors who help me see that I was so much more than some accomplished man's 'plus one' and I certainly didn't deserve to be treated the way he had treated me. I was not being punished, I was being liberated. You know who you are and I love you. A few of you have saved my life, more than once.
This breakup has brought me closer to so many people. It has made all of my other relationships stronger, more honest, and more valuable to me. It has helped me open my heart and see myself better, the dark side in particular but of course the light too. I have found it hard not to blame myself for the way he left and I have searched for my 50% in this story.....what I did wrong, what I could have done better or differently, how I could have loved him and myself more. I know it will be hard for me to open my heart and trust a man again the way I trusted him. I don't always feel stronger because of this, but I know at a deep level that I am. I also know that my intuition has never let me down, and I would be wise to trust it implicitly.
I believe this has all been for the best. How could it not be? I am grateful for what I have been through, and that I have survived. I am grateful for the deep healing I am still experiencing, and the slow transformation into a stronger, more resilient woman. I am ready to stop grieving, to stop choosing to suffer, and to start living fully again. That was how I felt before we met. After my first marriage ended in 2001, I worked hard to resolve so many deep and dark issues through four years of therapy and other types of healing work on myself while simultaneously raising a young child. I felt so clear, radiant and joy-filled when my love and I were set up on that first blind date back in the summer of 2005. I hate that I lost that energy over the course of a decade with this man, living together for six years in a city I never loved (because his then teenage kids were there), then living apart when we returned to New York City because work and school schedules forced us to live 2 hours apart for a few years. I felt my bright light had dimmed to such a tiny flicker in our last years together, and I am now overjoyed to feel it re-ignite as I finish raising my son in my tiny town by the ocean which I love so dearly. As an added bonus to my breakup story, I have noticed that my son handles his own relationships, and their endings, with so much more grace than even I had at his age. He is honest, direct, and compassionate with the young women in his life, and treats them with great respect, even when breaking up. I know he was deeply affected by my suffering as a result of his ''other dad's" behavior. I feel confident I have raised a more honest, emotionally open and communicative young man than the one I dated, and he makes me so proud to be his mother.
I have experienced many great days in the last year, mixed in with many terrible ones. I trust a better partnership is coming into my life, with a brave, wise and whole man who challenges and expands me in all the best ways. I hope he can cook and loves to dance! I am surrounded by such loving friends and family, the world's greatest son, and so many rich and deep connections that make my life truly as beautiful as it looks in my pictures. My photography, the landscape I live in by the ocean, and my various creative pursuits heal me on many levels. I feel humbled and grateful, and a little bit sorry that I have not been able to focus on the good as much as I normally would in this past year.
Ten years is a long time, and in some ways I feel I wasted the last year feeling so sad about a connection that was gone long ago with someone I never felt fully appreciated me. I struggle not to feel that I wasted the last 10 years of my life in that relationship, though I am grateful I did not stay for 20. I know we had some great times and lovely adventures. He treated my son like his own and I know my young boy thrived in our stable household when he needed that most in his life. I know I have so much to be grateful for, in spite of the way our love story ended. His behavior is no reflection on me, and I believe it says more about his own unresolved issues, so I keep reminding myself not to take any of it personally. My former love is an intelligent and generous man, who does so much good in the world for others. I want to believe he never truly intended to hurt me, and he really was doing the best he could at the time. I have a lot of love and compassion for him still and I don't have time to waste another day regretting that we could not address our unhealed wounds together. I learned so many great lessons in the last 11 years and I get to take all of that knowledge and experience with me.
The End, indeed....this is "The End" of a long and painful year of grieving.
I am finally ready to move on, towards new opportunities and new beginnings.