My husband and I lost our way as we left a holiday gathering at Rockefeller Center and, quite by accident, ran straight into Mariah Carey, taping a performance for a TV special to air the next day. I have loved Mariah since "Vision of Love" debuted in 1990, so I felt blessed to have stumbled upon her voice floating through the cold New York air.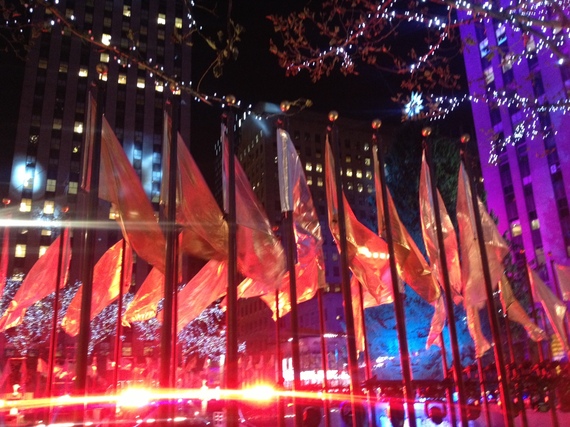 However, in the middle of crowds angling to see Mariah, and in the midst of holiday songs blasted from every one of Rockefeller Center's retail stores, I wondered: during our amped up holiday schedules and constant content on our phones, what's all of this sensory overload doing to our health?
Once upon a time, these holiday tunes were a sign of a peaceful period of the year, when family, neighbors and friends took extra care to spread joy and love to one another throughout moments of the season. Now, the moments of the season -- and every moment in between -- are often filled with hyper-checking our mobile phones for Facebook updates, Instagram shares, tweets, texts, emails and videos about everything and anything.
As joyful as some of these photos and emails might be, this constant stimulus can register as stress on the body and the mind. Is the happy holiday tune, flooding your auditory system the second you step into suburban mall, just a trigger to remind you that you haven't finished your shopping yet? Maybe. Maybe not. But, here's my holiday offering: In this season of cheer, make a point to create quieter musical moments throughout your day; perhaps hum a simple tune to yourself or listen to a single-instrument version of a carol, so you can actually hear the beautiful notes and words. That is the kind of spiritual uplift we need in the middle of holiday stress.
Let me give you an example. After Thanksgiving dinner recently, my brother broke out his ukelele, strumming exquisitely clear tunes from a small, four-stringed instrument. Last year, he started playing ukulele, regularly, with a group in the San Francisco Bay Area, so he could play Christmas songs, like the ones he'd heard in an Apple commercial.
My brother is a 50-something tech worker in Silicon Valley with chronic back pain and one spine surgery under his belt so far. The clarity of the uke sound, and connecting with his uke meet-up group are his antidote to stress: "My neck and back issues are so much better. I worry less, and my coworkers are happier to be around me," he said.
Introduced to Hawaii from Portugal, circa 1870, some are saying that the non-showy ukulele is an up-and-coming alternative healing method for today; the crisp, pure, and innocent sound released is a complete contrast to today's complicated, tech-produced world. People need simple. People need to feel better, as was even expressed in this recent transit advertisement for health care.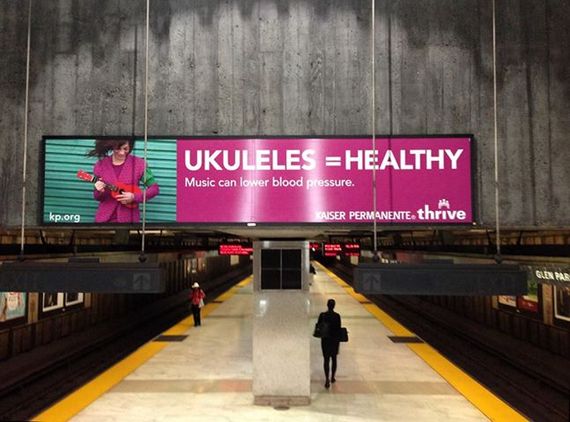 World famous ukulele virtuoso Jake Shimabukuro has called the ukulele "an instrument of peace," and believes that if everyone played the ukulele, "the world would be a better place." When I play Jake Shimabukuro's "Hallelujah," toward the end of my yoga class, someone always asks me afterward, with a breathy exhale: "Who was that?" When people tell you a certain sound relaxes them even more -- in yoga -- enough said.
While specific ukulele-healing studies are sparse, there is a growing pile of research that shows that sound, stress relief, and healing are completely harmonious. Dr. Vijay B. Vad, a sports medicine specialist at the Hospital for Special Surgery in Manhattan, and a doctor for the P.G.A. Tour, has said publicly that he believes sound can break a stress cycle by taking the mind off of troubles. "Even if it breaks your cycle for 15 minutes, that's sometimes enough to have a therapeutic effect," Dr. Vad said.
Many other studies show that relaxing through sound can help the physical pain that sometimes comes along with stress, too. A study published in the Journal Psychology of Music studied whether lullabies could help ease pain in children and found that only music -- not reading or leaving them in quiet -- reduced pain, slowed heart rates and improved their moods.
The College of Sound Healing, based in the U.K., explains it this way: "...through the vagus nerve, the inner ear connects with the larynx, heart, lungs, stomach, liver, bladder, kidneys, small intestine and large intestine... through sound healing it may be possible to bring the diseased organ into harmony with the rest of the body."
Dean, a member of my brother's uke group, "Uke Rebellion Meetup," says he keeps playing because he feels "released" and "like a human, connected and loved." Earlier this year, hundreds of people gathered in Nevada for the fifth annual Reno Ukulele Festival, considered the largest in the country, and another is planned for 2014. Their mission is to spread "ukulele bliss." If spreading bliss isn't healing, what is?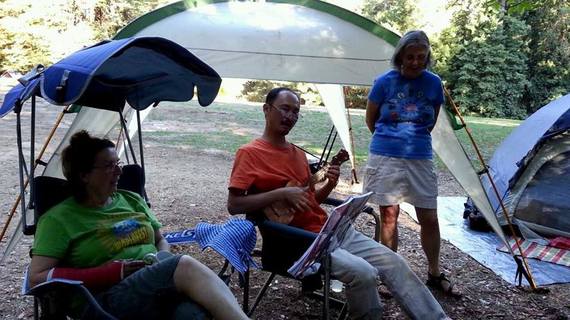 The Real Message, and A Gift for Yourself.
If I remember correctly, bliss, connection, love... those are the real messages in all those holiday songs, blaring from retail speakers everywhere. It's hard to hear it sometimes through the collective noise of cash registers. It's hard to see it through the maze of elaborate lights and decorations meant to signify that this is the season of peace. It's hard to feel love sometimes when you're jostling for space to get a glimpse of Mariah Carey under all those bright lights.
Whether it's sharing a song via ukulele, or modestly humming "Frosty the Snowman" to yourself in the kitchen, make a point to create your own moment of tranquility and simplicity. You might stumble upon a whole new version of holiday joy for yourself that brings you back to the spirit of the season. Give yourself that gift. As complicated as your holiday schedule might be, it's possible to create calm in the midst of all this holiday chaos for a healthier you.
REAL LIFE. REAL NEWS. REAL VOICES.
Help us tell more of the stories that matter from voices that too often remain unheard.