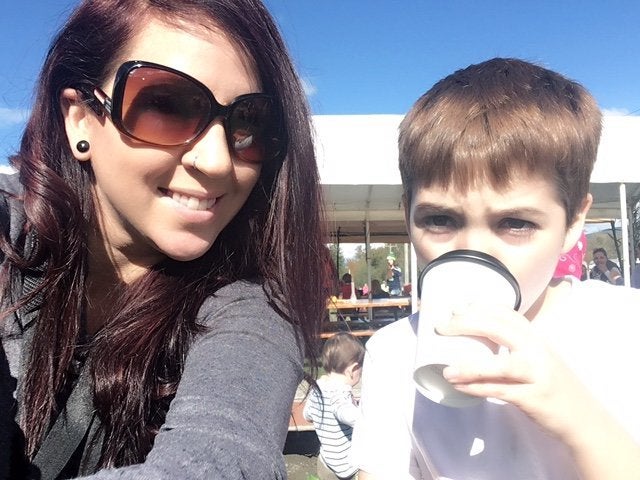 On March 2, single mom of three Kimberly Smith was experiencing shortness of breath and chest pain. Smith dismissed her symptoms as pneumonia, even though her 4-week-old baby felt crushingly heavy on her chest.
The Washington state mom would have attempted to sleep it off if it weren't for her 9-year-old son Camdyn, who insisted she seek medical attention. If he hadn't, her doctors say she might never have woken up.
When Camdyn came home from school to find his mother in pain, he pushed her to call 911.
"He said, 'My health teacher said that when someone grabs their chest like that that I'm supposed to call 911,'" Smith said. "I thought, You know what? I should probably listen to him, because he's not normally so persistent."
So she called the doctor, who backed up Camdyn's suggestion that she get looked at and they headed to a walk-in clinic, where an abnormal EKG led to an ambulance ride to the hospital.
At the hospital, Smith was diagnosed with pulmonary embolisms in both lungs, a result of a protein S deficiency which leads to an increased risk of blood clots. Surgeries, such as Smith's recent C-section, create an even greater risk.
"I really want to spread awareness about blood clots," she wrote on a GoFundMe page she opened to help cover her medical bills. "It was the single most scary thing I've gone through. The thought of not being with my children is heart-wrenching! My intention was to not ask for any help at all and to really stress to others to aware of what their body is saying!"
Smith is currently recovering and told HuffPost that Camdyn doesn't want to leave his mother's side. Smith says that maybe he'll be a doctor someday since he was able to recognize the seriousness of her symptoms and take action.
"I'm still getting teary-eyed about it. It warms my heart to know my children care for me so much," she told HuffPost.