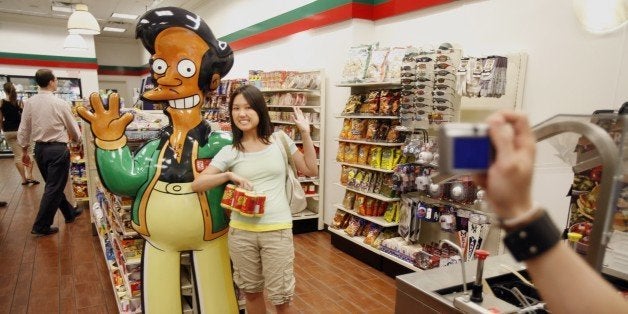 If it's been a big year for Indian Americans, it's been a really big 25 years. Yet one man has stayed the same for nearly a quarter-century: Apu Nahasapeemapetilon.
Here in the real world, Miss America speaks Telugu, and Mindy Kaling is poised to be the next Tina Fey. As of 2012, Asian Americans were so affluent and numerous that one Nielsen report claimed they would form the 18th richest economy in the world were they to split off into their own nation.
Meanwhile, in fictional Springfield, Apu is still selling hot dogs with a funny accent. Endearing and occasionally wise he may be, but his legacy is one that continues to thwart Indian actors looking to play three-dimensional characters.
"He's an example of a character who would never have been written if the show started today," says comedian Hari Kondabolu, an inspired ranter who's become the de facto voice of the anti-Apu movement.
Hank Azaria, the actor who has voiced Apu since the beginning, says the new visibility of Indian Americans has made him rethink Apu's significance as the ethnicity's longtime sole representative in pop culture. "I've never really talked about it," the actor told HuffPost. "I know it's a touchy subject. I really do love the character and do try to do right by him accent-wise and character-wise, and that goes for all the characters I do. But I do understand why people could have been offended or upset, and I'm sorry for that."
As the voice of some 100 "Simpsons" characters, Azaria doesn't typically focus on the critics. He says analyzing his roles would mean never completing the job. And the show prides itself on being an equal opportunity offender.
"There's now enough Indian people [in Hollywood] where I don't need to like you just because you're Indian," he declares. "Because growing up" -- he pauses -- "I had no choice but to like this." An image of Apu flashes on a nearby screen: chest hair visible, palms pressed in greeting, a vacant, silly grin on his face.
Apu has long been the bane of young Indian Americans' existence. For many, his name became a slur ("We all got called it," Kondabolu asserts).
For those who grew up to become actors, he's practically a living foe. "I hate that guy," says the actor Utkarsh Ambudkar, a Baltimore native born to south Indian parents.
One fine day, Ambudkar says, everyone at school started calling him "slushie boy." A friend explained: "He was like, 'Dude, there's this guy on this show. He runs a Kwik-E-Mart. Thank you, come again.'"
"It totally f--ked with my childhood," says Ambudkar, who made a promise to himself about the parts he would and wouldn't take: "You're not going to catch me selling hot dogs or working at a 7-Eleven." His most memorable roles resist the stereotype: as a beatboxer (in the tween-baiting movie "Pitch Perfect") and a Stanford student who wants to drop out to rap for a living (on "The Mindy Project"). But he says finding such roles requires patience -- it's still far easier to put on an accent and play an "emasculated sidekick who can't get the girl."
Kondabolu says he knows that feeling too, but he still didn't appreciate how many people would respond to his anti-Apu bit. Perhaps he underestimated the sanctity of "The Simpsons" in the comedy world (he's a fan himself, but, as he points out, "you can be critical of the thing and still love the thing"). He says the Apu problem is a well-worn topic in his inner circle. In his mind, he was courting the danger of being "hacky" by rehashing it.
But the rant went viral, eventually making its way to Azaria. The actor credits the monologue with stirring his first misgivings. "If the only representation of Jews in our culture was Robin Williams' impression of a Yiddish guy [from "The Birdcage," starring both Williams and Azaria], I guess I might be upset with that too," Azaria says. He cites one line of Kondabolu's that stuck with him: Apu's accent sounds like "a white guy doing an impression of a white guy making fun of my father."
Reality isn't so far from that. Azaria says he was inspired by Peter Sellers' goofy Indian interloper in "The Party," a 1968 comedy that famously burned a bridge between Sellers and the acclaimed Bengali director Satyajit Ray, who was among the many South Asians to bristle at the British actor's impersonation.
As it happens, Apu's name comes from the title character in Ray's Apu Trilogy. "I think about Satyajit Ray's work and how beautiful and complicated those characters are. We don't get that from this Apu," Kondabolu says. "The name is always going to be associated with him."
Azaria's version of Sellers' voice -- his impression of a white guy imitating an Indian guy -- was tempered with his own memory of the manager of his local 7-Eleven. Drawing caricatured voices from real people is "kind of my gig," he points out. "I sort of form what I hear and spit it back out phonetically with as much authenticity and love as possible."
On a weekly half-hour show, time is not on Azaria's side. His one regret: "I didn't have a chance to spend more time doing what I would consider a more perfected Indian dialect. That said, I don't know if it would have taken the edge off for somebody it bothered."
Why, Azaria wonders aloud, do viewers find the accent funny? Slipping into it on the phone, he muses that "there is something bery musical about it and bery deliberate at the same time."
For whatever reason, it resonates. "When I go into an audition, they want me to do an accent," says Kumail Nanjiani, a Pakistani-born comedian known for gently eviscerating a broad range of targets -- from the Coney Island Cyclone to a heroin-laced street drug called "cheese."
"I already have a Pakistani accent, but they want me to do 'the Apu accent,'" Nanjiani says. "A lot of people think of that as being the go-to comedy Indian accent."
The idea of a single "Indian accent" is itself a fallacy, given that India is a country of hundreds of distinct spoken languages. Azaria, who has not studied any regional Indian accent, acknowledges as much. In a 2007 radio interview, he recalled the writers' room brainstorm that gave birth to Apu's voice: "Right away they were like 'Can you do an Indian accent and how offensive can you make it?' basically." Azaria added, "I was like, 'It's not tremendously accurate. It's a little, uh, stereotype,' and they were like, 'Eh, that's all right.'"
But it's unrealistic to expect his accent to "suddenly change now," Azaria tells HuffPost. Nothing quite does in Springfield. And he doesn't foresee Apu retiring anytime soon. "Characters do burn out, but I'd be surprised if they write him any less frequently because he's offensive."
Besides, as a "weird relic from another era," Apu serves a function, Kondabolu says. "He's a very interesting reminder, in some ways. You can always see where we were."
The difference now? "We're a generation that grew up with that character," Kondabolu says, "and now we're old enough to say something about it. Now we have the power."
This is the first installment in a HuffPost series on the shifting landscape for Indian Americans in the entertainment industry.
CORRECTION: A previous version of this article named the wrong network for "Totally Biased With W. Kamau Bell." It is on FXX, not Comedy Central.
Support HuffPost
The Stakes Have Never Been Higher
Related
Popular in the Community