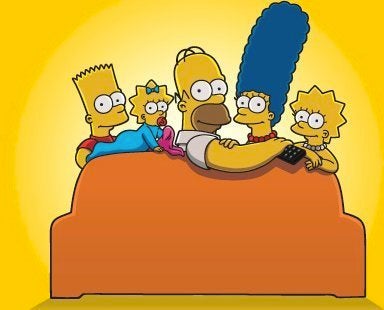 "The Simpsons" will live on, after all.
On the verge of cancellation after producer 20th Century Fox TV demanded that the voice cast of the seminal animated series take a 45% pay cut, the producers and talent came to a last minute agreement on Friday that will extend the show for two more seasons. It was thought that the show would last only one more season after this, its 23rd, even if an agreement was reached, but the groundbreaking series will reach a record-setting 25 years on television.
The cast had agreed to lower their salaries, but asked in exchange for a cut of the backend profits, including DVD, syndication and merchandise sales. Star Harry Shearer released a statement earlier on Friday, saying that he was willing to take up to an up to 70% cut in pay in exchange for the back end. Fox balked at the offer, though terms of the new agreement have not been released.
Here's the official announcement from Fox:
FOX has renewed THE SIMPSONS, the longest-running comedy in television history, for an incredible 24th and 25th season, bringing the series total to an astonishing 559 episodes. THE SIMPSONS airs Sundays (8:00-8:30 PM ET/PT) on FOX.

In the words of Homer Simpson, "Woo Hoo! I outlasted Andy Rooney!"

The longest-running scripted show in television history, THE SIMPSONS exploded into a cultural phenomenon in 1990 and has remained one of the most groundbreaking and innovative entertainment franchises, recognizable throughout the world. Matt Groening created the iconic family: Homer, Marge, Bart, Lisa and Maggie. In February 2012, THE SIMPSONS will celebrate its historic 500th episode. The series has won 27 Emmy Awards, been the subject of a hit feature film, created "Krustyland" and a revolutionary virtual coaster – The Simpsons Ride – at Universal Studios, received a star on The Hollywood Walk of Fame, been honored with five U.S. postal stamps personally designed by Matt Groening, and named the "Best Show of the 20th Century" by Time Magazine.
Popular in the Community