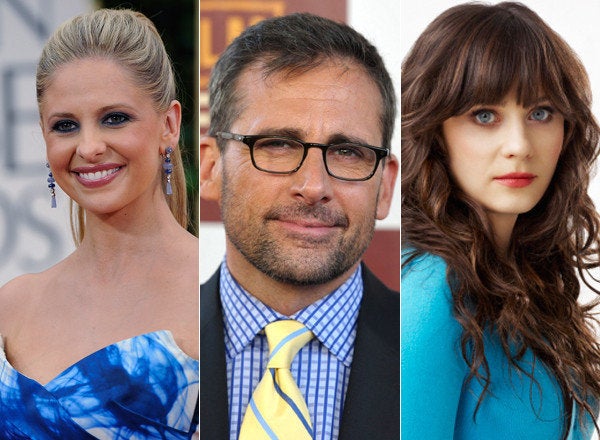 The stars are aligning for Fox's Animation Domination programming block. The network released the official guest roster and episode details for its five cartoon comedies Monday, and they're packed with top TV talent. "The Simpsons" Season 24 guest voices include Zooey Deschanel, Jeff Gordon and Steve Carell.
Over on "The Cleveland Show," Bryan Cranston, Nicki Minaj and Nick Offerman will stop by. On "Family Guy," TV producers J.J. Abrams, Mark Burnett and Dick Wolf will lend their voices to characters. Zach Galifianakis, Offerman and Megan Mullally will voice characters on "Bob's Burgers." Patrick Stewart and Sarah Michelle Gellar will voice characters on "American Dad."
"The Simpsons," "Bob's Burgers," "Family Guy" and "American Dad" return on Sun., Sept. 30. "The Cleveland Show" premieres Sun., Oct. 7.
Read the full roster and episode descriptions below.
"The Cleveland Show" (7:30 p.m. ET)
This fall, Cleveland (Mike Henry) discovers a secret hip-hop society led by rap superstar Kanye West, who reprises his role as "Kenny West" in the season premiere episode. Other members of the secret society include singer/songwriter Bruno Mars, rapper Nicki Minaj, Grammy Award winner ?uestlove of The Roots, and musician and recurring guest voice will.i.am. Additional guest voices visiting Stoolbend this season include Emmy-nominated actress Sofia Vergara ("Modern Family") as "Tia Sofia," who tries to convince Cleveland to throw a traditional "quinceañera" for Cleveland Jr.'s 15th birthday; comedian Nick Offerman ("Parks and Recreation") as a somewhat sexist department store owner; and Krysten Ritter ("Don't Trust the B---- in Apt 23") as an aspiring actress in Los Angeles who meets Cleveland when the family moves to California. Other guest voices this season include Rock and Roll Hall of Fame inductee George Clinton; Major League Baseball's Andre Ethier, Matt Kemp, David Ortiz, Jimmy Rollins and Joey Votto; NASCAR drivers Dale Earnhardt, Jr., Kasey Kahne and Tony Stewart; as well as recurring guest voice Bryan Cranston ("Breaking Bad") as the family doctor who joins the gang at the bar.

"The Simpsons" (8:00 p.m. ET)
It's a cornu-D'oh-opia of guest voices this fall on "The Simpsons," beginning with the Season 24 premiere, when America's favorite Midwestern family travels to New York City in search of Bart's (Nancy Cartwright) long-lost love (Zooey Deschanel, "New Girl"). Other upcoming adventures include Homer (Dan Castellaneta) finding out his bowling buddy (Steve Carell, "The Office") is an accountant for the mob; and Bart discovering the new neighbors' son (Patton Oswalt, "Seeking a Friend for the End of the World") isn't as cool as he appears to be. Adding even more guest voices this season are Fred Armisen ("Saturday Night Live"), Carrie Brownstein ("Portlandia"), NASCAR driver Jeff Gordon, composer Marvin Hamlish, Anika Noni Rose ("Private Practice") and Jennifer Tilly ("Family Guy").

BOB'S BURGERS (8:30-9:00 PM ET/PT)
Guest voices on "Bob's Burgers" this season include Zach Galifianakis ("The Hangover") as Chet, a former department store window dresser pining for his estranged wife, who happens to be a mannequin; and Nick Offerman ("Parks and Recreation") and real-life wife Megan Mullally ("Will and Grace") as a pair of married hippie farmers who hire the Belcher kids as "weed pickers." Also, Kevin Kline ("A Fish Called Wanda") returns as Bob's (H. Jon Benjamin) eccentric landlord "Mr. Fischoeder," who purchases an unpredictable mechanical shark as an attraction for the pier; and Jeffrey Tambor ("Arrested Development") voices "Captain Flarty," a crazed cruise ship captain who shanghais Bob and his family. Other returning guest voices include Aziz Ansari ("Parks and Recreation"), Bill Hader ("Saturday Night Live") and Sarah and Laura Silverman ("The Sarah Silverman Program").

"Family Guy" (9 p.m. ET)
Hollywood heavyweights also lend their voices to "Family Guy" this season, including Oscar-nominated actor Johnny Depp, when he reprises one of his most iconic film characters, "Edward Scissorhands" in a cutting cameo. Additional guest voices include TV producers J.J. Abrams, Mark Burnett and Dick Wolf; actors Jon Hamm ("Mad Men"), Ryan Reynolds ("Safe House") and Kellan Lutz ("The Twilight Saga: Breaking Dawn – Part 1"); actress Elizabeth Banks ("The Hunger Games"); comedian Sandra Bernhard; and Christina Milian ("The Voice").

"American Dad" (9:30 p.m. ET)
Then, on "American Dad," Patrick Stewart ("Star Trek: the Next Generation") guest-voices as himself in a recurring role. Also, Danny Glover ("Touch") guest-voices as a Christmas demon in the annual holiday episode. Other guest voice appearances include Alison Brie ("Community"), Charlie Day ("It's Always Sunny in Philadelphia"), Nathan Fillion ("Castle"), Sarah Michelle Gellar ("Buffy the Vampire Slayer"), Rupert Grint ("Harry Potter" franchise) and Jon Hamm.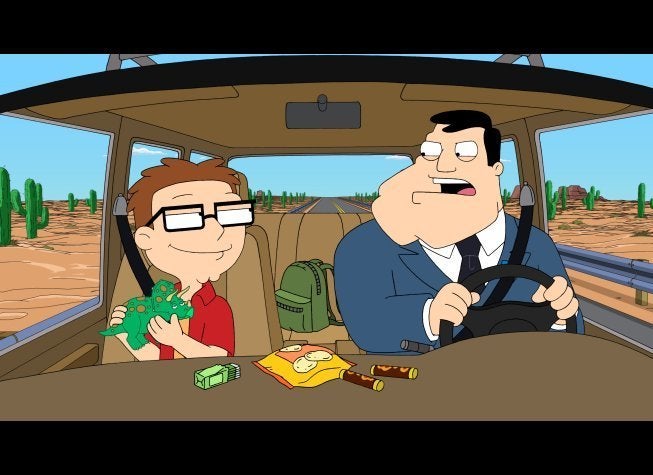 Fox Shows