Santa Monica, CA--For every artist who dreams of a homecoming wrapped in glory, very few will have one as sweet and deserved as Corporal John Hyland. This weekend, the classically trained singer who gave up a potential career on the opera stages of the world to do right by his family and country, returns home to Charlotte, North Carolina to sing the national anthem in front of millions of fellow NASCAR fans.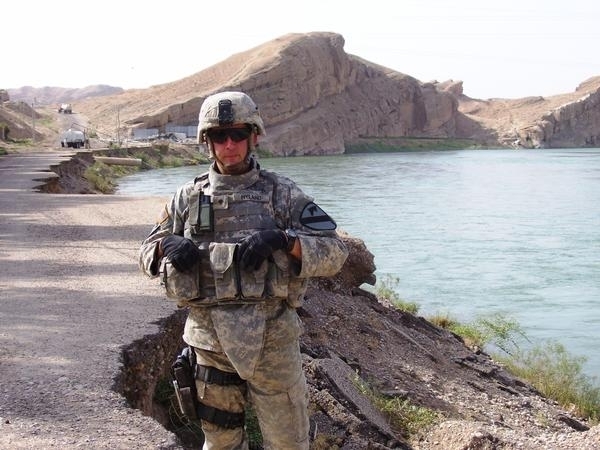 His journey to this moment started in his hometown in 1991, when the eighteen year-old Hyland left Charlotte to attend the North Carolina School of the Arts.
"My goal was to sing musical theatre at the time, not opera," says Hyland. "Eventually, (my teacher) talked me into it, told me I had the ability to sing opera and learn classical music. And eventually I started enjoying it."
And the opera world enjoyed Hyland's singing, as every summer while a student Hyland traveled to Rome, Italy to participate in the Opera Festival di Roma's young artist program. It was there he understudied for "The Phantom," a role he later played in New York City as a professional opera singer.
Hyland's career on stage was short-lived, however.
"I met my wife and she was pregnant about six months later and I decided I had to get a real job to make sure I had the proper money so that I could take care of my kids."
Four and a half years later, as a restaurant manager for Hooters, Hyland and his family were living in Washington, DC, and it was there that a career in the military began calling his name.
"Well there are probably a thousand police departments, federal and whatnot, in DC (and) they were obviously customers in the Hooters in DC and I met lots of them," explains Hyland. "One became my best friend and I rode a long with him one time and I kind of decided, 'Wow, this pretty cool. You can have a pretty good time and serve your country or your city.' And it's something I'd always thought about but never really pursued."
With his wife pregnant with their second child, Hyland moved his family back to his hometown to be closer to his family. And it was there that Hyland, now 33 years old, decided to take the Army's entrance test, more for fun than anything else.
"I tested really well," he recalls, "(I) was basically offered any job I wanted as an enlisted soldier in the army."
That led Hyland to a job in reconnaissance and deployment to Iraq in October 2006.
"A typical day was doing combat patrols. We would go to different cities and do the standard reconnaissance. That was our job, to go out and get information. At that time, you did have to knock on doors or kick them down and do searches. And that meant a lot of driving on roads littered with IEDs.
"You just kinda hung on. You knew eventually your were going to get hit with an IED," says Hyland. "You just kinda hoped that you wouldn't get hurt. I made it almost a year without getting hurt."
But, on September 11, 2007, Hyland did get hurt, an injury that eventually required the amputation of his leg.
"It was a day I will never forget and a day America will never let me forget because of that day. I find it pretty cool--we call the day that we got hurt our 'alive date'--basically the day that we lived," says Hyland. "Rather than trying to dwell on something that was bad, we decide to look at it a little bit different and focus on the fact that we lived rather than died, as so many of our friends did."
Returning home to the United States, Hyland continued to serve his country on post in San Antonio, Texas, a short distance from the Texas Motor Speedway. Hyland, a lifelong NASCAR fan, became friends with Anne Marie Rhodes, who until recently was NASCAR's Ms. Sprint Cup.
"She recognized my story as being something people would like to hear so, she led me to Andrew Giangola, who wrote the book The Weekend Starts on Wednesdays: Stories of Remarkable NASCAR Fans and he interviewed me in the spring of last year at the Texas Motor Speeedway. At some point--you know I really didn't talk about singing that much--singing opera's not something you talk about much to your combat buddies."
"But I mentioned it to Andrew that that was something I'd love to do again at some point, just sing again. And Andrew said, 'You know, you ought to sing at a race one day and sing the national anthem.'
"Andrew took it upon himself to take the idea to Scott Cooper at the Charlotte Motor Speedway. Scott and his event staff I guess thought it was a great idea, especially for Memorial Weekend and what the plans and the pre-race show, that it would end with me, a wounded soldier, finally standing on his two feet."
For Hyland, it is a once in a lifetime moment made possible by the sport he loves, NASCAR.
"For me to be able to walk up there and sing the national anthem and honor my country and my sport and my hometown of Charlotte, that's just a dream come true."

Calling all HuffPost superfans!
Sign up for membership to become a founding member and help shape HuffPost's next chapter