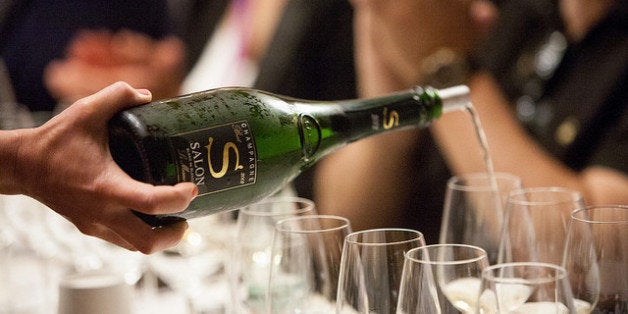 Champagne is the hardest wine to make. To produce truly great Champagne requires top vineyard sources and the kind of ideal vintage conditions that used to occur only two or three times per decade. Of course you also need expertise and specialized equipment. And after you've made the wine, you must wait several years for it to age on the spent yeast cells from the secondary fermentation in the bottle before it's ready to disgorge.
Wouldn't it be totally outlandish, then, if someone decided to create such a truly great wine for only their own personal consumption? One would, of course, have to have both exceeding wealth and the connections necessary to access vineyard sources that are virtually unavailable. Even then, you would also have to possess tremendous patience.
Spending all that money and time to create the greatest anything in the world exclusively for one's private enjoyment is virtually impossible to imagine. While it might serve as an unlikely premise for an elegant novel about the world's most single minded epicure, it would hardly be believable as a true story.
Strangely enough, though, a man with such resources and widely acknowledged taste did pursue such a quest in the early years of the 20th century. He ultimately succeeded in producing -- initially for his own enjoyment, then as a gift for friends with similarly refined tastes -- what eventually became acknowledged as possibly the single greatest Champagne of its time.
Perhaps even more bizarrely, though, given modern demands of commerce and expectations for swift returns on capital, this rarefied bubbly continues to be made -- in tiny amounts, in only excellent years -- more than 100 years after this unlikely personal project began. What's more, this unusual wine is still sourced from the identical vineyard sources originally selected by the legendary connoisseur who created it.
I'm talking about Champagne Salon, which began as the private and obsessive project of one Eugène-Aimé Salon.
Monsieur Salon was born in 1867 in the Champagne region village of Pocancy. As a boy, he assisted his brother-in-law, Marcel Guillaume, who was chef de caves for a small Champagne house.
Salon went on to make his fortune in the Parisian fur trade at a firm called Chapel, where he started out as a messenger boy but eventually became its very successful head. He also had a political career.
In 1905, Salon acquired a one-hectare plot in Le Mesnil-sur-Oger -- the great grand cru village in the Côtes des Blancs region where the best Chardonnay for Champagne is thought to be grown. His plan to make the greatest Champagne was to use only Chardonnay, only from this great grand cru village, and to produce the wine only in ideal vintages.
vineyards in the Côtes des Blancs region near Le Mesnil-sur-Oger
Up to that point, Champagnes were typically a blend of Chardonnay with Pinot Noir and/or Pinot Meunier. Chardonnay was thought to contribute acidity, minerality and elegance, but producers deemed Chardonnay too light on its own and felt Pinot was needed to round out the wine and enable them to produce the fruitier style of Champagne that was most popular through the first half of the last century. What is now called "Blanc de Blancs," a white sparkling wine made exclusively from Chardonnay, was unheard of until Salon began to produce his ideal Champagne.
The first vintage Salon created was a 1905. This was followed by a 1911. The latter, disgorged after lengthy aging on its lees, became so popular with Salon's friends that they encouraged him to produce it commercially.
The first commercial release was the 1921. The fruit came from Salon's one-hectare plot and from 20 other smaller parcels in le Mesnil.
Eugène-Aimé presided over the House of Salon until his death in 1943. He lived to see the 1928 vintage released to wide acclaim. He arranged for Salon to become the house Champagne of Maxim's of Paris, the celebrated restaurant of its time, which was the only commercial customer of Salon until 1957.
Today, Champagne Salon is owned by the Laurent Perrier Group, the holding company of the Nonancourt family, which also owns Delamotte. Only about 60,000 bottles of Salon are produced in vintages deemed worthy, of which 2008 was the last of the past several years.
Salon is currently made by Laurent-Perrier cellar master Michel Faurconnet. The head of both Champagne Salon and Delamotte for the past 17 years has been Didier Depond.
Antonio Galloni and Didier Depond at Pebble Beach Food & Wine seminar
I was fortunate to attend the seminar at this year's Pebble Beach Food & Wine featuring a vertical of Salon at which Monsieur Depond presided. The seminar included the U.S. debut of Salon's latest release, the 2002. Both it and the 1983 Salon poured at the seminar from magnum are among the greatest Champagnes I have ever tasted.
Depond explained that the decision whether wines from a particular year justify the production of a Salon vintage are made after tastings conducted the following February through April. What they look for -- Salon's guiding principles -- are "freshness, cleanness, elegance and precision." The wines are kept on their lees for a minimum of 10 years.
The 2002 is only the 38th vintage Salon has released since the house's 1921 founding. The average price per bottle in the U.S. is $403 -- a staggering amount even for fine Champagne, but a relative bargain, I suppose, if you consider that top Bordeaux and Burgundies, made every year and not just in select vintages like Salon, now fetch upwards of $1,000 a bottle on release.
For my tasting notes on the six vintages of Salon we sampled, see the complete report on my blog here.
While the vintage expressions of each of the Salon bottlings was different, all six are elegant, exhibiting precision, vibrant acidity and lengthy finishes. The 2002 and 1983 displayed the greatest complexity of all. I am quite confident Eugène-Aimé would be very proud of these bottlings. I also suspect, however, that even he would be amazed that, more than 70 years after his passing, those responsible for guiding the house he founded continue to adhere so closely to his original, obsessive criteria.