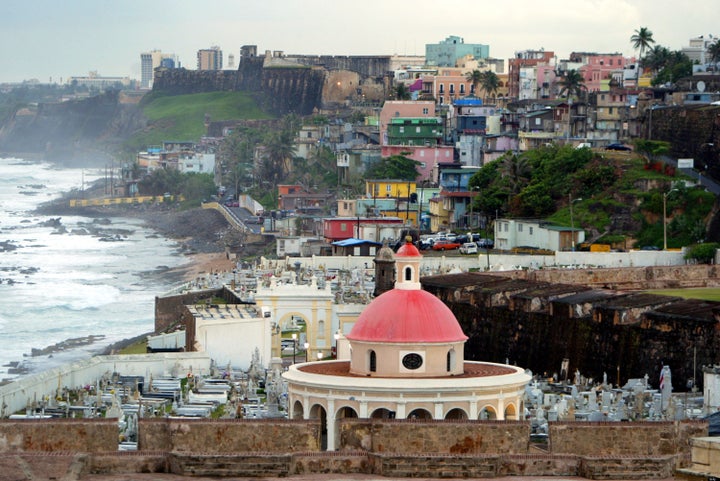 This past weekend, on the shores of Punta del Escambrón's Blue Flag beach, a festival of food descended on the sunny island of Puerto Rico. The fourth annual Saborea Puerto Rico: A Culinary Extravaganza! brought together 54 talented local and international chefs who took center stage in General Electric's open-air kitchens while 60 of the island's restaurants showcased the ingredients of Puerto Rican-inspired cooking in a corridor of food and beverage tastings that ranged from rice and beans to cod fritters to rum.
Aromas of adobo floated on the balmy sea air while visitors to the event coveted recipes for commonplace dishes like surullitos (cornmeal fingers), asopao (shellfish or chicken gumbo), and lechón asado (barbequed pig). Marquee personalities including Iron Chef winners José Garcés and Marc Forgione, the Food Network's Chopped host Ted Allen, and "Godfathers" of Nuevo Latino cuisine Douglas Rodriguez and Alex Garcia mingled with the crowd while rain threatened the skies over the W Hotel's VIP tent. There, Alain Ducasse held court discussing his new venture in Vieques.
I walked through Saborea in wide-eyed wonder. When I wasn't chowing down on new flavor profiles, I was rubbing shoulders with the culinary elite and learning a few tricks of the trade in the process. With countless tastings and constant consumption, I offer a list of the six best dishes that I tried at Saborea. Of course, the dishes listed below can be found year-round in and around San Juan. I hope you get to try some of them on your next trip to Puerto Rico. And if not... well, that's what repeat trips are for!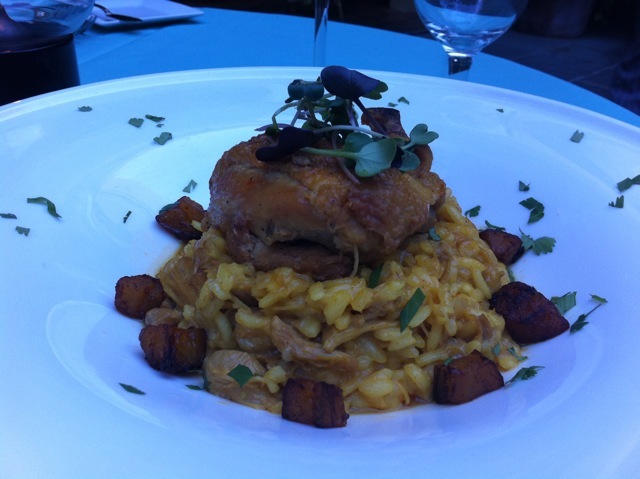 Arroz con Pollo Risotto
Putting an Italian twist on a local staple, Chef Luiggie Alvarez has elevated arroz con pollo to new heights. On the breezy patio at one of Old San Juan's most charming hotel properties, a classic Puerto Rican chicken stew accented with recao, cilantro, cumin and sofrito melts into a creamy risotto with just the right hint of cheese. Topped with crispy sweet plantains, this dish kicked off my Saborea experience, assuring me (and my stomach) a few days of guilty gastronomic pleasure.
Patio de Nispero (at Hotel El Convento)
100 Cristo Street. Old San Juan
Herame (Halibut) with Coco, Yuzu & Toasted Garlic
Rock star chef Roberto Treviño is shaking things up at sexy Budatai restaurant in Condado. Hailed by Bon Appetit, which calls Budatai "the best meal in the Caribbean," Treviño is combining Asian and island flavors into dishes like pork dumplings with shaved truffles and lo mein with chicharron de pollo (fried chicken). My table's favorite was the light yet flavor-rich halibut ceviche rolled with coconut milk that had us going back for seconds, thirds... and fourths.
Budatai
1056 Ashford Avenue. Condado.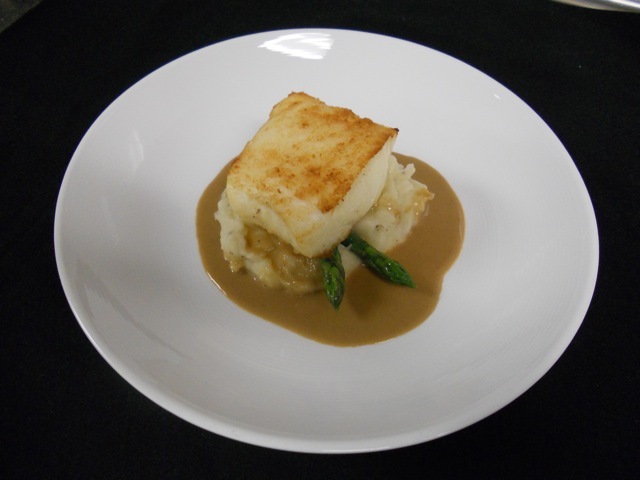 Black Chilean Sea Bass, Yuca Truffled Puree, Veal, Port Wine & Foie Gras Reduction
A signature at Chef Mario Pagán's Laurel set inside the elegant Museum of Art, this perfectly executed dish might rank as my favorite from the weekend. With a sinfully rich veal, port wine and foie gras sauce that did cartwheels on my palate, it is featured on Laurel's lunch and dinner menu. Utilizing bold flavors, Chef Pagán explained that the port wine is a nod to the island's Spanish heritage while the yuca puree gives the dish a native personality. After cleaning my plate, it became glaringly clear why Next Iron Chef contestant Mario Pagán is one of the stars on the food scene in Puerto Rico.
Laurel Kitchen | Art Bar.
Museo de Arte de Puerto Rico. 299 De Diego. Santurce.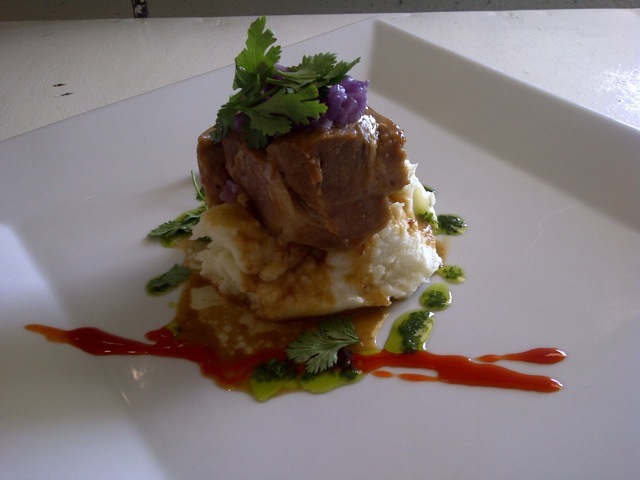 Braised Beef, Yam Mash
Pinoñes, just east of San Juan, is a cluster of shacks and huts known for fried Puerto Rican favorites like alcapurrias (fried beef fritters), empanadillas (fried turnovers), and tostones (fried plantains). At Crispy y Relleno, however, Chef Fernando Parrilla is changing the landscape of typical Puerto Rican snack food. With ceviches and stuffed mofongos in abundance on his menu, the dish that grabbed me was a succulent braised beef over a fluffy yam mash with a dusting of cilantro. Forget the fried stuff; this was comfort food at its finest.
Crispy y Relleno
Route 187, KM 6.4. Pinoñes.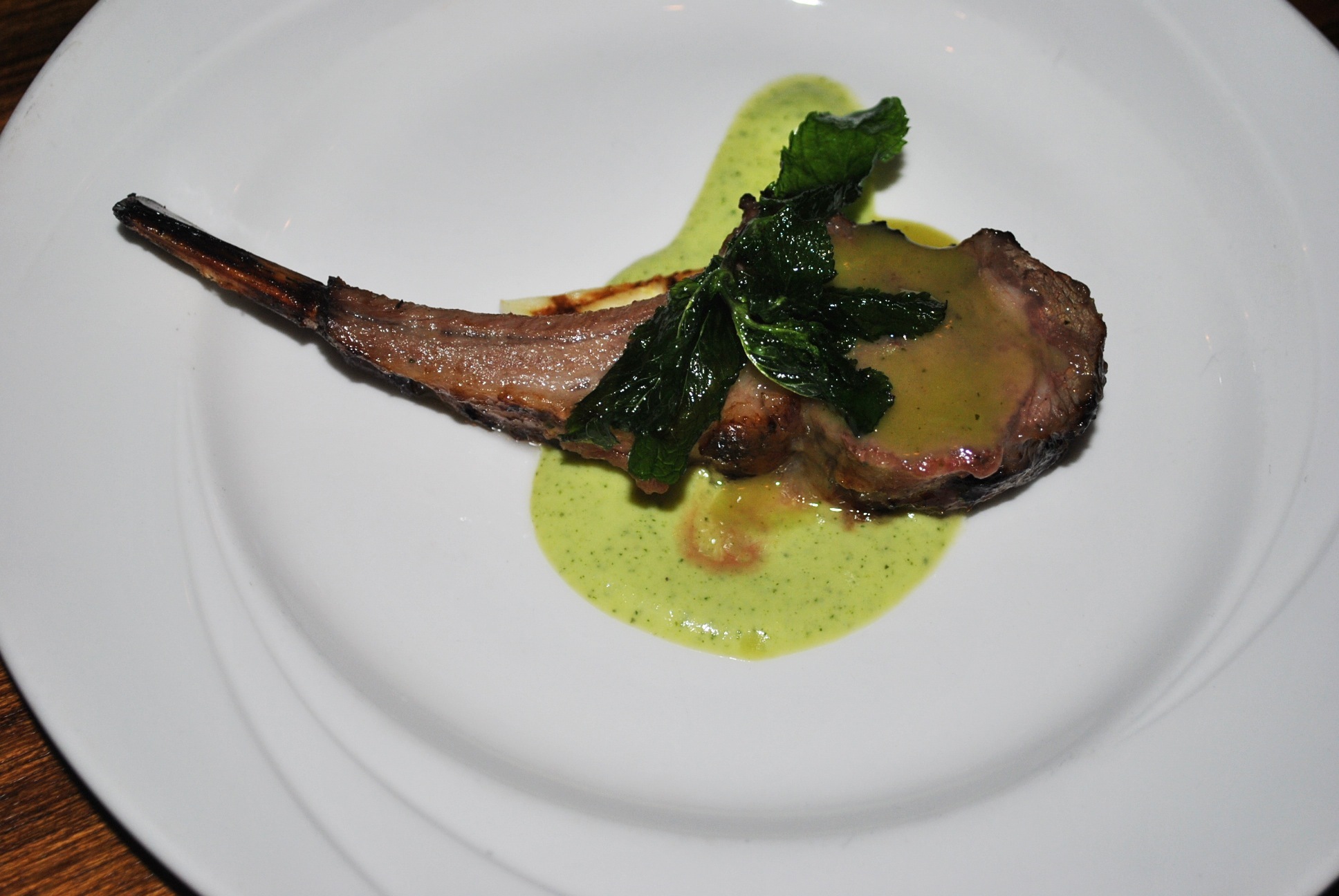 Lamb Lollipops, Green Plantain Tempura, Zucchini Puree & Sundried Tomato Mint Chimichurri
The youngest Chef de Cuisine at any hotel in Puerto Rico, Damián Hernández-Lorenzo and Eighty20 Bistro are exciting additions to the island's culinary scene. Working with Italian Sommelier Dario Iovannone at the new DiVino Wine Bar at the Verdanza Hotel, the duo paired perfectly cooked lamb chops and the indigenous plantain with a powerful limited edition Rioja (Lan, Espana, 2006) that complemented the meat without overpowering the lamb's more delicate sauces.
Eighty20 Bistro (at the Verdanza Hotel)
8020 Tartak Street. Isla Verde.
Caribbean Lobster Tail, Champagne Beurre Blanc
In the GE Kitchen at Saborea, guests were encouraged to serve as judges during the chef presentations that took place throughout the afternoons. I served my duty during 311 Chef Juan Peña's turn. Lucky me. As he cracked through the hard shells of two very fidgety crustaceans, the squeamish averted their eyes. When he placed a plate of the soft fish draped in the subtle champagne beurre blanc sauce in front of me, those same folks were incredibly jealous.
Trois Cent Onze (311)
311 Calle Fortaleza. Old San Juan
The Post-Saborea Bonus
You can't talk about food in Puerto Rico without mentioning Wilo Benet. The headlining chef of the island, Benet doesn't participate in Saborea, however, any list of star dishes in Puerto Rico would be remiss in overlooking his influence and talent.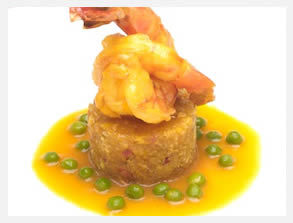 Jumbo Shrimp, Crispy Bacon Mofongo, Saffron Butter Sauce
At Pikayo, every dish elicits reaction, but for me it was Chef Benet's massive shrimp served over a neat pile of bacon-laced sweet pea mofongo. Mofongo, made with plantains, is a common Puerto Rican dish, but Benet's version will blow you away. A gentle touch of garlic and a saffron-infused broth round out the plate. I promise, you'll be dreaming about it for days to come.
Pikayo (at the Conrad Hotel)
999 Ashford Avenue. Condado.