THE SIX O'CLOCK, a tightly crafted, elegantly photographed short film from director Judy Starkman tells the story of a man who is driven to perfection by his job.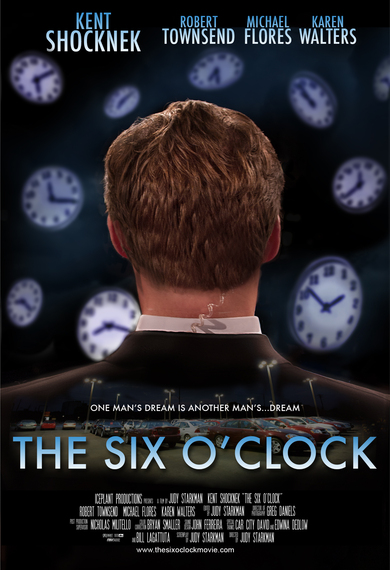 Opening on a sunny Pasadena afternoon, the camera shows us a black bottom pool nestled in the garden of a modern home on the lush hillside overlooking the city. We hear the sound of running water. Someone is taking a shower. A close up of suntan lotion and a towel pool side. Tall Cyprus trees sway against the blue sky.
All this urbane beauty and private serenity unnerve the viewer. Is this opening the calm before some psycho shower murder? Starkman laughs at such a suggestion, and elaborates instead that THE SIX O'CLOCK is about perception--the idea that some things aren't as they appear even to ourselves at times.
"No matter how hard you try to create and maintain your world or your perception of yourself there are some things you just can't control. That's why I purposely left the ending ambiguous. The audience can decide which ending works for them."
The film has as its lead (and virtually only actor) a most unusual choice, or maybe not so. Veteran Los Angeles anchorman Kent Shocknek, who in his 30 years of newscasting has logged more anchor hours than any other presenter in the huge Southern California TV market, stars as the unnamed "man."
Shocknek has had a few movie roles before, but always cameos in which he stands at the scene of a disaster, microphone in hand, playing the reporter. This is the first film as a star, and he proves himself adept at handling the film's off-beat comedic tone. Starkman wrote the script with someone like Shocknek in mind, and says she was thrilled when he accepted the challenge.
The film has a deliberately ambiguous ending which, says Starkman, has inspired viewers to come up with at least three ways to describe the events which unfold. "I was also very pleased to hear from some people that they found the tale suspenseful. It is deliberately quiet, and I think it unsettled some," she says.
"In the end, I just wanted to create a piece which makes people slow down, really examine what it going on with the character, and decide for themselves."
Working with veteran Director of Photography Greg Daniels, a frequent collaborator on commercial directing assignments (She and Daniels recently completed spots for BMW, Kimberly Clark, and Independent Health), Starkman succeeded in creating a precise piece of filmmaking. Daniels employed a vintage set of Zeiss Super Speed prime lenses, whose very shallow depth of field helped focus the viewer on the main character's deliberate habits. Starkman chose to move the camera slowly along dolly tracks to follow the Shocknek character's obsessive routine.
Here is a video interview with Starkman discussing her film and working with Shocknek.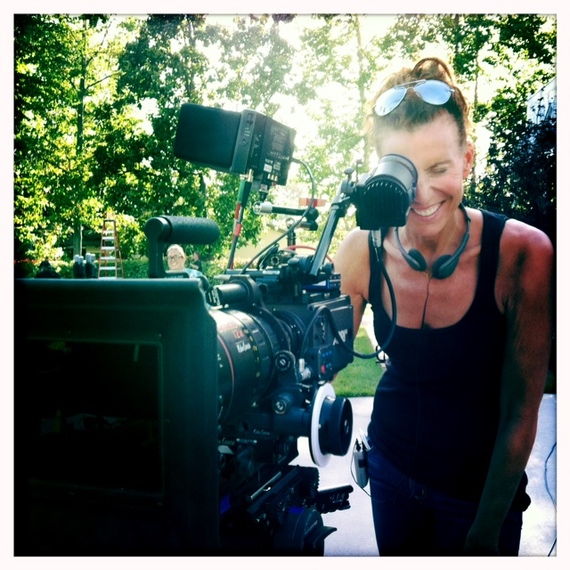 Starkman is currently preparing another short which she plans to shoot early next year, and is in the process of finishing the script for a full length feature. Shocknek, who retired last week after three decades as a TV newsman, is pondering his future, with an eye toward other fully formed acting roles.
REAL LIFE. REAL NEWS. REAL VOICES.
Help us tell more of the stories that matter from voices that too often remain unheard.