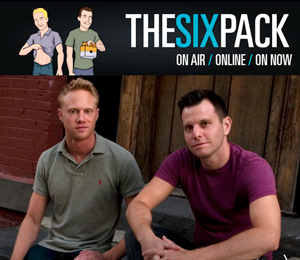 The Six Pack is a new-school, cutting-edge radio show hosted by DJ Ben Harvey and comedian Dave Rubin. Distributed online and on SiriusXM, the show gives you a weekly dose of hot topics, celebrity guests, and brand new music, all packaged in six convenient parts. Ben and Dave take you on a journey through what's trending now, from news to views to dudes. Previous guests include Joy Behar, Andy Cohen, Fran Drescher, Steve-O, Congressman Barney Frank and many more.
Currently in its third year, The Six Pack is one of the top comedy podcasts on iTunes, with listenership in over 70 countries. Huffington Post Gay Voices will regularly feature episodes of The Six Pack.
"SHORT: Donald Trump, Jr."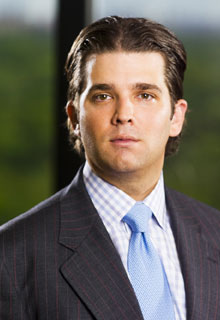 In the most recent episode of The Six Pack, we spoke to Donald Trump, Jr. In addition to coming out in support of gay marriage and abortion rights, he shed light on his father's views on these issues. Don Jr. also spoke about his love of hunting, which has thrown him into controversy and tabloids this week.
"I'm totally for it," Trump Jr. says of gay marriage. "One of my best friends growing up was gay. ... It's never been an issue for me. ... I think there was a time in my life, probably in college, that I wished every guy was gay, because it just meant more women for me! 'I don't know why you guys have a problem with this thing! I think it'd be great! I wish everyone was gay!' ... That's always the way I thought about it. ... I have no issue with it. If I have to suffer through marriage, why shouldn't they?"
He goes on to express his views on abortion, which diverge from those of the average conservative: "Honestly, for me, abortion, I don't get it. I don't even understand how it's a political issue. I don't understand how there is one issue for voters for that. I don't understand how you can tell someone what they can or can't do. And I'm sort of the same way with [gay marriage]. ... I can't buy into the abortion argument. I wish the Republicans would drop it as part of their platform."
It's no secret that his father, Donald Trump, Sr., has different views on these issues. Don Jr. explains, "In terms of my father's political views ... in the grand scheme of things, there's probably other things he'd be concerned about first, given the state of the world and our economy, etc., etc. ... I think part of it, and perhaps the shame of being a conservative, is you almost have to have those kind of stances to win any kind of primary. And then you have to basically sell out and become a moderate in the middle, just like you have to do if you're on the liberal side of the political spectrum."
Don Jr. also expressed his discontent with GOP presidential hopeful Rick Santorum: "The guy's a freakin' joke. ... Some of the stuff that he says, I can't believe it. When they're like, 'Oh, he's so progressive for the Republicans,' I'm like, 'Progressive for 1742.'"
Don Jr. has been the subject of controversy surrounding photos that surfaced of him and his brother Eric hunting wildlife while on safari. We asked Trump about his love of hunting several days before the controversy started. "I'm kind of a closet redneck," Don Jr. says. "I shoot competitively, I'm an avid fly fisherman, big-time hunter, bow hunter, rifle hunter, so I do all of that. ... I try to do what I can to decompress and get out of the New York City life in what little free time I have and try to expose my kids to that. Because I think the city's great, but I think it can also get you in a lot of trouble growing up. So the outdoors has always been very good for me that way."
Catch The Six Pack Saturdays on SiriusXM OutQ channel 108 from 1 to 3 p.m. EST and as a weekly podcast on iTunes, sixpackradio.com, and now... Huffington Post Gay Voices! Listen to the entire podcast episode here.
Popular in the Community