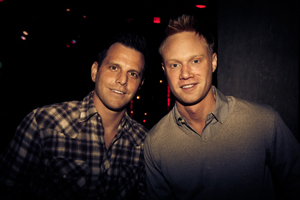 The Six Pack is a new-school, cutting-edge radio show hosted by DJ Ben Harvey and comedian Dave Rubin. Distributed online and on SiriusXM, the show gives you a weekly dose of hot topics, celebrity guests, and brand new music, all packaged in six convenient parts. Ben and Dave take you on a journey through what's trending now, from news to views to dudes. Previous guests range from Joy Behar to Barney Frank, Sigourney Weaver to Andy Cohen, and Fran Drescher to Steve-O.
The Six Pack guys first met in 2007 at the gay-focused here! TV network. The "Ben and Dave Show" received critical acclaim from Entertainment Weekly, which called them a "mas macho" version of Ryan Seacrest and Simon Cowell. After leaving the network, the guys reinvented the show as The Six Pack and distributed the show independently. Currently in its third year, The Six Pack is one of the top comedy podcasts on iTunes with listenership in over 70 countries. Huffington Post Gay Voices will regularly feature episodes of The Six Pack.
Ben: Never in my life did I think I'd be hosting a radio talk show on a gay channel with a gay sidekick. I got my start broadcasting to the dudes and bros who listen to rock radio, first in Rhode Island, then in my hometown of Philly. In 2003 I moved to NYC to work alongside Howard Stern at K-Rock, where I cranked out Metallica and Godsmack songs every night. I was out in my personal life, but my on-air life was totally closeted, and I overcompensated by developing a hypermasculine alter ego and daily features like "Stump the Stoner." Howard Stern was as accepting as they come off-air -- he even invited me and my boyfriend at the time to a couples-only Valentine's Day party. But some of the other DJs on the station felt the need to pander to the knuckle-dragger segment of our audience, liberally using the word "fag" and ringing a bell when they deemed things overly "gay." It was tough to face them in the hallways knowing they respected me off-air and yet would diss my community on-air.
Once Howard Stern left and the station flipped formats, I went to work for the extreme opposite of K-Rock: here! TV, a small, premium cable, gay TV network. Working for an all-gay-all-the-time network was a total about-face for me at first, but things finally fell into place in 2007, when Dave and I started the first incarnation of our podcast.
Dave: I've been a stand-up comic for almost 13 years in NYC. Somewhat amazingly, I spent about eight of those years professionally closeted. I worked all the usual clubs in NYC, did too many road gigs and, like every comic in history, performed anywhere there was a two-drink minimum to be had. Personally I was a mess -- every closeted person knows that feeling -- but professionally it was working. I sublimated a lot of sexual angst into good comedy, something I suspect many far bigger comics than I are still doing to this day. But one night I was on stage and suddenly felt that everything was off. My life track had fallen so far behind my career track that neither felt right anymore. Comedy is art, and in this case I was like a painter choosing not to use the color blue. You need your entire palette to really unleash what you have inside you. After that night I took a few weeks off from stand-up and wrote a new act using all my colors. Beyond the personal transition it wasn't easy professionally, either. Suddenly I was stuck at little gay comedy shows in the backs of gay bars. Everything had flipped again, and now my personal track was ahead of my career one.
Through a friend of a friend, I ended up doing a comedy podcast at here! TV and was quickly introduced to their main guy in NYC, Ben Harvey. It seemed that we were both there more by circumstance than anything else, but sometimes that's just good enough. Ben and I had spent about 15 minutes together before we were in the studio doing our first podcast together. I think we both felt the magic right away, and soon our show built a loyal, organic following all across the world.
Episode #80: "Baby Shaker"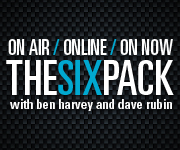 On this week's episode of The Six Pack, recording artist Justin Utley joins us in studio. Justin describes growing up as a gay Mormon and how he survived reparative therapy before moving to NYC. (By the way, Marcus Bachmann, it doesn't work!)
"They don't even say 'gay'; they say 'same-gender attraction,'" Justin says, describing the experience. It's a choice or because your mom or dad wasn't there... Finally, they had me convinced at one point to do anything. They had me believe I was molested as a kid."
Catch The Six Pack Saturdays on SiriusXM OutQ channel 108 from 1 to 3 p.m. EST and as a weekly podcast on iTunes, sixpackage.com, and now... Huffington Post Gay Voices! Listen to the entire podcast episode here.
Popular in the Community