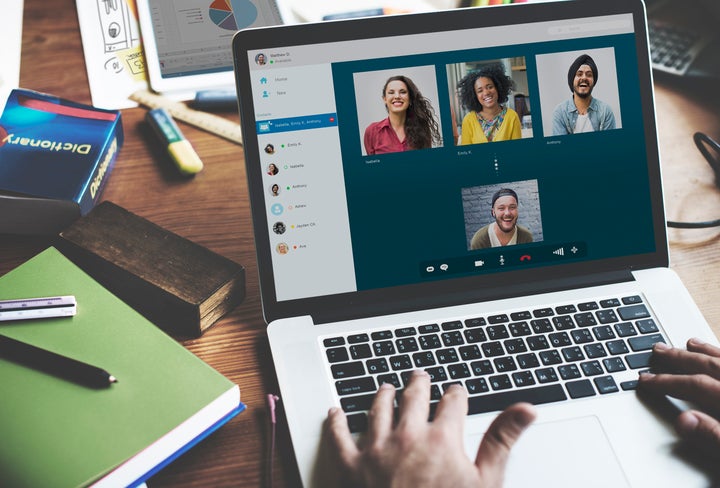 A distributed workforce is becoming the reality for (almost) every company. However, effective remote working and collaboration habits are not self-evident and generally differ substantially from what works in-office. An enabling environment combines open and adaptable mindsets with active and equitable communication supported by seamless connectivity, video capabilities, and other relevant applications. Effective practices center on componentizing work and measuring impact, preceded by clear discussions about expectations, habits, and tools during hiring, on-boarding and transition training.
At the same time, employees have varying work styles finding their peak 'flow' at particular times of the day. They prefer using different applications or media and specific spaces and solo/group environments. These differences often become more evident when working in isolation or away from the office and some accommodation improves performance significantly. In addition, strong relationships generate the most productive interactions which are harder to develop or maintain when the workforce is spread out.
Colin Doherty, CEO of Fuze, recently made the decision for the company to go virtual and no longer have a central headquarter in favor of regional hubs. Since the company's business is providing communications platforms and software to enable remote workers and teams to collaborate effectively, Doherty is taking his own medicine.
In fact, he says the company is simply recognizing the reality that many employees were already "working from anywhere" as Fuze calls it. One Fuze employee actually logged close to 500 different places he was working from over the first nine months of 2017 including planes, trains, and hotel lobbies, as well as from coffee shops and from home!
Nonetheless, improving or optimizing the performance of your distributed workforce takes deliberate effort to establish suitable conditions and new routines. These useful insights are from experienced enterprise practitioners.
Culture & Mindset -- Fuze's corporate culture emphasizes openness, adaptability, and a non-hierarchical approach. Doherty found that archaic, rigid structures and bureaucracy stifle innovation, and flexibility and communication are essential for effective collaboration.
Daisy Hernandez, the Global Vice President, Enterprise Collaboration (SAP Jam) at SAP, echoed these fundamental principles of open-mindedness and equitability when describing how SAP establishes effective meetings with distributed teams. She explained how all participants attend using the same video platform even if they are sitting in the same room, allowing everyone to contribute on an equal footing.
Communication: Hernandez noted there are many degrees of remoteness, especially with SAP's workforce spread across many countries and time zones. She described how SAP encourages employees to lean in to use resources that allow them easily to engage with and respond to each other wherever they are based or traveling.
Strong relationships at Fuze are also purposefully stimulated to facilitate easy exchanges and information flow. To this end, the company promotes a lively, integrated social side in multiple ways including numerous events, large messaging capabilities, and non-work-related group chats. As culture drives behavior, the decentralized, open communication approach also generates incoming employee contributions. Doherty believes employees need to feel like they have a vote, so surveying employees quarterly and incorporating their inputs are important aspects of their communication fundamentals as well.
Technology: Effective enterprise tools permit seamless connectivity and intend to replicate the easy exchanges that employees are used to socially in order to bridge the gaps between all employee work locations. Doherty sees a critical shift in viewing the CIO as head of a productivity center not a cost center in order to be successful in establishing and properly using a platform that will consistently support distributed working.
Both companies note the essential role of visual communication to help team members connect, interact, and ideate with the most understanding and information possible—research showing facial cues add significantly to words and tone. Video channels are constantly open for distributed teams at Fuze. The purpose is both to lower inhibitions about video chatting as people click in and out of conversations, and create strong open, sharing habits as digital visual interaction becomes their norm.
Componentizing Work: Hernandez outlined SAP's collaboration practices covering managing meetings and accomplishing projects effectively with distributed workers. Relevant multifunctional teams gather via video at the launch of a project. The meeting's purpose is to identify work streams, their leaders and team members, and work modules and responsibilities are parceled out with clear accountability. A critical piece is understanding where cross-dependencies line up as well as adjusting team participants for similar time zones where possible. Tasks are completed outside of these meetings by the team(s) or individual(s) responsible.
Doherty reinforces the reason for this allocation of work components explaining that managing remote workers cannot work well with centralized control. Relevant management practice focus on appropriate apportioning of responsibility, whether individuals or groups are solving problems or accomplishing tasks wherever they may be.
Measuring Results: SAP emphasizes purpose-built collaboration to focus on how capabilities are applied to different types of work. They produce Total Economic Impact reports for themselves and customers to confirm the purpose of the collaboration and track its impact and successful completion. Doherty himself is passionate about productivity not attendance which is another essential shift with a distributed workforce - focusing on outcomes to assess progress as well as ensure an equitable evaluation of all employees' performance.
Creating Habits: Developing productive practices across a dispersed group of workers takes deliberate efforts in hiring as well as targeted coaching of existing employees. At SAP, previous remote working experiences and expectations of virtual working practices are discussed in detail with prospective hires—how it works, what it takes, previous positive and negative reactions—in order to assess fit and relevant on-boarding needs. For existing employees, some people struggle to change their work routines, but Hernandez has found that productive mindsets and behaviors can always be learned with suitable support.
All members of a distributed workforce are dealing with different work circumstances whether they are predominantly in the office or elsewhere. Adjusting management methods and operational practices will maximize productive collaboration, starting with nurturing a cohesive community and meaningful connections among all your workers. Good technical connectivity and tools are critical, which also permit individual work styles and needs to be catered to. Above all, new management and operating practices require thoughtful guidance to support transition and training to be sustained.
When all dimensions of new routines are understood, valued, and executed upon fully, your company will be able to unleash the potential of your distributed workforce.
Sophie is Workforce Innovator and founder of Flexcel Network. She consults to companies helping them create sustainable work environments - effectively attracting, engaging, and retaining a multigenerational, distributed and productive workforce. She speaks frequently to corporate audiences about Future-of-Work issues. Follow Sophie @ASophieWade. Read her new book Embracing Progress. Next Steps for the Future of Work.
Related
Popular in the Community