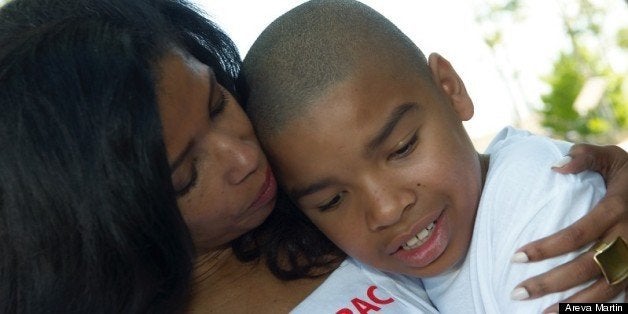 From sun up to sun down and sometimes even in my dreams, I'm reminded of the daily struggles my son faces. He sees the world differently than most children, but the same as so many other children who are just like him. My son has autism.
As I mother, I desperately want to protect him. I want his struggles to go away. I don't want the world to view him as being different or abnormal. I want him to be just like every other child, but the reality is that his disorder is here to stay. The reality is we live in the world of autism.
There is no cure. There are still so many unanswered questions. There is, however, hope -- hope that with more advocacy, more research and more compassion for children with special needs, we can improve our knowledge and understanding of autism. Slowly, steadily, we are making progress, but we still have a long way to go to break down barriers and build up resources.
Once a year, society's eyes and ears are opened to the world of autism as skyscrapers turn blue, mayors around the country proclaim awareness and organizations host a multitude of events in recognition of a disorder that at one time was completely misunderstood and swept under the rug.
Many advocates would say that once a day, week or month has been dedicated specifically to your cause, great strides are being made. I would agree but when national diagnosis rates continue to rise and underserved communities continue to struggle with access to affordable care, it's even more important to remember that our attentiveness needs to be tuned in every day of the year, not just throughout the month of April.
Autism now impacts one in 50 children. And while recent reports from the Centers for Disease Control are good indications that our nation is becoming more attentive to autism spectrum disorders, there is still much ground to cover.
As the head of a leading autism advocacy organization and having worked with more than 30,000 families in just a few short years, I have witnessed first-hand the lack of attention to this developmental disability by healthcare providers, insurance companies and public officials.
It's crucial that as a society, we realize that even as the rate of this developmental disorder rises, the rate at which minority children are ignored and pushed aside is even more disconcerting. Research continues to show that minority children are diagnosed nearly two years later than their Caucasian peers. While we may be unaware of a cure or definite causes, we do know that an early diagnosis and treatment can significantly improve a child's outcomes and development progress.
The autism epidemic continues to take a toll on children and families across the U.S., especially families in underserved communities. It is time that we take action to ensure every child in need receives access to quality care and the life-long benefits of an early diagnosis and intervention. It's time we took action throughout every month of the year. Let the sky remind us that autism awareness must be every day for even when it rains, the sky is still blue somewhere.
And while I recognize the struggles my son endures, I also realize that his diagnosis has allowed us to better understand ourselves. And, although as a parent I never want my child to suffer or struggle in life, I wouldn't change him for the world. For every struggle he has, he also has an abundance of joys. He is mine. He is beautiful. He is autistic.