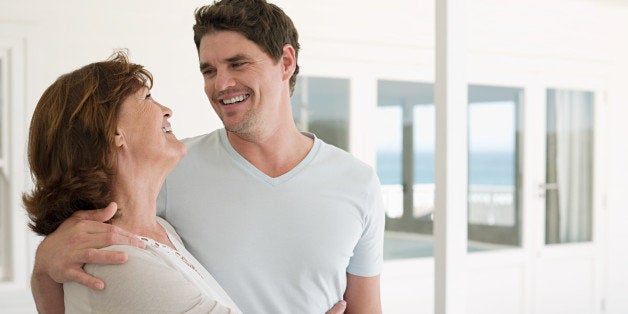 "Jack, I can't wait until you're older, because right now you have to disagree with everything I say."
That is from an actual conversation between myself and my then fifteen year old, snarling-mass-of-hormones son.
When Jack was little, parents of older children would say, "Enjoy this time. It gets rocky when they hit 13." I remember feeling all smug and thinking that wasn't going to happen to my sweet boy. Ha! It happened in a big way.
Being in the field of psychology, and having been a teen myself, did nothing to prepare me for what it's actually like to improvise dialog with a teenager who happens to be your own kid. Jack is very smart and yet his brain, as a teenager, isn't all hooked up yet when it comes to higher reasoning, judgment, impulse control, and decision making. And yet, just like most of us as teens, he is sure he knows way more than we do about most everything.
When he was learning to drive we let him drive us up the Pacific Coast Highway from Santa Monica to Malibu on a Sunday. It was very busy stop-and-go traffic. During that drive he and his Dad had this chat in the car,
"Dad, you don't need to tell me that."
"Jack, I'm trying to help you learn how to drive. I need to tell you things."
"Dad, I can handle this."
"Jack I've been driving for over forty years. I think I know a thing or two about driving."
"Dad, you know you can be a really crappy driver for a very long time."
We drove the rest of the way in silence. Myself, and our dog Cody, shaking in the back seat.
When we were still in the sweet stage with Jack I said to a friend,
"I don't know how I'm going to handle it when he's ready to leave home."
She said, "Don't worry about it. God makes it easy for you." By that she meant he will be so obnoxious that you will want him to leave.
Jack is 18 now and getting ready to leave home. He vacillates between sweet, mature young man and horrible, awful, ungrateful, irrational teen. It's just the strangest thing to witness and have to contend with on a daily basis.
So for all you parents of teens out there I'd like to tell you, you are not alone. It's tough. They can be jerks and yet it's our job to love them through it. I remember learning early on about little kids that they save their important feelings for you. You the parent who they love and trust the most. That explains the lovely behavior in public that turns into an epic meltdown at home.
If you are suffering the slings and arrows of teen angst, I'm sorry. It's what they need to do to form their own identity and separate from us in a healthy way. Having gone through it as a teen does not, I repeat, does not, make it easier to parent one. What does make it easier is knowing that this too shall pass and if you can laugh through it all, you will be way ahead.