Authored by Rabbi Mark Wildes, with contributions by Jessica Hendricks Yee of The Brave Collection and Michelle Soffen of MJE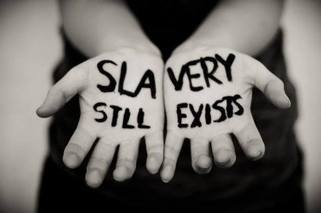 Modern Day Slavery. When you hear these words, what comes to mind? Perhaps the phenomenon of being tethered to technology, the need to check one's email all hours of the day, slaves to our jobs, to our mortgages, credit card bills, school loans, to our relentless self-doubt, or bad habits. This is what I have always explained as Modern Day Slavery, until I met entrepreneur Jessica Hendricks Yee, CEO of The Brave Collection.
A couple weeks ago, Jessica was a guest speaker for my regular Monday night class at MJE. We were doing a series leading up to Passover complete with Kosher Wine Tasting and a Mock Seder and so when Jessica volunteered to discuss Human Trafficking as part of this series -- we thought why not? Seemed like a reasonable enough fit.
She opened by asking the room what we discuss at our Passover Seders. During this great festival, when we retell the story of our ancestors' journey from slavery in ancient Egypt to freedom, what parallels do we draw to our own lives today?
We answered with the general sentiment expressed above: we're slaves to our egos, iphones, screens and materialism, etc. "Me too," she said, "this is the kind of slavery we always discussed at my family's Seder."
Jessica then told us her story -- how what began as a trip abroad in search of adventure and relaxation, turned into a life-path altering lesson.
After my sophomore year at NYU, I traveled South East Asia to teach English for the summer. Somewhere along the breathtakingly beautiful journey through tropical gardens and majestic Buddhist temples, I was struck by an unfamiliar sight: Girls as items for sale. It felt like the walls were crumbling around me as I realized that modern day slavery was not only a metaphorical idea, but it was alive today as the very real buying and selling of human beings.

I realized that the true meaning of the word "slave" is a reality for an estimated 27 million people across the globe. I learned that human trafficking (defined as the act of transporting, recruiting or harboring a person for labor through the use of coercion, force, fraud or kidnapping) is a 30 billion dollar a year business that victimizes our most vulnerable, and turns a body into a piece of property.

To put this crisis into perspective, at the height of the trans-Atlantic slave trade there were an estimated 80,000 slaves brought over from Africa to the new world. Today nearly 25 times that number of women and girls are being sold into slavery each year.
We sat stunned as we attempted to digest this shocking information. How could this be? How could modern civilization stand for such a thing, even indirectly? How is it that we don't talk about this, at our Seders or anywhere else?
Jessica offered one explanation: it's not easy to talk about. It can be depressing, there is no magic solution, and it is easy to feel hopeless when one realizes the true scope and magnitude of the problem.
I must admit, this is how I felt. Defeated. The room begged her for concrete answers. Jessica offered us the basics: nonprofits we can support who are fighting this crisis and how we can find out whether certain products we buy support the slave industry.
We weren't satisfied. "What's the big solution? What can we really do to change this? Tell us!"
Jessica simply answered, "I don't know."
"I don't have the solution," she continued, "This is why I tell the story."
She explained that after returning to the U.S. she couldn't get the women she saw out of her mind. She had to do something and decided her small part would be to raise awareness about this issue in a way that made it accessible. This burning need to at least make a dent in the problem led to the founding of her company, The Brave Collection: Jewelry handmade in Cambodia to celebrate bravery and empower women across the globe.
The Brave Collection does its part to help fight human trafficking by providing well paid jobs to women in Cambodia and donating 10 percent of their profits to non-profits fighting the crisis. More importantly, every bracelet is a talking point, every purchase an opportunity to educate and enlighten.
Though I was truly moved by my discussion with Jessica, I was at first reluctant to write this blog post. I didn't feel comfortable sharing such a devastating issue without being able to offer some concrete, grand solution.
Then I remembered the commandment to tell the story of our Exodus from Egypt. Every year, for thousands of years, Jews tell the same story at the Seder. And we don't just tell it. We relate the story using the Seder props in an attempt to experience and feel for ourselves the impact of slavery and the journey to redemption. We taste the salt water tears of our ancestors, we remember the harshness of their lives through bitter herbs, while simultaneously delighting in wine and reclining in chairs to viscerally connect to our freedom.
There are many explanations as to why we tell this story in such a way. One reason is that by connecting psychologically to this story of deliverance, we experience a renewed, urgent need to combat today's expressions of slavery -- both the metaphorical shackles that affect us all spiritually, and the literal ones that plague far too many of our sisters and brothers throughout the world.

The mitzvah of telling the story of Exodus is in itself a testament to the power of storytelling. Stories change us, inspire us and ultimately move us to action.
Even if we don't have a fix-all answer yet, we still need to tell the story of human trafficking. You never know what child might hear this story and one day become the Moses who helps lead our modern day slaves to freedom.
Even before that happens though, Jessica reminded us that there are some very real things we can do to help.
We are such a powerful community and have been on the forefront of positive social change time and time again. This Passover let us focus on fighting modern day slavery by donating to non-profits who are making a direct impact on our most vulnerable, by shopping consciously from brands that treat their workers with dignity, and most importantly, by educating our community so that each of us can use our skills and talents to make a difference in a way that feels right for us.
See below for a resource list of facts and ways to combat this issue.
As you tell the awesome story of The Exodus at your Seder this year, I ask you to consider also telling the story of Modern Day Slavery. Let the symbols of bitterness and bondage of our ancestors remind you of the 27 million people currently enslaved. And as you taste the sweetness of the wine and charoset and as we witness the renewal of spring, let us remember there is always hope. As our ancestors were freed and redeemed from the shackles of their slavery, may God bless our efforts and deliver all people from oppression and slavery to freedom and liberty.
Related
Popular in the Community