I am an artist with a sensitive social conscience. I affirm that sleeping mind gives birth not to monsters, but to chimeras.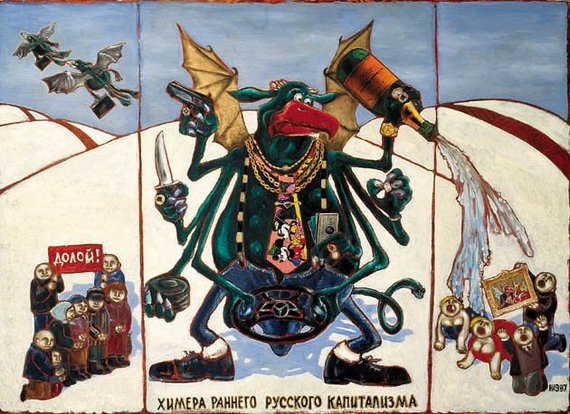 Chimera of the early Russian Capitalism. Photo Credit:Lena Hades
Chimeras are stereotypes which do not really exist, but they have become so popular and ingrained in our imaginations that they established themselves in our mind in the form of ingrained habits of thought.
Chimeras replace fables in our social conscience. Here is the Chimera of the Mysterious Russian Soul (chimera babies of other national souls have happily choked in their chimeric eggs not even having hatched), Chimera of the American Dream, Chimera of the Freedom, Equality and Brotherhood, Chimera of Scientific and Technical Progress, Bolshevik Chimera, Capitalist Chimera, Chimera of the Early Russian Capitalism, Chimera of Haute Couture, Chimera of Sexual Revolution, Chimera of Freedom, Chimera of Politics, Chimera of Justice, Chimera of Geopolitics and many other Chimeras. The human society has lost its freedom, equality and brotherhood already long ago - though did they really exist?! - but a chimerical monster with three heads has been alive for already over seven centuries, like Zmey Gorynych from a Russian fairytale.
And what's about Russian capitalism? In my opinion, there are essentially 3 characteristics of the early Russian Capitalism.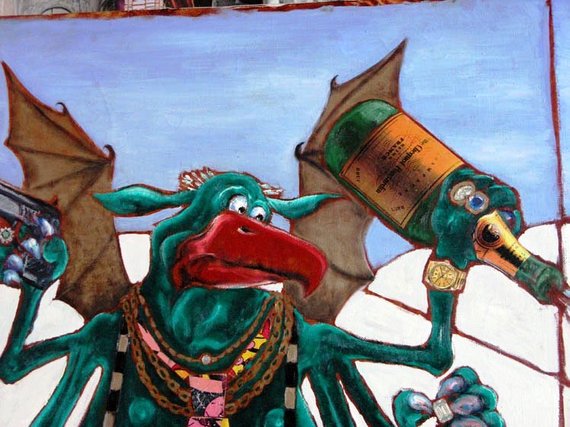 Chimera of the early Russian Capitalism (detail). Photo Credit:Lena Hades
Capitalism is grounded in the concept of free enterprise, the early Russian Capitalism is grounded in the concept of oil trade and gas trade effectuated by businessmen and by government officials who are at the same time businessmen.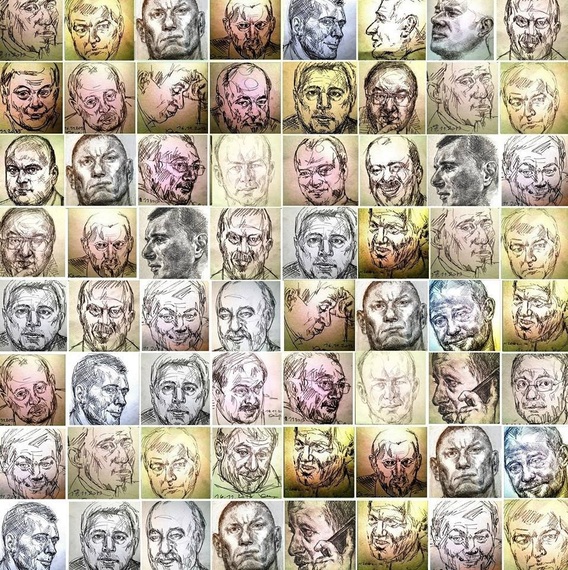 Russian Forbes, 2013. Pencil portraits of the Russian Forbes billionaires 2013 painted by Lena Hades, exactly the first twenty most rich men of Russia:
Vekselberg, Abramovich, Prokhorov, Kerimov, Rybolovlev, Khan, Lisin, Alekperov, Deripaska, Fridman, Potanin, Timchenko, Usmanov, Mikhelson, Melnichenko, Mordashov, Makhmudov, Skoch, Galitsky, Kuzmichev. Photo Credit:Lena Hades
The oil painting created by me, Lena Hades, in 1997, illustrated such a phenomenon as the early Russian Capitalism. The painting was exposed many times, for example, at the Second Moscow Biennale of Contemporary Art. Chimera belongs to the series Chimera Art or Ars Chimaera (in Latin) which was launched in 1996, twenty years ago.
This is a real chimera! If there is such a chimera as the Russian Capitalism, it consists in treating all citizens of Russia as a thing, as something of no value or importance. The early Russian Capitalism is a thing-in-itself, what is outside of the chimera should be a matter of no importance...The creature holding a Russian Makarov pistol, a knife and an anti-tank grenade has not good taste -- its tie is too childish, gold chains around its neck are too big, its beak is too red. Why is the chimera so heavy-armed? In the mid-1990s the privatization was one of the most important economic events of the last sixty years, the redistribution of property was often accompanied by murders, kidnappings and other crimes. In sum, the privatization resulted in corruption, inefficiency and finally in the rise of oligarchy.
Russia is in trouble, its economy is in crisis, the number of people living in poverty continues to grow.
The latter trend is best illustrated by the left part of the painting representing a group of trashy dressed people who beg on the streets of Russia. Their hands are begging for food and for money, but their hearts are full with hate - they are holding a slogan «Долой!» - «Down (With Riches)!»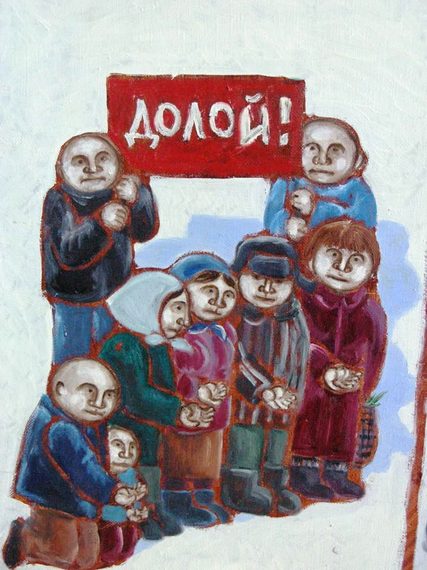 Chimera of the early Russian Capitalism (detail). Poor people. Photo Credit:Lena Hades
Chimera of the early Russian Capitalism looking at the beggars and citing the Bible
«Those who give to the poor will lack nothing, but those who close their eyes to them receive many curses» (Proverbs 28:27) knows pretty well that giving to those who beg does more harm than good and pours champagne over their heads. Some beggars try to sell a ceremonial family portrait of the Chimera, they stay on their knees and beg to buy the portrait.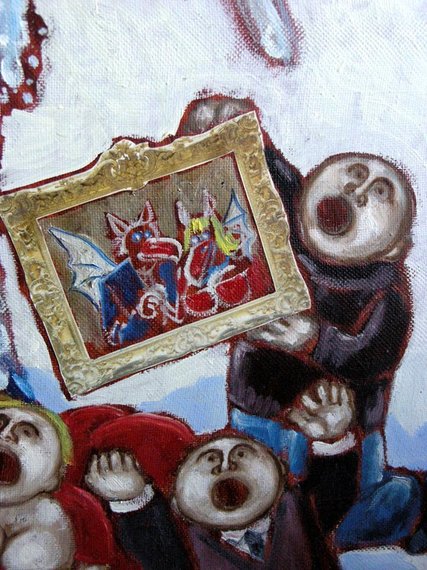 Chimera of the early Russian Capitalism (detail). Russian artists. Photo Credit:Lena Hades
Three months ago, "The Moscow Times" wrote that Russia saw a net capital outflow of $58.9 billion last year, almost three times less than in 2014...More than $400 billion net has flooded out of Russia since mid-2010. Capital flies to safety...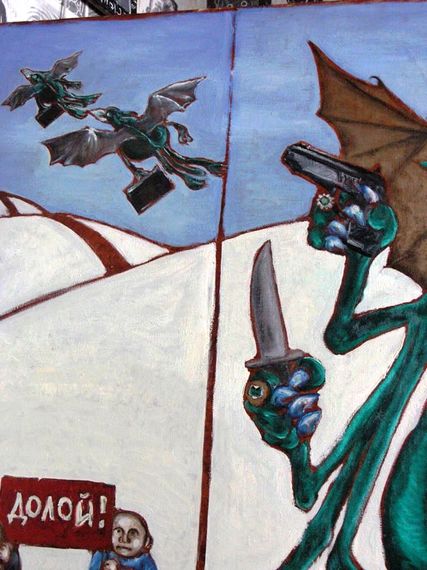 Chimera of the early Russian Capitalism (detail). Capital Outflow. Photo Credit:Lena Hades
Finally, a question arises then, namely, what kind of capitalism has Russia built? The answer is simple! Russia has built a chimera, or more exactly the Chimera of the early Russian Capitalism.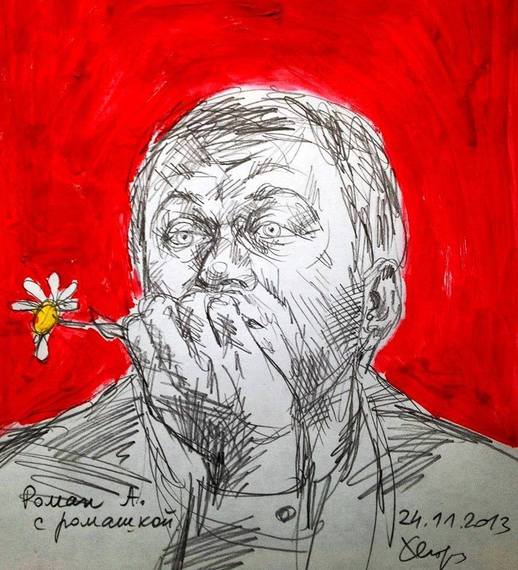 Roman Abramovich by Lena Hades. Photo Credit:Lena Hades
As Oscar Wilde says, "Education is an admirable thing, but it is well to remember from time to time that nothing that is worth knowing can be taught". Yes,he is right! For example, creativity cannot be taught. Making money cannot be taught, neither learnt. The Chimera of the early Russian Capitalism knows it pretty well.
Related