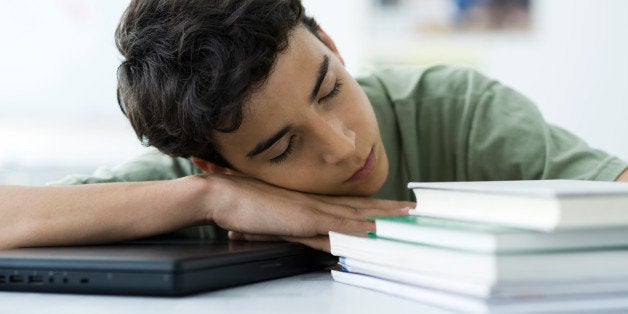 The Huffington Post and the ASUC Office of the Academic Affairs Vice President are excited to bring the #SleepRevolution to UC Berkeley!
The Huffington Post Sleep Revolution will be taking the nation by storm this spring, headlined by a new book from Arianna and a tour of 50 colleges and universities across the country. On April 11, from 11 AM - 2 PM in Pauley Ballroom, UC Berkeley will be one of them.
Taking center stage in this campaign are the sleep habits of university students. As colleges have grown more and more competitive, the mental health of students attending them has deteriorated. The scientific consensus is that lack of sleep can be one of many key instigators of mental health issues in college, as students are bogged down by constant exams, exorbitant levels of stress, and limited hours for rest.
Students at various campuses have taken it upon themselves to lead the way in launching initiatives to increase the amount their peers sleep and to supplement their mental health. At UC Berkeley, Melissa Hsu, the Academic Affairs Vice President of the Associated Students of the University of California, led the installation of REST Zones on campus to both provide a physical space where students could take naps between classes and promote a culture of consciousness about the importance of sufficient sleep.
Through the Huffington Post Sleep Revolution, we hope to inspire similar momentum at campuses across the country. When the #SleepRevolution comes to UC Berkeley, the Huffington Post will be joined by Sleep Number, KIND Bar, Remodo, Aros, CalmCircle College, Somni and more to provide education about sleep on college campuses as well as giveaways of snacks, pajamas, meditation tools and sleep gadgets.
Find us on April 11 in Pauley Ballroom on the 3rd floor of the MLK Jr. Student Union from 11 AM - 2 PM, and use the hashtag #SleepRevolution! You can find the Facebook event here. We look forward to seeing you there!
This post is part of our series on sleep culture on college campuses. To join the conversation and share your own story, please email our Director of College Outreach Abby Williams directly at abigail.williams@huffingtonpost.com. And you can find out here if the #SleepRevolution College Tour will be visiting your campus, and learn how you can get involved. If your college is not one of the colleges already on our tour and you want it to be, please get in touch with Abby.
REAL LIFE. REAL NEWS. REAL VOICES.
Help us tell more of the stories that matter from voices that too often remain unheard.