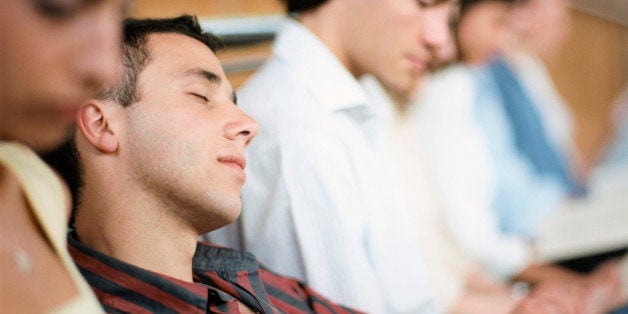 I have just been offered the opportunity to host an event centered around a nationwide movement for more attention to and hopeful change in shut-eye hours, and I'm skeptical.
As a freshman at Penn, I'm not quite convinced that students are going to be eager to spend an hour to hang out and talk about sleep - and what's more, it's the week before final exams, the penultimate window of campus-wide all-nighters and accepted exhaustion. Most people already assume how tired everyone is because, well, it's college and the week before finals. The entire campus is sporting those flannel pajama pants with the red and blue "P" on the side and debuting their glasses as everyone is too tired to bother with contacts.
Unless you're making miracles happen, you're tired before, during, and after exams.
Perhaps the #SleepRevolution event, then, is coming at the perfect time.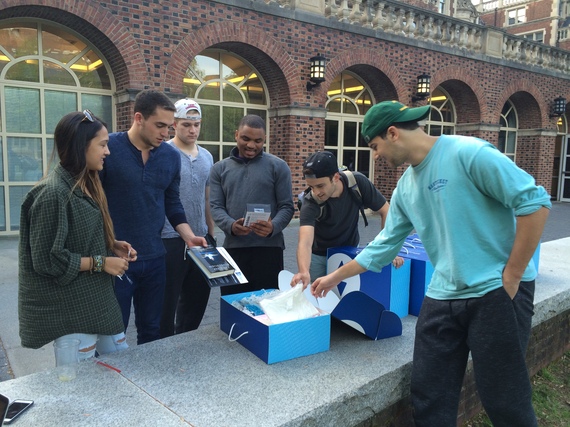 It's April 25 around 5 p.m., and I'm armed with twelve decked-out Sleep Revolution kits. I set up camp in the lower courtyard of The Quad, near the hundreds of undergraduates who reside within its seemingly ancient brick walls. Where better to hold an event about sleep than where everyone does exactly that?
Coming off of a grey, frigid March and April, it only made sense to hold the event on the grass in the sixty-five degree weather - one of the more relaxing (and, not to mention, inviting) ways to take a break from the books is to simply be outside, and The Quad provides the ideal backdrop.
The afternoon is framed as a "get-together" in hopes that students, professors, staff, and anyone else on campus, really, see it as an opportunity to sit down, take a breath, enjoy the company of others, and talk about something that matters. Yeah, there are giveaways, but what's important to me most is that this community begins to take the necessary steps to wrapping its head around the epidemic that is sleep deprivation.
Fifteen minutes in, four or five smirking freshman timidly approach. "What's going on?"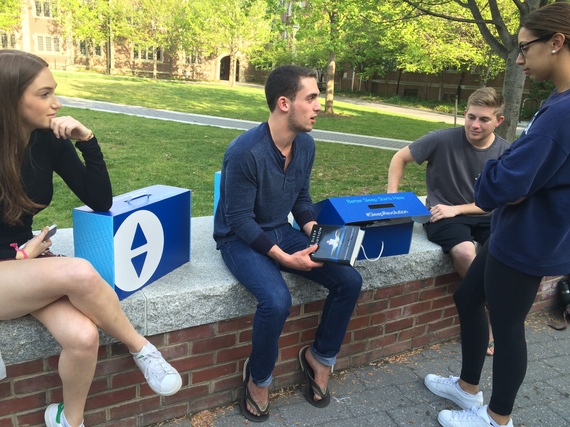 I draw them in with the sleep kits - the Lands' End pajamas are a hit, as are the Marpac white noise machines and copies of Arianna Huffington's new book, The Sleep Revolution. Expecting very little after they reach into the boxes, I find myself switching on my inner-salesman, thinking "What can I do to make these people stick around?" To my surprise, the next words aren't mine but rather a question from the other students, grappling with the sleep gear they just took away.
"So, what can I do to be a part of this?" one of them asks. Little do they know that just by walking over and asking, they already are a part of the Revolution.
"Why is it really that important to have eight hours?" another insists. After a thirty second explanation from my end, they turn to each other to chat. They explore each other's sleep, exercise, and eating schedules. They compare how many hours they got last night. They describe how they feel after spending nights in the library until 3 a.m.

"Unless you're making miracles happen, you're tired before, during, and after exams."

Inside and outside, I'm smiling in complete excitement. If these five Penn citizens are any indication, the event is going to not only be well worth it but also motivation for myself and all others to continue doing our part in making #SleepRevolution happen. It's not that I'm a cynic but rather I think of myself as a realist.
And Penn could not have proven me more wrong.
Over the next hour, over one hundred Quad residents and workers drift up and down the bordering sidewalks. All of them do as much as glance over towards the bright blue sleep kits and growing crowd, and most turn onto the grass to get themselves involved.
Even an employee of the neighboring dining hall, who many of the students there recognize, inches towards the circle in hopes of taking home a sleep kit with her--she cracks her back, detailing in how she got a horrible night's sleep all week. She says that she is grateful for me and for this event. That exchange, among dozens others over the course of the few hours, are the heart of the priceless afternoon.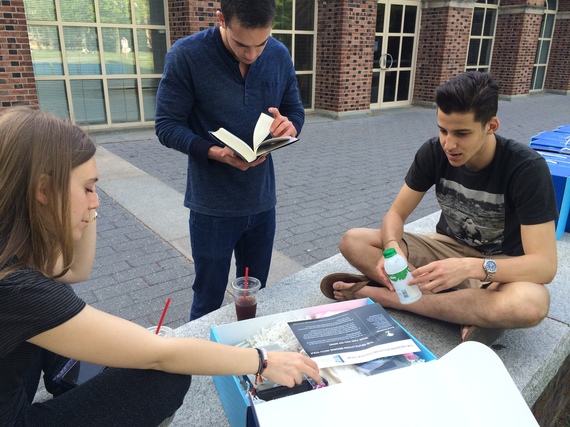 And with emptied out sleep kits and some overheard side-conversations about peoples' plans to use the gear and close their eyes at eleven instead of midnight, the Sleep Revolution at Penn really begins.
Though the event ends as the night begins to settle in, it is only the first spark of the brewing Revolution. I'm more optimistic about it than ever, at Penn and elsewhere. I understand, now, that as jaded as people may seem about sleep, the subject is anything but irrelevant.
Thank you, Penn, for showing me how wrong I was.
REAL LIFE. REAL NEWS. REAL VOICES.
Help us tell more of the stories that matter from voices that too often remain unheard.