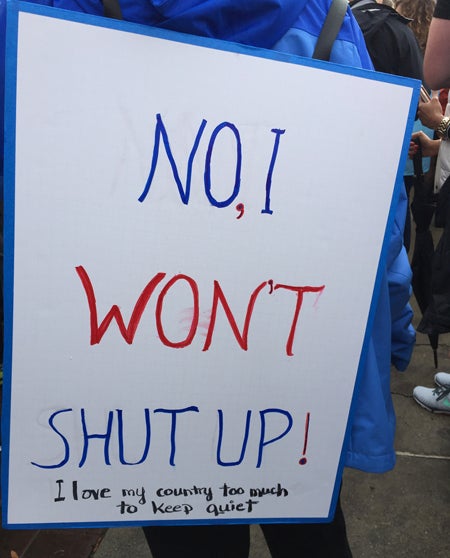 Let there be no doubt about it. #TheResistance is real. #Indivisible is real. The #WomensMarch is real. The national response to the daily onslaught of insults to our Democracy and to basic common decency from the current administration has been visceral and reassuring. For those of us who were shocked by the election and feared for our future, that grief and shock has now been channeled into energy and action. I have personally attended over a dozen events in the past month in which the turnout was unprecedented and far above expectations. People who have never before been active in politics are seeing it as their civic duty. We are finding each other in every State and Congressional District, organizing, and laying the groundwork of resistance.
The vehicle for that focus took form spontaneously from the grass roots, because our leaders have proved inadequate to the task. A group of women who could not stomach seeing a man who casually admitted to repeatedly sexually assaulting women ascend to the Presidency set up a FaceBook page that turned into a worldwide protest and sustained movement.
A small group of former congressional staffers put together The Indivisible Guide as a handbook on how to exert effective pressure on Members of Congress, taking its cue from the successes of the Tea Party. The Indivisible Guide went viral. Groups started forming in districts and counties and cities across the country, much like the ones here in Georgia. There are now over 4000 Indivisible Groups across the country, as has been discussed more than once on MSNBC. You can find one near you here.
And the local Indivisible chapters have sprung into action. Protests outside of Congressional District offices have rallied to protect the Affordable Care Act. Likewise spontaneous protests hastily erupted at airports across the country in response to the Executive Order barring anyone from seven mostly Muslim nations from entering the US. As Betsy DeVos, Jeff Sessions, and Tom Price all came up for confirmation votes, Senators offices were flooded with phone calls, emails, letters, postcards, in person visits, and even faxes. Rattled staffers, Congressmen and Congresswomen alike have never seen anything like it. The first Congressman to hold a town hall meeting, Rep. Jason Chavetz (R-Utah) was overwhelmed by hundreds of angry constituents demanding to be heard. At a recent town hall held by staffers to Rep. Jody Hice and Senators Johnny Isakson and David Perdue, hundreds showed up only to find out that the staffers would answer no questions from constituents. The people responded with chants of "Shame!" and "Grow a spine!" Our Congress is feeling the sustained pressure, and they are not used to it because THIS IS NOT NORMAL.
The very founding principles and survival of our Democratic Republic are at stake here. We have installed in the most powerful office in the world an erratic, unstable, authoritarian narcissist who would just as soon wipe his ass with Constitution as he would preserve, protect, and defend it. He certainly doesn't respect the principles of checks and balances, or the importance of an independent judiciary. He has no respect for the First Amendment, Freedom of the Press, Freedom of Religion, or the truth. He also doesn't respect anyone other than himself, no matter what he says, because he only 'respects' people who suck up to him (just ask Chris Christie).
Tellingly, the only person The Donald has expressed unwavering praise and support for is Vladimir Putin, the murderous thug who helped him get elected. While reports suggesting that Putin has compromising information against Trump remain unsubstantiated, the likely Russian sources for this information have been found murdered. And the former MI6 agent who compiled the dossier has gone into hiding. These troubling events, together with the massive conflicts of interest and violations of the Emoluments Clause of the Constitution have led to the initial steps in the filing of Articles of Impeachment. Petitions calling for impeachment have reached over 650,000 signatures, and 46% of Americans want him impeached.
Hopefully, at some point not too long from now, Republican lawmakers will realize that supporting this President is too grave a threat to our freedoms, Democracy, and system of government, not to mention national security. If they don't, the next Congress will.
As long as the current administration remains in office, the sleeping giant of the American People will remain wide awake. As they try to muzzle government scientists, take away healthcare from millions, and provide financial bonanzas to billionaires on Wall Street, we will continue to make our voices heard. Because we are the MAJORITY and WE VOTE. We are vigilant. We are angry. Their days in office are numbered. #Resist!
Popular in the Community