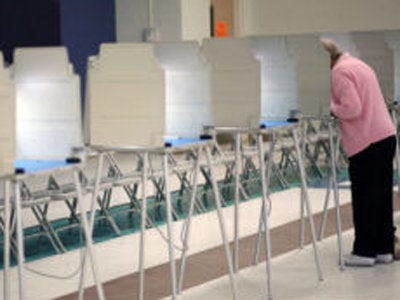 Look at Asian Americans today, says Paul Ong, "and what you're seeing is the awakening of the new sleeping giant in politics. The question is, how fast are we going to become a meaningful force?"
Ong is the principal investigator of "The State of Asian America: Trajectory of Civic and Political Engagement," just released by the LEAP Asian Pacific American Public Policy Institute. Ten investigations and analyses by a multidisciplinary team of Asian American scholars and community leaders delve into what, for many Asian Americans, is a central question and frustration: why our voices "are virtually unheard in the ongoing civic and political discussions."
Especially at this key moment in US political history, with our presidential election focused -- whether we like it or not -- largely on race, it's a conundrum. After all, the number of Asian Americans is projected by the Census Bureau to climb from 4.8% of the nation's population in 2005, to 7.3% of all Americans by 2030. Asian Americans have the highest rate of naturalization of all immigration groups. So why are Asian Americans unheard, and why are we as a group under-engaged?
Anyone who's grown up the child of first-generation immigrants knows one of the biggest reasons Asian Americans are less likely to vote in elections than whites and African Americans: it's the language, stupid! As S. Karthick Ramakrishnan points out, voting and participating in political and community activities both increase as you move down the generations (likelihood of volunteerism increases by a whopping more-than-70% from the first immigrant generation to the third).
While critical, language accessibility is just one of the more obvious problems. A more intricate issue, is the connection author Taeku Lee examines between Asian Americans' apartisanship and civic and political engagement. American voters, he says, "can do without encyclopedic knowledge about each candidate's issue positions and can navigate strategic communications by simply knowing which party and politicians they trust...using partisan cues to figure out "who is for what.'" (In our current presidential election, with both candidates roundly criticized for being too vague on the issues -- be it how they would fix the economy or get us out of Iraq -- party affiliations and loyalties may be more important than ever.)
But where does this leave the child of immigrant parents, if "partisan habits are something that Americans are born into," -- starting with one's parents' partisanship then sustained through socialization -- and if as Lee suggests "the two major political parties continue to shun Asian American voters and candidates or otherwise hedge their bets in wooing them"?
Many Asian Americans, he says, find partisanship (predominantly Democratic affiliation) through what he calls "panethnic linked fate." The whole question of whether all Asians should be lumped together under one umbrella is a subject of somewhat heated debate in the communit(ies). In any case, it turns out that those of us US-born Asians who believe our fates are linked to that of other Asians in America, are more likely to be civically engaged, and more likely to vote.
This argues for a greater role for pan-Asian American nonprofit organizations. Chi-kan Richard Hung finds that such groups, although fewer in number, are three to five times larger than single ethnic organizations: "The challenge is whether they will grow separately and independently, or in some coordination with each other...to advance the Asian American community." This is a priority for my own organization: Asia Society President Vishakha N. Desai notes, "As Asian Americans come of age through their economic success and educational achievements, it is crucial that they put aside their ethnic differences and come together to make a greater collective impact in the civic life of the U.S. After all, what brings Asian Americans together is really their American experience rather than their Asian origins."
Labor unions also play a pivotal role. Historically, as outlined by Marlene Kim, they excluded Asian Americans. Today however, Asian workers are the fastest growing ethnic group to join unions, even as overall unionization rates decline. These Asian Americans in turn "have become active in a broad range of civic activities, including political mobilization efforts, get out the vote efforts, and greater community involvement."
The future of course will depend on our youth, for whom we hold great hopes, yet not without concerns. As Julie J. Park, Monica H. Lin, Oiyan A. Poon and Mitchell J. Chang find in their study of college students, Asian Americans entering university have a desire to influence political structures and serve as community leaders, yet just 35% of Asian American voters between 18 and 24 actually voted in the 2004 national election, versus 47% of the overall 18-24 population. So how to close the gap between those high rates of volunteerism and actual political engagement?
The medium for action is what you're using right now: the internet. In "Engaging Online," Jerry Kang looks at the real-world potential of getting Asian Americans involved through online communities and more. 44% of his survey participants claim that they have participated more in "social activism" since participating in online communities.
This may in turn translate to real votes; the Democrats certainly hope so. One reason young Asian Americans seem to be abandoning the Republican party, says Asia Society Digital Media Manager Alex Farbstein, "is that the Democrats are so far ahead in understanding how to interact with voters online, including appealing to highly segmented internet audiences." Obama, he says, has a highly-branded web presence that shows a real understanding of how people his age (24) interact online: "It's not about telling people to go out and do something, it's about enabling them to do it themselves." While both candidates' websites have sections targeting Asian Americans, McCain's is a mere form to sign up for emails. Obama's is based on popular social networking sites -- with blogs, member directories, and links to embed the Obama '08 logo on your own Facebook profile. There's even a rating system for "individual activity," from numbers of doors knocked to blog entries. "The site facilitates action," says Johnny Williams, Trend Analyst with Infinia Foresight. "Reminders, tools and talking points... empower the everyman to become a part of the campaign."
This to me is the major takeaway message of the report -- that whether it's through the internet or pan-Asian groups or by using the varied and substantive information here to create discussion and focus -- you can engage, and make a difference. You don't have to already be a community, civic or political leader. As J.D. Hokoyama, President and CEO of Leadership Education for Asian Pacifics, Inc. (LEAP) always reminds us, "leaders are made and grown...grounded in strong, vibrant, empowered communities."
You can download "The State of Asian America: Trajectory of Civic and Political Engagement" at www.leap.org
Calling all HuffPost superfans!
Sign up for membership to become a founding member and help shape HuffPost's next chapter