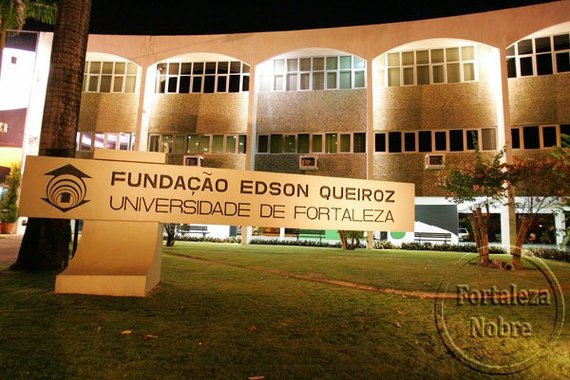 The Fundação Edson Queiroz in Fortaleza, Brazil-- home of the Airton Queiroz Collection: "fueled with resources and vision"
THE FIRST EXHIBITION of the year that really struck an emotional chord was viewing Itaú Cultural São Paulo's permanent exhibition of 17th- and 18th-century maps and books, watercolors, and illustrations chronicling the Portuguese discovery and colonization of Rio de Janeiro. The installation delivers an emotional punch by tracing an historical arc reaching from the natural wonder encountered by Brazil's early European settlers -- the breathtaking 20-foot watercolor of Rio's harbor is but one gem -- to the nation's economic development created through the heart-wrenching savagery inflicted on enslaved Africans. It's a remarkable time capsule that left me hungry for more of the Brazil story. And that's when I recalled the much broader historical reach of the current exhibition "Airton Queiroz Collection" in Fortaleza, at the Espaço Edson Queiroz.
The Fortaleza exhibition is drawn from the extensive collection of Brazilian businessman Airton Queiroz and gives a powerfully touching perspective of the sweep of Brazilian history from the Portuguese colonial period--the painstakingly detailed landscape paintings of Dutch painter Frans Post are a revelation in their almost cinematic sweep--up to the years between the 20th century's two world wars, when Brazil's independent artistic vision was first coming into focus. Numerous works among the collection's extensive holdings are of standout interest: poignant portraits by Candido Portinari, who is best known in the Northern Hemisphere for his epic War and Peace murals to be found at the United Nations; an in-depth selection of geometric abstractions of the 1950s and '60s, by such legendary figures as Lygia Clark, Mira Schendel, Iberê Camargo, Abraham Palatnik, Alfredo Volpi, and Hélio Oiticica; and several recent works by Beatriz Milhazes and Adriana Varejão that knowingly bring the collection full-circle, as they touch on earlier historical themes while centering on current concerns. Thrillingly, the harmony and parallels between the works of Frans Post and Adriana Varejão give a perspective about Brazil that I haven't seen elsewhere.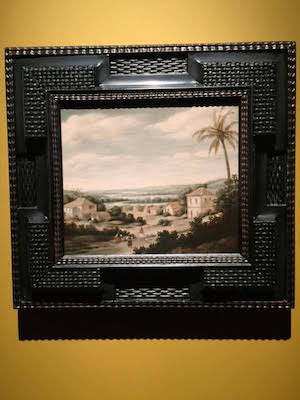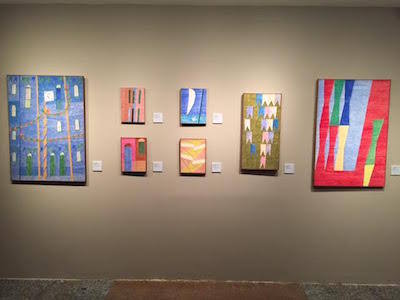 From the Airton Queiroz Collection: at top, a Brazilian landscape by Franz Post (1612-1680); and a selection of works by Alfredo Volpi (1896-1988)
It's always fascinating to meet someone who has been a passionate, life-long art collector and has fueled that love with resources and vision. Airton Queiroz began collecting as a young man, when he traded his first car for artworks by Antônio Bandeira. In those early days, his family's now colossal business empire was but a mere fraction of what it is today. Based in Fortaleza in Brazil's northeast, Grupo Edson Queiroz has grown to encompass more than 14,000 employees in sixteen companies, and is an integral part of the nation's business culture, listed in the ranks of Brazil's hundred largest companies. Through its subsidiaries and more than 35 constituent brands, Grupo Edson Queiroz is a diverse conglomerate operating in liquid petroleum gas distribution, mineral water and beverages, mining and real estate, farming and agro-industry, media communications, and education.
This vast and successful enterprise represents an important side of the Brazilian personality, alongside the popular images of São Paulo's fast-talking city slickers and Rio de Janeiro's beach-focused samba sybarites: the much maligned, rough-and-tumble Nordestinos-- people of the country's northeast. (For American television audiences, think "Dallas.") Begun in 1951 by Airton Queiroz' entrepreneurial father Edson, who sold propane out of the back of a pick-up truck, Grupo Edson Queiroz today is recognized as a leading national asset. But achieving this has not been without tragedy. In 1982 Edson died in what was, at the time, the largest air disaster in Brazil's history. His wife Yolanda stepped up to company leadership along with two of her six children: Airton and his brother Edson Junior. At the time of Yolanda's death, last year, Wikipedia ranked her as the 23rd wealthiest individual in Brazil, with $3.6 billion.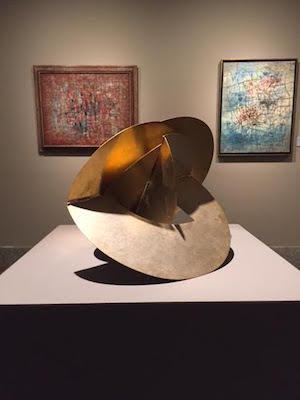 From the Airton Queiroz Collection: a bicho of Lygia Clark (1920-1988)
What's fascinating about the Queiroz legacy is that it's more than an entrepreneurial success story. It's also a story of a family with a vision much larger than just business. It's also a legacy of philanthropy that cries out for exposure and for connections with audiences hungry for cultural insights.
The Queiroz family has championed education, supporting the University of Fortaleza UNIFOR, which was founded by Edson in the mid-1970s and today embraces 25.000 students annually in undergraduate and graduate studies in business, law and medicine. Airton Queiroz and his family have also championed Brazilian culture not only with his formidable art collection, but with the Edson Queiroz Foundation, which supports exhibitions both at their museum on the UNIFOR campus and in sponsored exhibitions of high curatorial excellence in museums across the country, including shows of work by Adriana Varejão, Beatriz Milhazes, and Hélio Oiticica.
And there is so much more that is possible, building on the unique resources of the Airton Queiroz Collection. Selections currently on view in Fortaleza, while powerful in scope, don't come close to telling the greater cultural story of Brazil that could be told if more of the Collection's works were on view and/or toured in exhibitions. The unique scope and depth of the collection cries out for more exhibition space and an international audience commensurate with the collection's riches. To a foreign visitor who regularly probes exhibitions on four continents for new cultural stories and insights, it's clear that works from the Queiroz collection would find a wide and rapt audience on the global level.
This is a time of great evolution in the world, when people are attentive both to new cultural stories and to new insights into enduring stories. Whoever codifies the Brazilian legacy story viscerally for a pan-global audience will enhance the world's interest in and understanding of the Brazil of today. One hopes that now, when so many North American European museums are looking more closely at Latin American art of all periods and places, that the Airton Queiroz Collection, like a sleeping giant, will awaken to its full power.
Below, the Queiroz family celebrates Airton's first birthday, 1948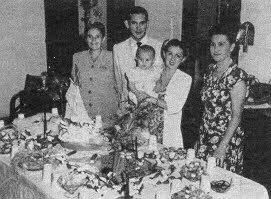 REAL LIFE. REAL NEWS. REAL VOICES.
Help us tell more of the stories that matter from voices that too often remain unheard.