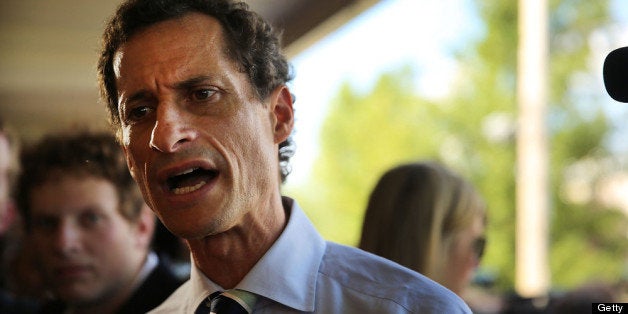 Sydney Leathers has succumbed to the dark side of celebrity. The 23-year-old former sexting partner of disgraced former U.S. Congressman Anthony Weiner found overnight fame when she all but derailed his New York City Mayoral campaign by revealing their relationship. My exclusive interview with her for the syndicated television news magazine Inside Edition put her under a brief but intense media spotlight. Her story was not unfamiliar involving the politician. Leathers was a political junkie who admired, if not idolized, the congressman. Their Facebook friendship quickly devolved into a clandestine online relationship fueled by fantasy, secrecy and virtual sex through texts and phone calls.
I perceived her as less mature than her age would suggest. She was pleasant looking, midwest attractive, and she appeared easily seduced by Weiner's perceived political clout. She was, in her own words, flattered that he was paying attention to her. In our interview she seemed embarrassed by the explicit texts and conversations which she said they shared over their six-month virtual affair. As a dad of two 20-something women myself, I felt a fatherly empathy for her. I found her more naive and reckless than calculating and manipulative. I defended her in various interviews, calling her behavior wrong but labeling Weiner as the more predatory of the two. I showed Leathers video footage of Weiner's hastily called news conference where his wife Huma Abedin appeared alongside her husband to address this latest sex scandal and to say she forgave her husband. Leathers' lip began to quiver as she watched the monitor before her tears began to flow. "She is the victim," Leathers admitted almost shamefully, "And I am partly responsible for her pain." The college co-ed said she was worried about beginning her sophomore year in August and considered deferring her return to school until the media circus surrounding her exploits died down. She said she was embarrassed and humiliated by her behavior and was grateful that her father, with whom she still lives, is standing by her.
That was then. Fast forward one week. What a difference that week made. Leathers appeared on Howard Stern's Sirius satellite radio program and the sheepish girl I had spoken with was nowhere to be found. Stern, who is too often underrated as an interviewer, prompted her to reveal the most sordid details of her relationship with Weiner. Before the interview was over, Leathers was a glib girl on a mission of self-promotion. She proudly discussed her offer from Vivid Entertainment to perform in a porn video (reportedly for a sum approaching one million dollars) and she even flashed her breasts when Stern balked at her expressed desire to surgically augment her figure. Leathers has now reportedly made an X-rated spoof of her phone and Internet sexual encounters. She is now cashing in while her short-lived countdown clock of fame continues to tick away. Leathers' story of seduction is not new, nor is the lure of an easy and lucrative payday. Teen Mom reality star Farrah Abraham recently earned a sum reportedly in the high six figures to show off her own surgically enhanced breasts in an explicit sex tape. Other political paramours have graced the covers of Playboy and Penthouse magazines for similarly hefty paychecks.
I suppose I should not be surprised that Sydney Leathers chose the dark side of fame. This otherwise sweet but unremarkable girl found herself the object of more attention than she could have ever dreamed. This fast-track to notoriety may be short-lived but it is often exceptionally lucrative. For a generation which values fame above accomplishment, the dark path is also the easiest. Maybe I am the one who is naive and out of touch. Should I have forgone providing my daughters with college educations and, instead, given them video cameras to record sexual exploits to peddle online for a quick profit with hopes of landing a reality show? I don't think so. I believe that is a slippery slope with little opportunity to regain one's moral footing for a happy and meaningful life. Of course, Sydney Leathers may say the joke is on me when I am asked to interview her again on the set of her reality show "Cyber-Mistresses of Capitol Hill." Let's hope not.
Calling all HuffPost superfans!
Sign up for membership to become a founding member and help shape HuffPost's next chapter