"We originally came into music a bridge builder, as a way to have something to offer as we were traveling," says Leah Song of the band Rising Appalachia. Song, her sister Chloe Smith, their guitar player and percussionist make up the four-piece band. Together, they just released their new album, Wider Circles, and are touring it in a much slower way than most artists these days: by Amtrak train.
"Slow Music" isn't at all about the pace of the rhythms. It's about the way musicians experience life on the road. Song and Smith are making an effort to take the glitz and glam out of the music industry and bring performance back to its roots. Their last tour transportation took place in a van fueled only by vegetable oil.
The band works to get farm-to-table meals before they play and local food and produce at their shows. They also invite local non-profits, education and arts organizations to their gigs. "We have guest tickets for them and they set up a table about what's going on locally for folks to get plugged in and get involved," Song says.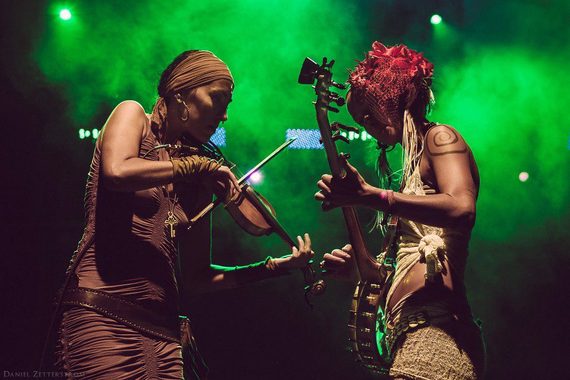 Rising Appalachia has a stronghold in Southern Appalachia, the sisters are from Atlanta. They have also found incredibly open communities who love their values and spirit in cities across the North America such as New Orleans and Portland, Maine; Montreal, Canada and Joshua Tree. Song loves the Berkeley/San Francisco area and says a recent trip through Colorado really inspired the group.
In their mission to get to know people and communities better, the group meets incredible people everyday. Recently, a young woman based between LA and Denver connected with the band. Shea Freedom works with The Teen Project and Freehab - finding freedom through rehab. Shea came out to promote the cause, it turned out she could perform, and then she toured with the band to open their shows. "She's a very bright, bright light," says Song.
Check out this creative band's original folk anthems which are influenced by both world music from their travels to places such as Cuba, Italy and a little island of the coast of Italy called Stromboli, as well as traditional Appalachian music from the good ole American South - on tour slowly through a town near you.

Photo courtesy Envision for Rising Appalachia.

The views expressed do not necessarily reflect the opinion of Creative Visions Foundation. Personal opinion of the author only. More at www.imbafilm.com.
Popular in the Community