Even before the 10-day introductory training at Huazhou is over, small miracles begin to occur -- especially among the newest participants in Half the Sky's Infant Nurture Program. Babies win the resiliency prize. They are wired for love. As soon as they can trust that one caring human will come when they cry, take care of their simple needs and comfort their tears, life is sweet. Our new nannies are often instantly rewarded for their cuddles and tickles and soothing lullabies with adoring looks and happy smiles.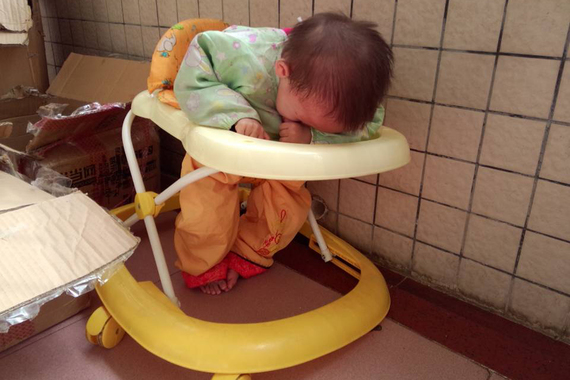 The miracles come more slowly for those babies who are most fragile, most deeply traumatized. In Huazhou, orphanage staff told new Half the Sky nanny, Xiamei, that she would see no miracles for the baby named Juanjuan.
"They told me that a family from Spain came to adopt her when she was just a few months old. She never stopped crying and she would never look at them or respond to any toys. The family said she was autistic and they brought her back to the orphanage. Since then, more than two years, she is by herself all day in the walker.
Teacher Li asked me if I wanted to try to help Juanjuan. If yes, she would give me guidance. I feel in my heart I want to help this girl. Teacher Li said Half the Sky doesn't use words like 'autism' until we give children a chance to know loving care. She said she totally understands why Juanjuan is like this. From the Half the Sky training, I think I understand a little bit too.
"I knelt down and softly called Juanjuan's name, but she had no response. I used a toy to try to get her attention, but she lowered her head even more. I know it will take time for her to feel attached to me and to trust me.
"I carried her to the Infant Nurture Center. She was stiff in my arms, not like a baby. I tried to sit her on the floor, but she could not keep herself balanced because she has been in a baby walker for a long time. I put a little chair in front of her and a pillow behind her to help her sit. After a while, I moved her to another position so she could learn it is good to try new things. I did this for two days, observing her. Then I put a toy beside her to see if she can change the position herself. I was so happy when she reached for it and began to explore the floor!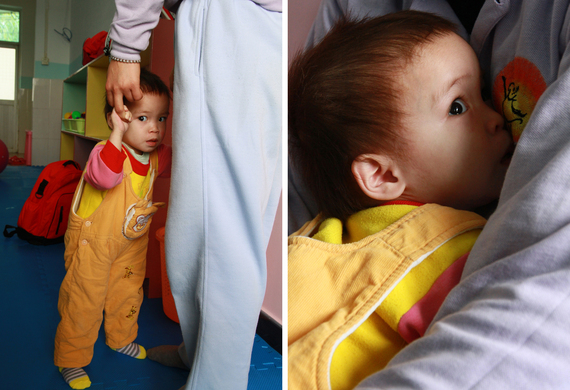 "Three days later, something wonderful happened. Juanjuan put her little hands in mine and pulled herself up! She was standing ... and then she came into my arms. Tears came in my eyes!"
The next day Xiamei celebrated Juanjuan's progress by giving her a taste of an orange. Juanjuan had never tasted solid food, let alone fresh fruit. She held the tiny bit of orange in her mouth, afraid to swallow. And when she finally swallowed, the true miracle happened. Juanjuan smiled.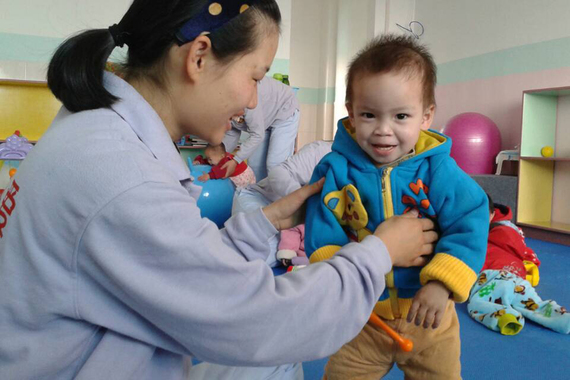 In her new memoir, Wish You Happy Forever, Jenny Bowen told the story of Half the Sky Foundation's failed attempt twelve years ago to help children in Huazhou, a small orphanage in southern China. Now, as she relates in Part 6 of a series, Huazhou is becoming Half the Sky's 53rd children's center and is representative of a national initiative to reimagine child welfare in China.
NEXT: A celebration as training ends and new lives begin.
REAL LIFE. REAL NEWS. REAL VOICES.
Help us tell more of the stories that matter from voices that too often remain unheard.