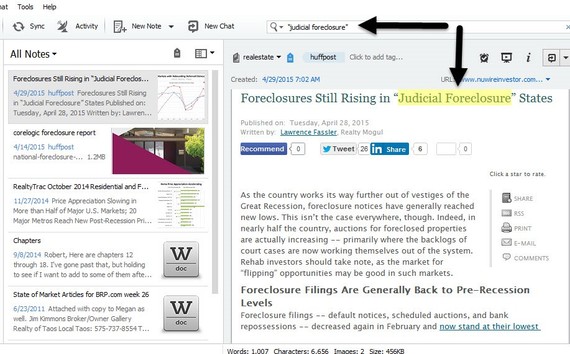 Successful real estate investors don't just drive through a neighborhood and buy homes for flipping or rental units. Sure, driving a market area is part of the research you need to do. There is no substitute for a firsthand look at the homes in an area, busy streets, and nearby amenities. But, there is a huge pile of research data that the really sharp investor needs to keep on file. Let's look at how one hardware tool and one software resource can make it easier and faster to gather information and find it again when you want it.
I'm talking about your smart phone with Web access and a decent camera app as the hardware. The software is free to download at Evernote.com. Let's look at the type of research information an investor may want to gather and how to do it with these resources. First, Evernote is a software tool you install on your desktop or notebook computer and on your smart phone, iPhone or Android. There is a Premium level that costs money, but many investors do well using the free level of service. Some features I mention may only be available in the premium product, mostly related to indexing of image text and pdf files.
We can't remember everything, and we're driving around our market area checking out homes for rent and for sale, as well as the general characteristics of the neighborhoods. There is an Evernote button for taking a photo directly into the note software. If you take the photo of a home with a for sale sign in the yard, you can later find it using text information in the sign. Evernote indexes the text in images, allowing you to search later by phone number, agent or brokerage name.
Whether you're surfing on your phone or your desktop computer, there is a handy button in the browser to save the page information you highlight directly into a note that will be indexed so you can find it again with text searches. If you can search county real estate records and documents online, this is a great way to copy them for use later.
That note camera comes in handy if you're viewing a document at the courthouse or on a rehab job. Maybe you're wanting to record the remodel permit posted on the fence. Just take a photo of it and Evernote will index that image for the text in the note. Find that permit later with a search on part of the address.
Just start a "notebook" (like a file cabinet drawer or folder) for a new fix & flip project. Then send all photos and other information to that folder. Take photos with attached notes during the walkthrough with the contractor. Scan barcodes at Home Depot and send the material info to the notebook. Any way you see or come across information related to this project, you have a way to file it and find it easily later.
You can share a notebook with your general contractor, a tenant, or a lender with a simple link. They can access it free and even add documents and photos for your access. It's a great way for you to communicate with your contractors on a project.
If you value efficiency and your time, check into this process and these tools for your investment information needs.
Popular in the Community