For the last three years one of my New Year's Resolutions has been to learn to play the piano (something about doing so is supposed the keep the mind nimble; and I've always wanted to). I have no illusions about becoming some Chopin-playing prodigy, or even being able to improvise Jazz riffs, or accompany others. My goal is rather modest: To be able to play some simple blues on the piano. Despite my humble ambitions, for the last two years I have failed in my resolution, not committing to lessons and staying away from our family piano.
This year, my odds of fulfilling my resolution are considerably improved thanks to The One Light smart keyboard which I've been testing, a 61 key device with light up keys that connects to a free app, and where you can access sheet music (some free; others for a fee), as well as piano lessons.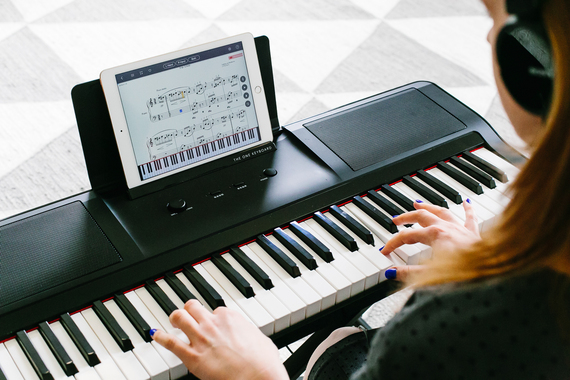 I first saw a demonstration of the One Light Keyboard at this year's CES where The One Smart Piano was selected for a 2016 CES Innovation award. Turns out the One Light Keyboard is sibling to the The ONE Smart Piano, a full 88 key piano that works with a mobile phone or tablet with color coded (red for one hand, blue for another) lights and light up keys. Both were launched in the US in 2015 with a very successful IndieGoGo campaign (they reached 1818% of their funding goal).
The One Light Keyboard seemed reasonably priced ($299) and something I could set up easily anywhere in the home (it weighs a mere 11 lbs) which is exactly what I did. There is a headphone jack so you need not bother the family or neighbors.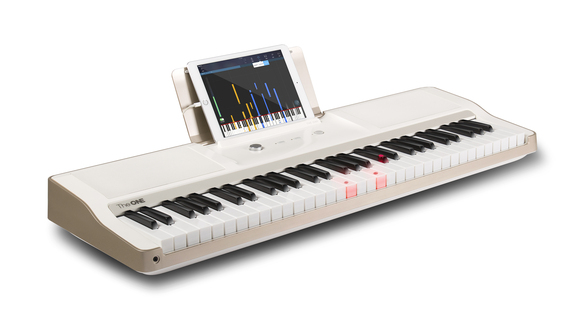 Using the keyboard is simple: you download the free app and then plug in your tablet (or phone, but tablet seems to make more sense) and place it on the stand where normally your sheet music would rest. You then have a series of options: You can follow a video lesson, or follow LED guided practice. There are also learning games. You have a choice of either following along on highlighted sheet music, or through a waterfall graphic display which like Guitar Hero, provides colored bars to follow instead.
The more than 2000 song sheet music collection is accessed via the app, so it can constantly be refreshed and there is no limitation to how many the instrument can access.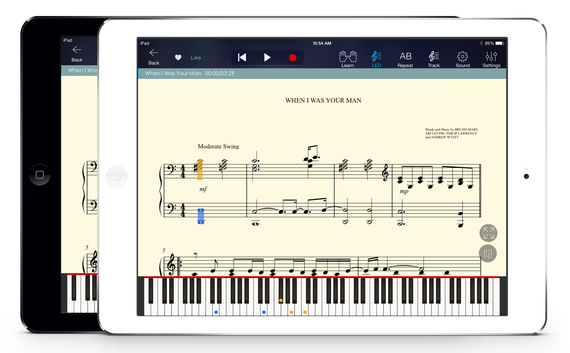 I have tried all approaches: a video lesson; downloading a song that can be learned via the LED light-up keys; and tried the waterfall display instead of the sheet music. Each requires a short learning curve; yet in less than a half-hour one can feel like you are really learning to play. Also, I discovered that you can have the keyboard play itself, creating a 21rst Century version of the player piano - which has a certain entertainment value. Finally, the One light comes with built-in speakers so you can play music from apps such as Pandora or Spotify through the device. The One Light keyboard comes with in and out jacks,a microphone plug in and a USB midi output, making it quite versatile for the more ambitious.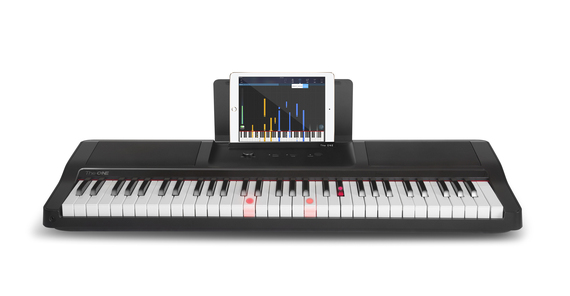 Using the One Light Keyboard is not problem-proof. As it has only 61 keys, sometimes the sheet music for specific songs can not be used if they require all 88 keys. Also, I continue to have some difficulty in switching between modes of play, and the online instruction manual is not always a help. Still so much of The One Light Keyboard is simple and easy to use.
One final caveat: Although the One Light Keyboard does make learning easier, there are certain things even a smart machine can't do -- Like make one practice. All the features in the world can't force you to sit down and put in the time (much like a fancy electric toothbrush can't make you brush more or floss). That part remains up to me.
Whether I will succeed at playing blues piano remains in question, but I have the One Light Keyboard to thank for at least getting me started on this year's resolutions!
REAL LIFE. REAL NEWS. REAL VOICES.
Help us tell more of the stories that matter from voices that too often remain unheard.