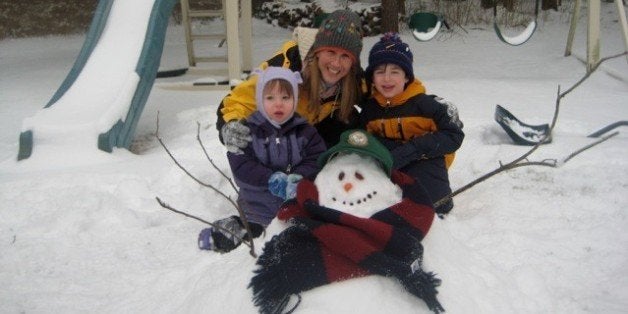 With Hanukkah being so early this year, I successfully completed my holiday shopping quite early -- a feat in itself. Every year, I buy for people of all faiths and like so many others, I try to be politically correct in keeping the holidays generic so as not to offend anyone.
There are certain instances, however, when it's clear I am buying for people of a certain faith. Case in point: My children's Hebrew School teachers. I am Jewish, my children are Jewish and of course, so are their dedicated Religious School teachers. I happen to know that these teachers are fans of Starbucks, or so my children tell me. So when I go to our local Starbucks to purchase one of my favorite gifts -- the ever-useful Starbucks gift card -- I am surprised to see that a Hanukkah-themed card is not an option.
My choices consist of two different-colored "Merry Christmas" cards, a gold Christmas tree card, the non-holiday card with just a coffee cup on it, and the one with the snowman on it. I'm drawn to the snowman card. It's cute, wintery, implies that it is holiday time but nowhere on it does it say "Merry Christmas." It also doesn't say "Happy Hanukkah." It's a good choice. I buy several of them.
Next, it's off to the 5 Below store where I go to select presents for the Hanukkah grab bag as part of my extended family's Hanukkah party. After finding age-appropriate gifts for the children of my brother and cousins, I search for the prefect wrapping paper, but it doesn't exist. They don't carry any Hanukkah paper, and I certainly can't buy "Merry Christmas" paper for the family Hanukkah celebration.
And then I see my friend again -- the snowman sitting happily against a backdrop of the generic holiday-colored silver shiny wrapping paper. Once again, the snowman is coming home with me. Home to my mantle complete with a handful of holiday cards, many of which do, in fact, have a snowman on them with generic holiday greetings. I notice that the snowmen cards are mostly from friends who celebrate Hanukkah.
It finally hits me -- the snowman celebrates Hanukkah just like me! He is Jewish. I wonder if the holiday marketers at companies like Starbucks, 5 Below, Target, Amazon and the like know this? I bet if you take a quick flash back to Hanukkahs of years past you will remember many snowmen on wrapping paper, cards, stickers and more. I always loved watching Frosty the Snowman on TV as a child, and I continue to watch with my own kids. I knew there was a reason for our connection. We are both Jewish!
Christmas is, of course, a much bigger deal than Hanukkah. Many Hanukkah celebrators will tell you that Hanukkah only became a bigger deal because it usually falls around the time of Christmas. And every year, people of all faiths call for less commercialization of all of the holidays, but especially Christmas. Forget about the presents, the trees, the decorations and focus on the people that you love, spend time with them and appreciate them. I of course will try to do more of this along with my old dear friend, the smiley snowman -- a newly-discovered member of my tribe.
Related