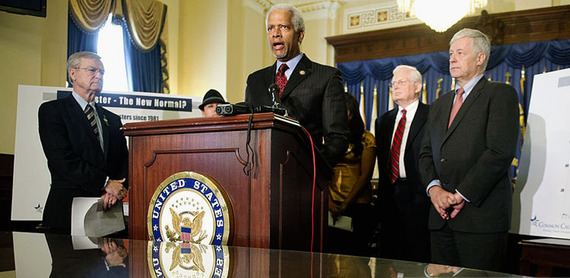 This week, the House GOP passed H.R. 5982, the so-called "Midnight Rules Relief Act." In short, this is a sweeping measure that dramatically expands the ability of Congress to summarily disapprove rules submitted to it under the Congressional Review Act (CRA) during the last six months of an outgoing presidential administration.
It represents yet another unfounded and reckless attempt to prevent the implementation of critical laws by federal agencies.
H.R. 5982 would amend the Congressional Review Act to enable Congress to bundle numerous rules finalized during the final year of a president's term into a single vote on a joint resolution of disapproval.
Alarmingly, once these rules have been invalidated through this process, the agency may not adopt a subsequent similar rule absent express authorization by Congress.
Notwithstanding the bill's colorful title, the bill does not simply apply to rules submitted during the lame-duck period following an election.
To set the record straight, this bill applies to every rule submitted to Congress within the final 60 legislative days of a session.
As the non-partisan Congressional Research Service (CRS) has clarified, this would include rules submitted as early as May 2016.
Eight months should be adequate time for Congress to consider the merits of economically significant rules, which often take years to finalize.
Indeed, according to the nonpartisan Administrative Conference of the United States (ACUS), many of these rules adopted between an election and the inauguration of a new president involve "relatively routine matters not implicating new policy initiatives by incumbent administrations."
Public Citizen similarly found in a report issued earlier this year that rules adopted during the final months of an administration take 3.6 years on average to finalize.
In other words, this bill is a solution to a non-existent and undocumented problem.
But according to my Republican colleagues, this legislation is necessary to combat politically-driven midnight rules in the final days of an administration. They also say that the Obama administration's regulatory agenda has eroded job growth and economic prosperity.
Far from it, under President Obama's leadership, we have seen the longest consecutive streak of private job creation, the fastest-growing middle class income ever, and more high-quality and affordable healthcare for working Americans.
Recently, the Census Bureau released new data indicating that in 2015, the median household income grew at the fastest rate on record, while the poverty rate fell at a faster rate than at any point since 1968.
New data from the American Community Survey likewise indicates that the number of uninsured Americans is declining in nearly every state.
These metrics reflect a strong record of progress as Federal agencies implement laws like the Dodd-Frank Act and Affordable Care Act.
If anything, we need new laws to ensure corporate accountability and stronger enforcement of the laws already on the books.
Popular in the Community