Every day, social entrepreneurs from around the world are seizing opportunities others miss to improve broken systems, innovate and develop solutions to change society for the better. Over the past few months, I've traveled to India, Brazil, Southeast Asia, East Africa, Western Europe and the U.S. to visit 50 NGOs and social enterprises with my team at Epic Foundation.
These organizations were selected from more than 1,400 applications we received across 85 countries. They are working hard to enhance education, health, economic empowerment, rights and protection for children and youth around the world.
During my journey, I've had the fortune of meeting a number of ambitious and persistent social entrepreneurs along the way. In this story series, you will hear from some of these indomitable leaders.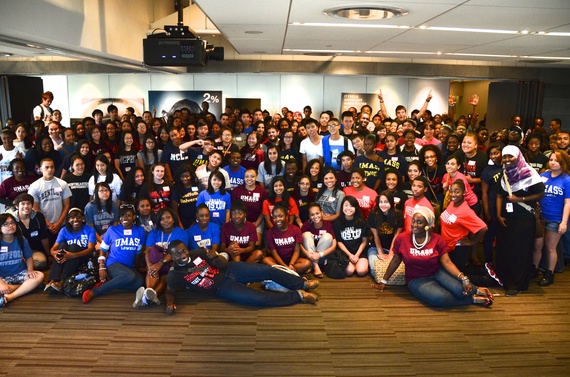 (Bottom Line helps low-income and first-generation-to-college students get to and through college. The new college freshman show their school's spirit.)
Alexandre: What is a great story you can share about one of your beneficiaries?
We have had countless stories of persistence and hard work by students participating in Bottom Line's College Access and Success programs who have gone on to have incredibly successful careers. But if I had to choose one, Ginette is the student who most inspires me. She was an early Bottom Line student who received our help getting into college while a student at New Mission High School in Boston in 1999-2000. She applied for and received a Posse Foundation scholarship and was accepted to Bowdoin College in Maine.
In her own words and like many of the students who are part of Bottom Line's program, she arrived on campus questioning if she belonged and nervous about the unknown college experience. But through hard work, mentoring and encouragement from Bottom Line, Posse Foundation, and others, she stuck it out and eventually excelled on campus. Upon graduation, Ginette worked on campus helping other students make the adjustment to residential life at Bowdoin College. As Bottom Line grew as an organization, Ginette was a natural fit to become a counselor on our team and joined our Boston staff in 2005. As a Bottom Line counselor she honed her style to engage and support students -- a relationship-first style that continues to be a model for our staff.
When our organization was ready to grow geographically, Ginette volunteered to leave her hometown of Boston and move to Worcester, Massachusetts to establish a new office and grew it from 75 students to more than 300 in three years. Then, she offered to leave her home again and move to New York City to help establish Bottom Line New York. As the Program Director in New York she now oversees the ongoing college retention support for more than a thousand students.
Ginette is an inspiration, because she has given back far more to our organization, staff and our students than we ever gave to her and she turned her challenging experience into a decade long opportunity to train others on how they too can be successful at college.
Alexandre: What was a life changing moment for you?
We were a staff of four people in 2003 and collectively were stretched to our capacity serving 200 high school seniors. One afternoon in October a few days after we enrolled our 200th student, a group of 20 new students began coming through our door. They had been sent by a teacher from school with the message, "Go to Bottom Line, because they will help you get into college." I felt physically ill as we turned them away unable to help and vowed that we would find a way to help more students. We are now serving nearly 5,000 across the country.
Alexandre: When you were 15, what did you want to do?
When I was 15, I was coming to terms with the knowledge that I was not going to be shortstop for the New York Yankees. Beyond that important realization, I had no idea what I wanted to do. But with support from my parents, I knew that I was headed to college to figure out my path in life and that is one of the reasons I have spent the last couple decades helping ensure other students have the same opportunity.
Alexandre: How do you want people to remember you?
As someone who never quit trying.
Alexandre: What are the three most important things for you to successfully run your organization?
Patience to build the right strategy, a clear set of goals, and a talented team.
I will be posting stories of incredible social entrepreneurs we are working with all summer. For more photos and stories, follow me on Facebook, Instagram and via Twitter @alexandremars.
Support HuffPost
The Stakes Have Never Been Higher
Related
Popular in the Community