Every day, social entrepreneurs from around the world are seizing opportunities others miss to improve broken systems, innovate and develop solutions to change society for the better. Over the past few months, I've traveled to India, Brazil, Southeast Asia, East Africa, Western Europe and the U.S. to visit 50 NGOs and social enterprises with my team at Epic Foundation.
These organizations were selected from more than 1,400 applications we received across 85 countries. They are working hard to enhance education, health, economic empowerment, rights and protection for children and youth around the world.
During my journey, I've had the fortune of meeting a number of ambitious and persistent social entrepreneurs along the way. In this story series, you will hear from some of these indomitable leaders.
Alexandre: What is a great story you can share about one of your beneficiaries?
There are so many great stories but I would like to share a story about a little boy in one of our Primary Schools who is living with HIV/AIDS. I will call him Champ (not his real name). Champ is in Primary five and loves going to school. He enjoys playing football and dreams of being a lawyer someday. Champ is an orphan and lives with his grandparents. Recently, his condition has been getting much worse but he is such a fighter. Since his condition keeps changing, his family needs additional support to provide the care he needs.
Champ is always in and out of hospital but Nyaka is doing everything possible to keep in school by paying for treatment and transportation to the hospital. He has been put on special diet and the school nurse is always visiting him at home especially during the school break to ensure that he is taking his medication and feeding well.
HIV/AIDS is a terrible disease that has claimed millions of lives in Uganda. Many children lose their parents to the disease and some children like Champ get infected at birth. There is no cure for HIV/AIDs but with treatment and care, Champ will live a longer, fuller and happier life. Nyaka AIDS Orphans projects is directly supporting over 600 children. Most of these children have lost one or both parents and are being raised by grandparents. The children are healthy and only 2% of them are living with HIV.
"I have to be passionate about what I do and it has to be about changing lives of individuals and communities, and leaving the world a better place for future generations."
Alexandre: What was a life changing moment for you?
I lost my sister in June of 2000 and she left behind 2 daughters who I had to raise. I was very young then and did not know how I was going to do it but I knew that the love I had was enough. I was depressed and could not concentrate on my job. I talked to a cousin of mine in UK and she helped me get a 3 year visa. I resigned my job to travel to London where I stayed for one year recovering from depression, studying and working.
In January 2002, I came back to Uganda and was offered a job with the same the same organization I was working with before I left. I worked with internally refugees and internally displaced persons in South Sudan, Uganda and Rwanda. By 2010, my 2 nieces had graduated and I settled back in Kampala, Uganda to work with Nyaka AIDS Foundation. Since 2000 my life changed, I can never do just any job! I have to be passionate about what I do and it has to be about changing lives of individuals and communities, and leaving the world a better place for future generations.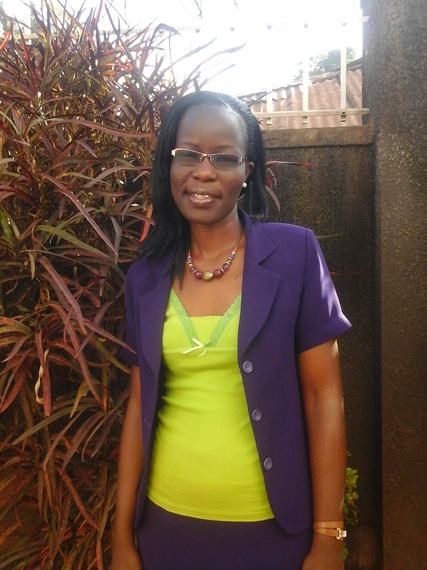 Jennifer Nantale, Country Director, The Nyaka AIDS Orphan Project
Alexandre: When you were 15, what did you want to do?
I wanted to be a lawyer because I thought that was the best way to help people.
Alexandre: How do you want people to remember you?
I want to be remembered as someone who worked with others to improve the quality of life of women; children and communities as a whole.
Alexandre: The three most important things for you to run successfully your organization?
Clear Mission and Vision: This helps us as we plan and implement the programs in a focused way.
Holistic human rights based approach to combat poverty: Education is our mission but we take a holistic approach to ending the cycle of poverty that incorporates 7,000 grandmothers as well. We cannot expect to make real change without addressing all of the causes of poverty. Nyaka children have education through our schools (and scholarships to other places), nutrition, healthcare, gravity water system, community libraries and a grandmother program
Teamwork: The program is expansive but working together as a team helps. The team includes staff, board members, donors, beneficiaries and community! We work as partners!
Related
Popular in the Community