Every day, social entrepreneurs from around the world are seizing opportunities others miss to improve broken systems, innovate and develop solutions to change society for the better. Over the past few months, I've traveled to India, Brazil, Southeast Asia, East Africa, Western Europe and the U.S. to visit 50 NGOs and social enterprises with my team at Epic Foundation.
These organizations were selected from more than 1,400 applications we received across 85 countries. They are working hard to enhance education, health, economic empowerment, rights and protection for children and youth around the world.
During my journey, I've had the fortune of meeting a number of ambitious and persistent social entrepreneurs along the way. In this story series, you will hear from some of these indomitable leaders.
Alexandre: What is a great story you can share about one of your beneficiaries?
Here is a current story (in his own words) from a 15 year old young man who is participating in our STEM and Work Readiness Training program:
"I've been in the foster system since I was 4 years old. I have been in nearly 10 group homes/foster homes. I've been moved out of almost every single one of them; either my time has ran up in the program or I did not feel welcomed. I've been involved with gangs since I was 7 years old. I've always seen the world as a cruel, harsh place where everybody leaves, dies, or stops caring.
I want to share three things about my experience in this class: it was fascinating, it prepared me for bigger and better things, and it helped me view the world in a different way.
Before this program I would've never been ready for an interview. The job readiness section that TeenForce and the volunteers provided helped me learn how to conduct myself and dress properly for an interview.
I've never been used to people being in my life consistently, caring about me and being there for me when I needed help. The volunteers helped me every time I needed it; they were emotional support and had similar backgrounds, which made it easier to see that people can make it out of the system.
I feel thankful for all the people that helped me recognize that I'm not alone, that I have a brighter future, and that learning and growing can be exciting."
This young man is currently working in a paid summer internship at a technology museum in San Jose, where he is putting his newly learned STEM and workplace etiquette skills to good use by demonstrating and explaining museum exhibits to guests. He is a fine example of the work being done in San Jose to support our most challenged youth from the foster care system and to help them visualize a productive role in the Silicon Valley economy. He will be a future beneficiary of the education and career pathways work that is being developed by a collective impact collaborative in our community called the Opportunity Youth Partnership.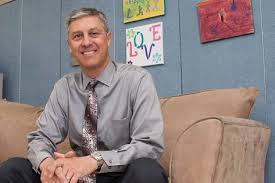 (John Hogan, Founder/CEO of Teen Force, a nonprofit social enterprise that provides work readiness training and job placements to low-income youth.)
Alexandre: What was a life changing moment for you?
In 2001 I was a senior executive of a company that failed during the "dot-com" era. It was a crushing experience to let down hundreds of employees and their families who were counting on us. Our management team was able to rebuild and relaunch that organization, and it remains successful to this day. I retired from there in 2007 and have been pursuing my second career at TeenForce since 2010. It is a great privilege to help people earn a living.
Alexandre: When you were 15, what did you want to do?
When I was 15, I wanted to be a back-up middle infielder for a baseball team. That was never going to happen, so a business career was the fallback.
Alexandre: How do you want people to remember you?
Maybe not the most talented guy around, but relentless and not to be out-worked. Reliable.
Alexandre: What are the three most important things for you to successfully run your organization?
Help our young job-seekers understand that working is a great privilege, and that a job is something that is earned every day. Likewise, employers must provide the right environment to earn the privilege of having folks want to work with them.
Demonstrate that we can apply solid private sector business principles to address a challenging social issue in a cost-effective, market-based manner.
Build a great team that puts our youth first and can last beyond me as a founder and leader.
Stay connected
I will be posting stories of incredible social entrepreneurs we are working with all summer. For more photos and stories, follow me on Facebook, Instagram and via Twitter @alexandremars.