This is the latest post in our series, TwitterPowerhouses, which focuses on the contributions of people who've helped to expand, influence, and redefine how we view social networking.
The world has always been impressed with entertainers who use the full measure of their celebrity for the greater good. Brad Pitt has invested heavily in Global Green's eco-housing initiative in New Orleans. Angelina Jolie donates to United Nations Aid Agencies to assist African refugees. Virginia Madsen creates online campaigns for Charity Water. And filmmaker Kim Sherrell uses her famed ArtWalk to break down cultural barriers and inspires us to use the very best of our imagination.
Thanks to the power of social media, Sherrell's ArtWalk has attracted painters and sculptors from all over the world, and even has art battles, steampunk, short films, and iPad art! Beyond her artistic achievements, Sherrell is regarded as an unmistakable thought leader: helping to push the innovative boundaries of technology, and trying to make education more relevant in the lives of a new generation of international citizens. This is why she is one of the 100 most powerful women on Twitter.
Writer Audre Lorde once noted that the world is not divided by our differences, but "by our inablity to accept and celebrate those differences." This is true. But thankfully, Sherrell's work embraces those things that not only bring us together, but call consistently for a new reality of cooperation. From London to Los Angeles, and New York to New Delhi, people rave about the work of this trailblazer named Kim Sherrell. She's awesome... and she rocks!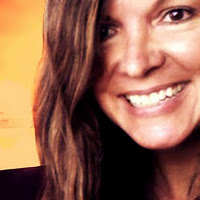 As a member of the entertainment and artistic communities, how do you use Twitter to connect with your audience?
I am really passionate about comedy. I see Twitter as this massively cool testing ground for new ideas. As an indie director trying to create a new show, I have run some experiments where Twitter functions as a sort of 'comedy test kitchen'. I'm learning fascinating things because Twitter is a great way to find out what kinds of jokes people respond to.
Wisecracks about Twitter itself are obviously really popular! In some cases, the fact that we are on Twitter may be the only common ground, but nevertheless it's a connection. When you've had a good laugh with somebody, you have shared something positive and deepened your connection to humanity. There is a lot of strife going on in the world, but if you look, you can also find a lot of joy in the simple act of horsing around on the computer.
The conversational nature of Twitter makes for some really fun experiences that happen spontaneously. It's like we've got this remarkably fun way to banter back and forth with brilliant people, and from this dialogue, a number of hilarious one-liners and cheeky wisecracks emerge. For example: Star Trek Wisecracks and Top 30 Signs You Might Have a Big Ego.

With the art stuff, I've been geeking out in the lab for years, but still I've never gotten over the wonder of technology. I am floored by the fact that Guggenheim showed up on Twitter during our monthly virtual artwalk and shared some links to their Kandinsky exhibition. These kinds of connections, the removal of barriers: This is the stuff I live for. As an artist and arts educator, my role is to open up new worlds to people and to facilitate new ways of seeing. With Twitter, we are experiencing an unimaginable ability to share our creativity, knowledge and resources with people who crave these things.
Twitter is so wonderful. I don't think we even have the vocabulary to describe what's happening right now with new media. Renaissance. Revolution. These words are too limited to describe the advancements.


You've been on Twitter for a number of years and witnessed a number of changes. What are your thoughts on where the site is headed next?
I think things will become increasingly nomadic and decentralized. Although Twitter has built a strong brand, and the technology will no doubt continue to disrupt all areas of life, we're already seeing redistribution of power from the site owners to tightly knit bands of ordinary people. These groups of common people will continue to wield influence over markets and traditional power centers - even governments, as we have seen with Iran. This article itself is an example of such redistribution. I like to joke that I am in a "street gang" with a bunch of geeks and cultural creatives, but to some degree this is true.
Nature seems to resist tech monopolies. Civilizations are always going to be on the rise or in decline. Right now, it feels pretty good to have the chance to be a part of an emerging society that is getting constructed 140 characters a time. I am especially grateful to Twitter's Jack Dorsey who envisioned a system for people to share in such a remarkable way. I love trying to contribute to the new media movement, where the goal is discovery and the mission is all about contributing positive things to the world.
Talk a little bit about ArtwalkTV. People love how it's impacting lives on a global scale.
ArtwalkTV is based on a simple idea. Lots of cities have an artwalk: an evening set aside once a month to visit galleries and enjoy the experience of checking out art with the members of their community. With ArtwalkTV, artists and art lovers are invited to meet up for a virtual art crawl. The concept happened when I noticed consecutive tweets from friends with galleries in London, Los Angeles and Manhattan. In looking at that pattern of those tweets juxtaposed against each other, I saw a potential way to create a community using the tools of the real-time Web.

I suggested, "Hey, let's have an artwalk!" and I was soon joined by RyanSeslow in New York, JoaoMendonca in Sao Paulo and MissXu in Hong Kong who all started tweeting art links and spreading the news. That was a little over a year ago and tweeps have gotten together on the last Tuesday of every month since to share art links. We found a way to remove some barriers between the artist and their public. We've opened things up a little bit. Art doesn't have to exclude people in order to be good. We now have a lovely gallery, a tight community, and our membership consists of artists and art lovers from every continent.

I'm in Hollywood again this year working on projects. Progress has been excruciatingly slow. There are so many productions in town where the plug has been pulled and it's a little depressing, but maybe things will start to unthaw. Meanwhile, I just helped with the casting for a 3D horror film. It's the rage right now, of course. Anyway, the director has offered me a spot on the crew, pending green light. Also, I've got a sitcom that I want to produce in a very specific way. We're shopping the project around and looking for a unique product tie-in that is über hilarious. I don't know how long it will take to secure funding for that show, but we've got some amazing people on board so... Who knows?

How would you define yourself in 140 characters?
I'm an avid learner and a bold experimenter. A little nerdy, but that's okay!
To read more about KIm Sherell's awesome approach to social media, friend her on her Facebook page and follow her on her Twitter feed.
Related
Popular in the Community