A social activist group is aiming to raise awareness of the female victims of police violence by creating a campaign around T-shirts bearing the women's names along with a three word call to action: "Say Her Name."
The African American Policy Forum (AAPF) has advocated for race and gender justice since its founding in New York City in 1996. Kimberlé Crenshaw, law professor at Columbia University and UCLA and a co-founder of the organization, told The Huffington Post that the "Say Her Name" campaign was the result of a need for a more inclusive movement towards ending police violence.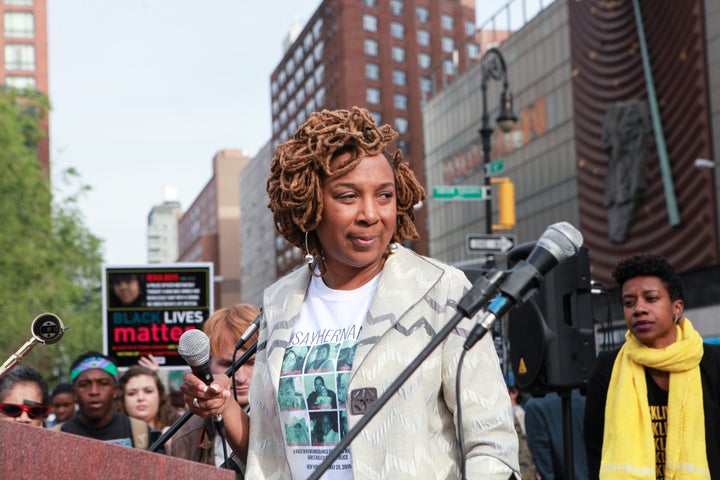 According to Crenshaw, the phrase started gaining momentum in 2014 when members of the AAPF injected "Say Her Name" into protests that were centered around the deaths of black men. "When we were marching, we were shutting it down for Michael Brown and various men who were killed by the police, [but] we also tried to insert some of the names of women who had been killed by the police," Crenshaw told HuffPost. "It was clear to us that a lot of folks that were organized, mobilized and very politically savvy had no idea that black women and girls were also being killed by the police." 
Crenshaw said it was important to her for people to know the broader context in which black bodies, specifically cis and trans women, were subject to police violence. "For many black women they were killed when they were having a mental health crises while black, or being in the middle of a domestic situation while black, or being homeless while black, or being poor while black," Crenshaw said.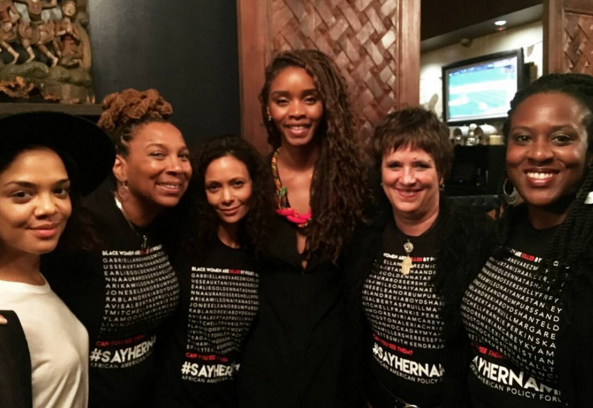 The T-shirts' design, which Crenshaw refers to as a meme, is a jumbled mix of names of black women killed by police. "Our idea behind the meme was that the women are in plain sight but we don't see them," Crenshaw explained. "Instead of putting all the names clearly so that people just see them we actually want people to realize that you have to work at lifting up the names of black women who are killed by the police."
"The response from our message I think has really confirmed the need for our campaign because a lot of folks responded by saying: 'Wow! I didn't know'," Crenshaw noted. The phrase has evolved from a protest chant into a social movement, attracting celebrities such as Thandie Newton, Tessa Thompson and Janelle Monae to the cause. The hashtag has taken a life of its own in social media activism by black women on Twitter.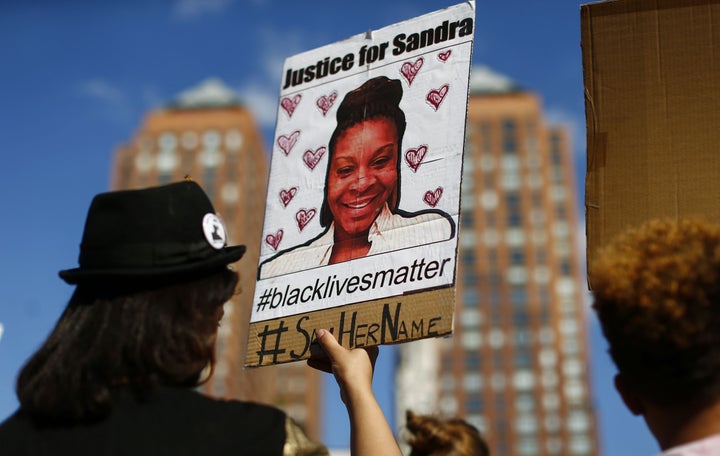 "The fight against police misconduct is an example that people have attempted to frame solely around the lives of men, but women also lose their lives to various forms of state violence," Crenshaw said. "We have to have a gender analysis to include them in what's typically seen as more of a male sort of experience for our understanding to be far more inclusive."
The T-shirts are available to purchase online, and the proceeds finance the organization's social justice projects. 
PHOTO GALLERY
Powerful Black Lives Matter March In Washington
Calling all HuffPost superfans!
Sign up for membership to become a founding member and help shape HuffPost's next chapter