Let's face it: we love digging up videos of puppies doing adorable things online.
Now, thanks to ShelterMe.com, we can put this guilty pleasure to good use by spending time with shelter animals and sharing their photos and videos with the world.
The site, which has been up since 2013, is designed to encourage the general public to create profiles for loveable pets living in open admission shelters. These ShelterMe.com profiles can --and should -- be shared across social media sites like Facebook and Twitter to help increase a pet's chances of being adopted, rescued or fostered.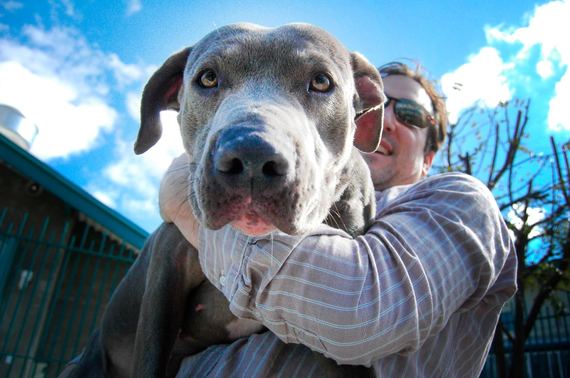 "The clock is literally ticking on these animals, which is why I developed ShelterMe.com--to get the public involved in a positive, action-oriented way. It's fun, but it's also the real deal," said ShelterMe co-founder Steven Latham. "It's also a way to get animals who wouldn't have gotten a walk or had anyone to play with that day some love and affection."
According to Juan Ubario, Manager of the Downey Animal Care Center, adoptions have increased since they've embraced Steven's idea of featuring their pets online. In fact, approximately 90 percent of animals featured on the Shelter Me website have been adopted.
"We're no longer referred to as a 'dog pound' but as a center in which the community and animal rescues can collaborate to save animals," he said.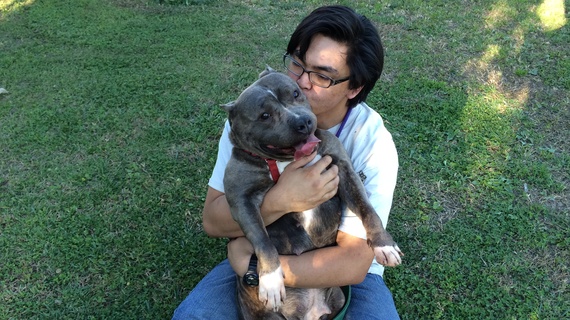 Essentially, it's the perfect opportunity for someone who can't commit to a structured volunteer program to bring joy into the shelter.
"We want to empower people to be part of the solution, combining social good and their cell phones and cameras to help these animals get adopted quickly," Latham said.
Latham, a documentary filmmaker and animal lover, and his co-founder, Ady Gil, launched the site one year after his PBS series of the same name premiered in 2012, featuring episodes hosted by Jane Lynch, Edie Falco and Katherine Heigl and other big names.
George Themelis, a retiree living on the East Coast, said it didn't take long before he started calling himself an "animal profiler."
"It's definitely a conversation starter," he said.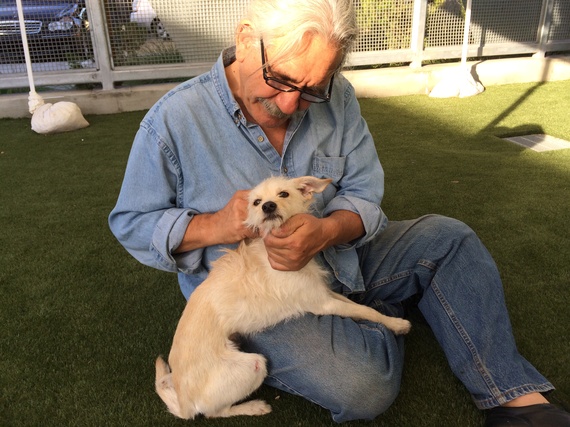 Conrad Stanley, a frequent volunteer, can vouch for how rewarding it is to watch the animals, who are often nervous at first, take a breath and relax.

"Playing with a ball, sniffing around, rolling in the grass, they can just be dogs again," said Stanley. "A lot of people think shelter dogs are 'broken' in some way, sick or emotionally unstable, which is completely false. The only thing wrong is that they have lost their homes or were strays."
Stanley and his daughter Micaela often spend their weekends taking photos and creating profiles for their new buddies, and she's not the only teenager taking a liking to the trend. Meredith Wells, a 16-year-old living in California, was initially overwhelmed by the noisy shelter environment; but after Latham showed her how to bring out the best in the pets, she began taking each dog out of their enclosure and gently encouraging them to play.
Meredith was particularly fond of one of the first animals she played with, Bubba, a four-year-old Doberman whose coat was thick with dust when she found him. Despite his size, he was visibly frightened, so Meredith asked a volunteer if she could take him out into the yard. It was love.
Soon after Meredith created his profile, Bubba was taken into an adoption agency--older dogs have more difficulty getting adopted straight from the shelter--and is currently living with a foster family actively looking to find him a permanent home. To date, 80 percent of the animals that she's profiled on Shelter Me have been adopted or fostered into rescue homes.
The percentages are consistent. Since its inception in June 2013, Shelter Me has hosted more than 10,000 shelter pet profiles and, to date, 85 percent of those pets have been adopted or moved into a rescue.

Because open admission shelters don't turn anyone away, they see the greatest number of animals and often deal with overcrowding. If animals keep coming in and the public is not adopting, rescuing or fostering them, the shelter staff is forced to make some very difficult decisions. These shelters also tend to be understaffed and lack the time and resources necessary to get the word out about these pets.
Currently, there are more than 25 participating cities on the site, including shelters in California, Idaho, New York, Massachusetts and North Carolina, and ShelterMe.com is rapidly expanding and adding shelters across the country. Any open admission animal shelter can be listed, so if you don't see your local shelter listed under the "Find Shelter" tab, just click the "Add Shelter" link at the bottom of the page to request their shelter be added to the site.
"I love being able to give the dogs at the shelter a chance at a normal, stable life," said Meredith. "Everyone, animals and humans alike, deserve to be happy, and Shelter Me allows animals that chance at happiness again."
Related
Popular in the Community