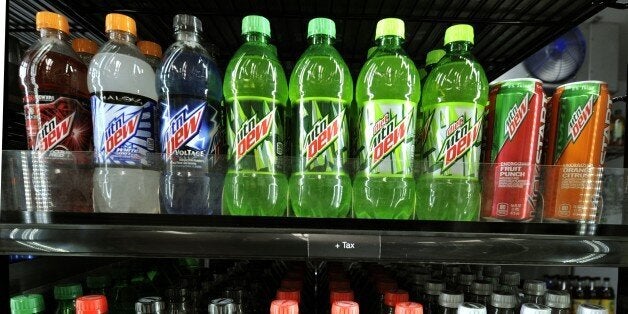 Big Soda just had a big day in Albany. The New York Court of Appeals on Thursday struck down the Portion Cap Rule -- the New York City Board of Health regulation supported by both Mayor Bloomberg and Mayor de Blasio -- that sought to limit servings of sugar-sweetened beverages to 16-ounce cups in fast-food restaurants, movie theaters, and sports stadiums. Known as the "Soda Ban" case, even though the rule did not actually ban any sodas, the Court's decision could affect much more than soft drinks. Indeed, the case could have significant and dangerous consequences for public health and regulation.
In a 4-2 decision, the Court of Appeals held that New York City's Board of Health had exceeded its "health" powers when it enacted the Portion Cap Rule, thereby improperly usurping the legislature's lawmaking role, and violating New York's constitutional system of separation of powers.
Although much of the attention surrounding the case had been focused on whether the government should set serving sizes, what was really at stake is administrative power. In New York and elsewhere, much of the work of governing falls to administrative agencies, whose job it is to put the laws passed by legislators into practice. The legislature articulates broad goals and then directs agencies, like the New York City Board of Health, to use their expertise to tackle the specific problems those goals address. New York City's health agency has been a national leader in developing and implementing regulations that promote public health. But the Court of Appeals' decision in this case threatens to undermine New York agencies' ability to do their important work effectively.
A particularly alarming feature of the decision is the Court's confused treatment of whether New York agencies may take economic and social factors meaningfully into account in setting health policy. The Court initially agreed that agency consideration of "societal costs and benefits" is "the essence of reasonable regulation." But the Court then turned around and faulted the Board of Health for doing exactly that. According to the majority opinion, the Board's attention to costs and consumer choice in crafting an indirect method of regulation -- a portion size restriction rather than an outright ban -- represented unconstitutional policymaking. This "virtually inscrutable and surely unworkable" line -- as the dissent aptly put it - between appropriate cost-benefit analysis and improper policy-making could easily chill agency action across a wide range of public health issues.
Equally troubling is the Court's suggestion that the danger of unconstitutional administrative policymaking will be greatest in contexts involving difficult and complex issues. But today's pressing public health issues are nothing if not difficult and complex. Current public health issues look very different from the challenges of the past. Today our most pressing concerns are diabetes not diphtheria, cancer not cholera, smoking not smallpox. Obesity is this generation's most dangerous epidemic. These crises involve a complex interaction of medical, behavioral, environmental and economic causes that defy simple solutions. The Court's decision leaves government ill-equipped to deal with these complicated and evolving problems.
Modern challenges require modern solutions. Cross-disciplinary approaches and innovation should be the mainstays of New York's regulatory process, not marks of unconstitutionality. The Court of Appeals' decision will surely spark new attacks on health-promoting regulations and may discourage administrative agencies from addressing today's complex problems. This is especially troubling at the state and city level, where local agencies have led the way in developing creative regulatory approaches. The Court's decision has the potential to severely hamstring agencies' abilities to regulate, leaving government badly positioned to protect New Yorkers from the crises of today. And, if that happens, our constitutional right to buy a large soda at the movies will be the very least of our problems.
Calling all HuffPost superfans!
Sign up for membership to become a founding member and help shape HuffPost's next chapter