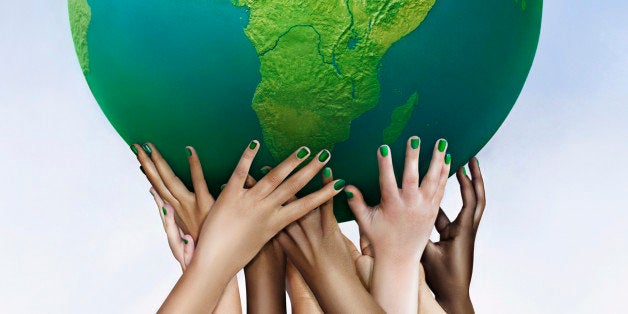 The solution to extremism surrounding us today is global equality. To stop the religious, ethnic, and political extremism killing people from Colorado Springs, to Baghdad, San Bernardino and Bamako -- to stop the environmental extremism that is burning up our planet -- we must stop global inequality, imperialism and greed.
The entire human race is faced with a great ideological dilemma. We cannot separate ISIL, planned-parenthood shooters, or global warming. From extreme violence to extreme weather, extremism is rising like the oceans around us because the moral bankruptcy of our troubled world is pushing people and our planet to extremes -- suicide bombings and natural disasters.
What we are witnessing is the failure of all existing ideologies and socio-economic systems on earth to have created a sustainable society in which we live in peace. We are all responsible for this failure. We have destroyed the cradle of civilization, killed millions and created the biggest refugee crisis in generations, for the control of the oil that is making the ice caps melt. Anyone who is angry is justified.
However mistaken violent extremism is as a response, it is offering would-be recruits a way to do something to change this unjust world not tomorrow, but today. If we want to win this war, we can only do so by lifting a higher, universal ideology by which humankind can live in peace with each other and with nature.
This ideological war is as old as human civilization, and so is the answer. No civilization is sustainable unless all of its members are treated as equals, and unless that civilization lives in harmony with nature.
Writers such as Arundhati Roy, Thomas Piketty, Nicolas Henin and Naomi Klein have drawn these connections in recent articles. But, the fact is, humankind has known the deal for thousands of years. We don't have time to waste restating the obvious. It is urgent. The human race is facing its long-anticipated day of reckoning with its own failure to create a just world.
We have to pick up the torch where Martin Luther King, Jr. left it. The cause of global warming and of rising violence between us on earth is due to social and economic inequality. The answer is to organize a mass, global non-violent movement for equality.
We must get beyond the institutional language of a "more equitable world." Equality is a universal way of being that must become a new socio-economic order that commits to and promises the idea that all people everywhere live equally with each other and nature.
We must demand a united global society across borders. We must demand every human being is cared for, fed, housed, educated, given equal voice and dignity, everywhere. We must demand a world in which humankind restores everything we take from nature. We must demand that we leave our world better than we found it, not selfishly for our children, but out of deference to the laws of nature itself.
First and foremost we must demand this of ourselves, as it will take unbelievable tolerance, acceptance and forgiveness to do so. Then, we must demand this of our governments, religions, political parties, and economic forces, and we must be willing to go into the streets non-violently demanding this global shift.
When we accept that we are all equals with each other and nature, we will not be able to be manipulated and separated from each other by false notions such as ethnicity, religiosity, nationality, or superiority of any kind. This is the only way to peace.
Peace is not impossible. I know, because I am the impossible. My aunt and cousins from Mosul, Iraq are now refugees because ISIL occupied their next-door neighbors' house. The U.S. sent fighter jets and bombed it to the ground. They had to abandon everything and are somewhere across the border in Turkey.
My father's Iraqi, Muslim family are refugees for the same reason that my mother's Austrian, part-Catholic part-Jewish family were refugees and imprisoned or died in Dachau, Mauthausen and Auschwitz. Including my cousins' children today, 6 consecutive generations of my family have been refugees as Catholics, Jews, and Muslims, because of inequality.
With all sides of the prevailing conflict consuming our world today within me, I've spent my life studying the single cause of war and hatred simply to be at peace with and construct my own identity. Inequality is the single cause of the chaos enveloping our world.
The majority of us on earth, in every country, in every religion, of every ethnicity knows what we have to do. Many people, parents, teachers, governments, and organizations are already working on the systemic shift necessary for the survival of humankind and our planet. I have given my entire career and written countless songs to build such a movement. But now, we must come together and turn our demand into action.
We are faced with the task of creating a new global socio-economic model sufficient to create sustainable peace on earth. A mass non-violent movement demanding that all people live equally with each other, loving each other, caring for our planet, is the only solution. We have to start today.
Support HuffPost
The Stakes Have Never Been Higher
Popular in the Community