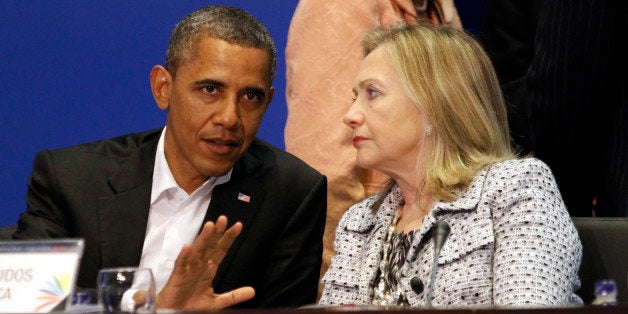 With the lion's share of state-appointed and super delegates already stockpiled in her corner, former Secretary of State Hillary Clinton is near certain to secure the Democratic Party's nomination.
The threshold needed to receive the official nod of the Party is a whopping 2,383 delegates. Clinton is well on her way there, having raked-in over two-thirds of the required delegates.
Still, there are many state primaries and caucus states that have yet to hold elections, and her opponent Senator Bernie Sanders, is pressing on as the two competitors continue campaigning.
At this point though, using simple arithmetic, it's become clear that Sanders is a relative long shot for the nomination due to Clinton's substantial lead on the delegate front.
He's got a deficit of roughly 300 state-appointed delegates and 400 super delegates. Even though Sanders edged Clinton out in Utah and Idaho this week and is poised to do well in Washington state, Alaska and Hawaii this weekend, Sanders has to win by much bigger margins and in more heavyweight delegate-rich states if he wants to eat into her delegate lead. He's yet to do that. As such, Sanders has retained his sizable delegate shortfall far behind Clinton. With all that said, however, Sanders remains very much a formidable candidate.
Like President Obama, Sanders has been able to harness the power of the internet to fundraise. In contrast with Clinton who has relied heavily on traditional Democratic donors and institutional support, Sanders has become a fundraising juggernaut by generating enthusiasm among low-dollar donors that's become the lifeblood of his campaign. Doing so helped him out-raise Clinton $43.5 million to her $30 million just in February alone.
With such resources, Sanders has demonstrated that he has the political muscle to stay in the primary race until the California Primary on June 7th and all the way until the convention in July. And he should.
Many experts believe that Sanders' candidacy has been healthy for the Democratic Party and for Clinton. It's forced Clinton to put forward her A-Game by engaging in a wholesome, intelligent debate and dialogue about the nation's challenges and different ideas for how to tackle them in the years ahead.
Sanders' candidacy has kept Clinton fresh, clear-eyed and laser-focused as the general election approaches. But Clinton needs more than a healthy primary battle to gear up for the looming death-match of the general election.
She needs all hands on deck -- and sooner rather than later. That means President Barack Obama's full-throated endorsement as well as that of his team and the entire Obama infrastructure behind her.
According to the latest Gallop survey, President Obama has a 52% overall approval rating and 88% approval rating among Democrats. His endorsement will permanently cement Clinton's frontrunner status but it can also help send a message to some of his supporters who may not yet have joined the Clinton bandwagon.
Chief among the Obama supporters who have not fully embraced Clinton are young people, very liberal and progressive Democrats, white working-class Democrats and even some Independents. Many of these demographics have leaned Sanders' way. An Obama endorsement can help take the wind out of Sanders' sails with these voters and swing the pendulum Clinton's way.
Moreover, an Obama endorsement could send an important signal to undecided super delegates. Out of the total 719 super delegates available, Clinton has locked down commitments from 467 and Sanders has 26. That means roughly 226 remain uncommitted. If you add these uncommitted super delegates to Clinton's combined delegate scorecard, which currently stands at 1,690, that would get her close to 2,000 delegates-- just shy of the threshold needed to win the Party's nomination.
On the money front, an endorsement from Obama could open the floodgates to the troves of his millions of grassroots and low-dollar donors and vast online network. That could help Clinton match or exceed Sanders' online fundraising apparatus and outpace him overall in much needed cash to build up her war chest moving forward.
Beyond translating his popularity among Democrats to Clinton, helping to send a signal to super delegates and donors, Obama's backing would likely imply Vice President Joe Biden's support as well. With more industrial state elections coming up in places like Pennsylvania, where Vice President Biden was born, his appeal and roots in such communities run deep. Having the Veep on the campaign trail barnstorming these states with Clinton could help her not only in winning, but in further running up the score against Sanders in similar key rustbelt states.
Looking towards November, association with Obama will no doubt assist Clinton as she positions herself for the general election.
At a time with an obstructionist Republican-led Congress coupled with Republican Presidential candidates ranging from an isolation extremist in Donald Trump or a totalitarian and uncompromising Senator Ted Cruz-- President Obama is perceived as the levelheaded adult in the room. Being tied at the hip to Obama in juxtaposition to the gridlocked Congress and one of the two radicals she's likely to face-off against in November will bode well for Clinton.
All in all, with President Obama's remarks at a Texas fundraiser last week indicating that it's getting time for the Party to unite behind Clinton, the reality is that as President, he is the leader of the Democratic Party. His endorsement could help to solidify and further rally the Party behind her. The sooner he does, the more it will help to strengthen Clinton's campaign as she gears up for the final battle in November.
Calling all HuffPost superfans!
Sign up for membership to become a founding member and help shape HuffPost's next chapter