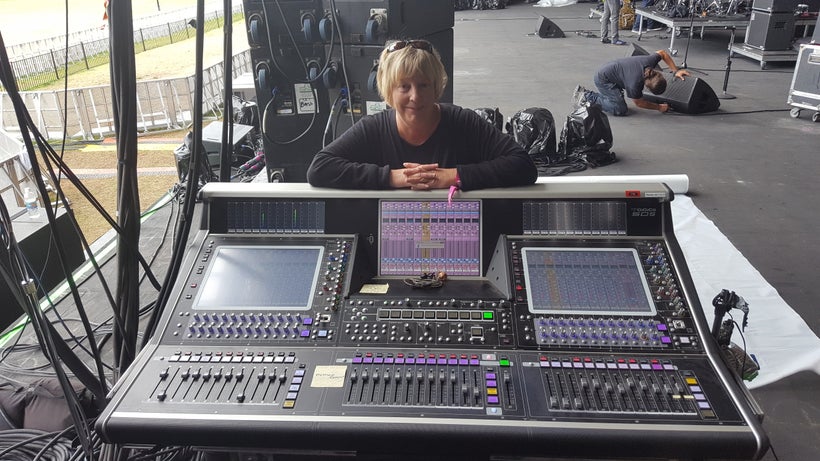 In 1991, Seattle-based grunge band - Pearl Jam - entered the music scene with their debut album, Ten. It didn't take long for the band to develop a fan-base that was craving something new, yet stable.
Twenty-five years later, the band – now a 2017 Rock and Roll Hall of Fame inductee – who has produced countless albums and still tours the world – continues to provide stability for their fans. And twenty-five years later, Pearl Jam fans have returned the favor by remaining steadfast and loyal to the band with whom they have taken the long road.
A fan since the early 90s, I knew that each and every show was unique and phenomenal because McCready, Vedder, Gossard, Ament, and later - Cameron...and even later – Gaspar – always gave 100 percent to their performances. And I knew the set lists were mind-blowing because each song was perfectly selected before the show, sometimes fluctuating - depending on the band's mood and the vibe they were feeling from the audience.
But what I didn't know – or I guess, what I never thought about often – was what happens behind the scenes. I never thought about the many people involved in making each Pearl Jam show memorable.
I should have known better. Because behind every great man – or group of men, in this case – is a great woman. And Pearl Jam's monitor engineer and co-founder of the organization, SoundGirls – Karrie Keyes (best known by fans as the "mic check girl") – has been one of those good women for Pearl Jam for the last twenty-five years.
CHRISSIE: How did you know that you wanted to become a sound engineer? At what age did this career peek your interest?
KARRIE: I had no idea. I've been doing sound for thirty years, and it wasn't an option that was presented to me thirty years ago. I gravitated toward the arts in school, and music was a big part of my life. I was out of high school, not really knowing what I was going to do and just kind of fell into it by the shows that I went to and hanging out - getting to know people. And then I just started doing whatever I could. I started at the bottom, loading trucks for free. I was 17-years-old.
CHRISSIE: Is it difficult for women to get started in this field?
KARRIE: The industry as a whole is a difficult one to get your foot in the door. Now there are a lot of colleges and trade schools that offer full programs, and that is a great place to start. But in the end, it is about networking and jumping at opportunities as they are presented to you. Is it harder for women? Sometimes. Sometimes it is just harder to get your foot in the door.
The shows and the events that are produced have to go off without issues. It doesn't mean the issues don't arise; they do. Whoever is in charge of that event - from the promoter all the way down - they try to keep a team together because they know that team works together well, and the event is going to go on no matter what. So, starting out, it's really hard to get your foot in the door – finding those connections, those people who are willing to take a chance on you or to give you an opportunity.
CHRISSIE: I know that you have faced adversity in this job. How did you overcome it, and what advice can you give young women in overcoming adversity?
KARRIE: It's one I ponder on a daily basis. For my generation, those were just the norms. You knew it was going to be hard and fighting sexism and adversity…you just assumed that, and so you dealt with it. My daughters are 20, and they have a different outlook on it…
Their attitude is "I'm not dealing with it...I'm calling you on it," which is great, but sometimes in a male-dominated industry, just calling people on it all the time isn't going to get you ahead. It's kind of a fine balance. Unfortunately, there are jerks everywhere, and it is a part of life. And you just need to know how to maneuver around them so you can do your job. Some of it is ignoring them; some of it is doing your job better than them. I think women face that in any industry – that they have to be ten times better.
CHRISSIE: What is the percentage of women working in this field?
KARRIE: It's a low percentage. The statistic that has been found is about 5%. I'm going to guess it is a little bit lower.
Audio is such a specialized thing. A lot of the specialized jobs need a strong discipline, and they do not always cross over into other aspects of audio. Some areas seem to have a higher percentage of women - such as Post Production, but these are just my general feelings.
CHRISSIE: How did you balance work and being a mom when your now 20-year-old twins were younger? Can you give any advice to working moms?
KARRIE: Every situation is different. I had a good support network. Their father tours as well and understood the challenges I faced. We tried to balance our tour schedules as best as possible. Sometimes the girls stayed with friends and family. Families adapt to their situations. I would not say it was harder than, say, military families, with a parent or both gone for months at a time.
CHRISSIE: With which bands have you worked?
KARRIE: Current employer and longest employer is Pearl Jam. I've worked for them for 25 years. We are usually on the road for maybe three to six months out of the year between the band and their singer (Eddie Vedder solo tours). I worked for the Red Hot Chili Peppers for 10 years, Sonic Youth, Fugazi…those were my main touring clients.
CHRISSIE: How did you become involved with Pearl Jam?
KARRIE: They were the support band for the Red Hot Chili Peppers. They hired me to do the rest of their '92 tour. So I did that in between Peppers' tours, and I have worked for them ever since.
CHRISSIE: You travel a lot. How do you have energy to put on a new show in a new venue as often as you do with Pearl Jam?
KARRIE: If you're going to tour, you are just going to have to accept the fact that you're going to be tired. You're touring. You're in one venue one night. You load out, and you go to the next venue. Pearl Jam at this point has slowed down on the amount of shows they are doing. They're playing 3 ½ hour shows every night. It's not really conducive for a drummer or a singer to be exerting that much energy for 3 ½ hours. It's not jazz...nothing against jazz, but they aren't sitting down in a nice theater. So our tour schedule has changed over the last few years. We're doing one or two shows and then a couple days off.
CHRISSIE: Are you able to work out and try to stay healthy on tour?
KARRIE: The older you are, it is crucial for being on the road. Some people do; some people don't. It just really depends…sometimes I just curl up in the hotel room, and you will not see me until the lobby calls the next day. Making sure you eat healthy food is more of a challenge.
CHRISSIE: For those who are unaware of what a sound engineer does, can you explain your role in the band's performance?
KARRIE: On the level of Pearl Jam there are several different positions on the sound crew. Usually, the first person hired on the sound crew is the FOH Engineer who mixes the sound the audience hears. Usually, followed by a Monitor Engineer (my job) that mixes the sound the band hears onstage.
My job is considered one of the more difficult jobs on tour. It can be a volatile position. By the time the band walks on the stage, they are full of adrenaline and focused on playing, and they don't want to deal with sound issues. And sometimes there are sound issues that you are not in control of. The mix I can be sending them sounds just fine, but we might be battling weather. We could be battling the acoustics of the room. And sometimes it's just battling the mood of whatever musician you are dealing with. My job is 50% skill in knowing how to deal with those issues, and some of it's psychology, and some of it is just being able to stand there and take the brunt of whatever is going on and not react to it. And that just comes from experience.
The other positions are FOH Tech, Monitor Tech, Stage Patch, and System Techs.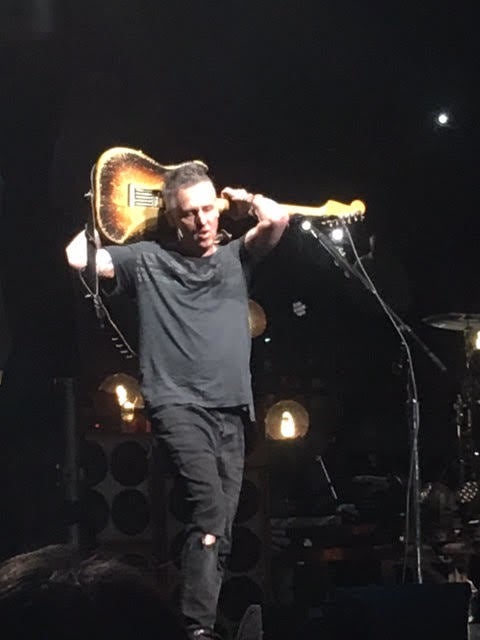 CHRISSIe: So when Mike McCready seems to be in his own world - absorbed in his guitar playing - is that thanks to you and what he's listening to in his ear mix? And what do the other band members use/need?
KARRIE: Well, I would like to think so, but probably no. The sound is part of being absorbed, but I would say the band is always fully engaged in their performance.
My guys use a combination of wedges and in - ears. And each position is designed for that player.
CHRISSIE: What is your biggest challenge from a tech/sound perspective?
KARRIE: It is all dependent each day on where we are. On a good day - I am not facing a lot of challenges. But we always battle room acoustics. And if outside - we are at the mercy of weather and temperatures.
Probably our biggest challenge is being able to make it through a 3 ½ hour show and knowing that the set list is going to be different every night. And even if we have a set list, it might change.
CHRISSIe: I know that depending on the crowd, a lot of times the set list changes during the show. Do you just go with it or are you aware of it before the changes occur?
KARRIE: We are totally aware of it. Everyone has a set list before the show. Every department has cues and guitar changes. If they call an audible everyone needs to know where we are going.
CHRISSIE: How did the organization, SoundGirls, get started, and can you tell me more about it?
KARRIE: We started it four years ago because we were tired of not being able to find other women. The original idea was to create a website to find other women in audio and network with them. One of the other issues in our industry is that industry trade mags tend to feature the hottest, biggest tour that is out right now, versus featuring the true diversity of shows, different skills, and different crews.
A lot of times, I am one of the women engineers who gets featured because of the band I work for. We thought, "Let's start highlighting and writing profiles and doing interviews with other women engineers that don't get any recognition." So we started doing that, and everything has kind of grown grass roots from there.
We believe you can't be what you can't see. And through these feature profiles - now, when you google Female Sound Engineer or Women Audio Engineers - you will see female faces.
We also just launched The Directory of Women in Professional Audio and Production, as we were tired of hearing, "I want to hire women; we just can't find any." Now there is a directory full of them. The service is free and you can upload your resume and share across the industry.
SoundGirls is not exclusive to women; it's very inclusive to everyone and welcomes all gender and non-conforming genders. We have bloggers now that write about their experiences and the specialized fields that they work in. And I would encourage anybody that is interested in pursuing a career in sound to come check out the website (SoundGirls.org).
During the summer, we run Live Sound Camps for Girls, for ages 12 to 18. This year we will be hosting camps in Los Angeles, Nevada City, St. Louis, Philly and hopefully, New York.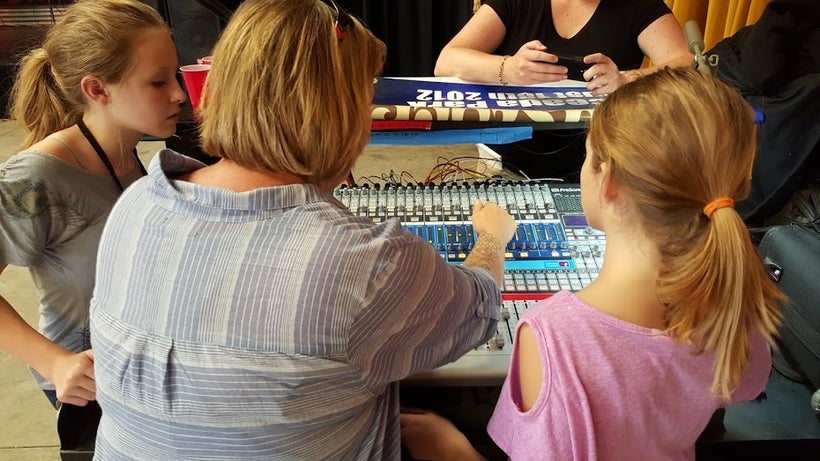 On March 1st, we will be kicking off our annual fundraiser that allows us to run the camps and offer scholarships to the girls. We have some great items - so come support Girls and Women in Music Production.
CHRISSIE: I feel like I need to also congratulate you on Pearl Jam being a Rock & Roll Hall of Fame inductee. How do you feel about this huge honor?
KARRIE: It couldn't have happened to a more deserving band. The band has been true to their roots and their fans for the last twenty-five years. I can't think of a band that encompasses rock and roll ethos as they do.
Calling all HuffPost superfans!
Sign up for membership to become a founding member and help shape HuffPost's next chapter
This post was published on the now-closed HuffPost Contributor platform. Contributors control their own work and posted freely to our site. If you need to flag this entry as abusive,
send us an email
.