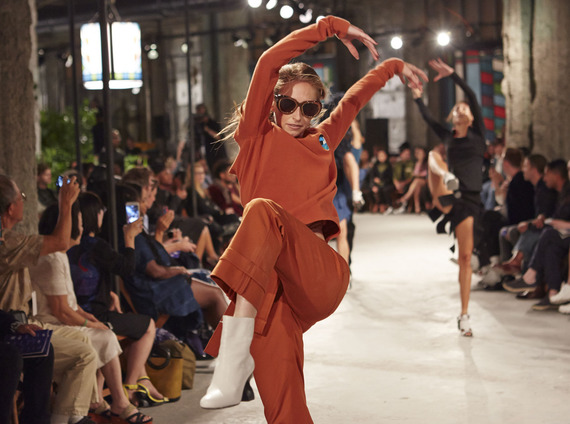 If you ever find yourself at any one of Fade to Mind producer Kingdom's sets (as I'm sure you do almost every weekend), there's most definitely a good amount of two-stepping, ass shaking and "beats that slap" moments going on in the respective, rowdy audience. But for the Opening Ceremony Spring/Summer 2016 runway show, the vibe was decidedly less clubby, with a classical music remix that catered to the rhythms of a batch of surprise model-ballerinas.
Set to a soundtrack mix composed by Kingdom, the OC runway show featured New York City Ballet dancers starting off with a series of (not-so-seemingly) intentional falls. These fake-outs were part of a modern dance routine orchestrated by renowned choreographer Justin Peck, and the dramatic score composed by Kingdom helped add to the unexpected tension. At the very end, the secret was finally evident when all of the dancers simultaneously broke out into a graceful dance set to the sounds of Kelela's airy new track, "Rewind [Produced by Kingdom, Nugget and Kelela]."
Below, we caught up with Kingdom after the show to talk about including Kelela's new track in his mix, making music for dancers vs. models and how his dad helped him create this runway
soundtrack.
Head to Opening Ceremony's blog to download the mix for free c/o WeTransfer & hear more from the Fade To Mind Producer about his experience