I can remember growing up, I always had this feeling of being caught between two cultures: my Ghanaian culture and my American culture. At home, I was raised and completely immersed in Ghanaian culture; however it was an American world with all its peculiarities that greeted and surrounded me as soon as I left the confines of my house. It felt like being trapped in the narrow fibers of a net.

Nothing much has changed in the years that have passed. After my recent return from Europe, I found myself again caught between two worlds - spending the day in the 'A', but going home to Ghana.

And I believe it's like that for several first and second generation immigrants. As a result, we look for ways to merge our two worlds together.
Enter Grammy nominated producer Lasanna "Ace" Harris. Ace is an Atlanta native born to Liberian immigrants. His production credits have topped the Billboard charts and have also been featured on ESPN, MTV, and VH1. He has produced for Nicki Minaj, T.I., Kid Ink, and Lecrae. He grew up listening to and being inspired by hip hop innovators like Timbaland and OutKast as well as soaking up the sounds of Afrobeat, high life, and soca.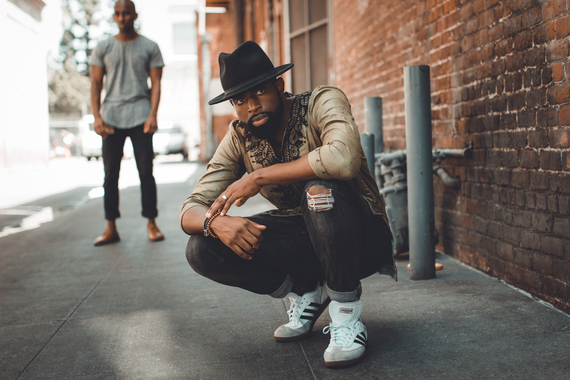 This mixed heritage comes alive in his debut project ATLiberia, which includes guest appearances by R. City. D, Woods, Lloyd Musa, and others. With a combination of soca, Afrobeat and R&B, it is music that will entertain, inspire, uplift, and make you move.
Atlanta Raised, Liberian Made: #ATLiberia
For Ace, the duty of this project extends far beyond making music you can dance to. Ace Harris has partnered with ICF Mission of Hope, a school located in central Liberia, Bong County. It is a community outreach program that meets the practical needs of children and adults in that part of the country. The school is an extension of ICF Ministries, which is headquartered in Atlanta, GA. The scars of war in Liberia have made it very difficult for the Mission of Hope to function and continue, so because of that, a portion of the proceeds from Ace Harris' ATLiberia album will help support this charitable organization and its cause.
ATLiberia is the sound of Africa in America. In the UK for example, it is not unusual to hear Afrobeat in heavy rotation on the radio and on major television networks like BET. American radio has an opportunity to experience this kind of enrichment. Why shouldn't it be time for America to adapt a sound like Afrobeat into the main stream? For instance, once considered foreign and niche, reggae and Lation pop have been warmly embraced by music lovers and have gone global. ATLiberia has that same potential.

.
Calling all HuffPost superfans!
Sign up for membership to become a founding member and help shape HuffPost's next chapter