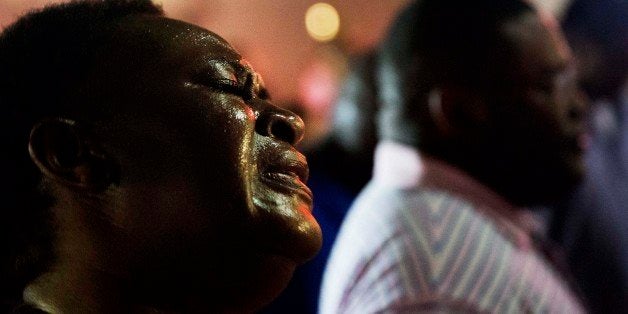 "And do not grieve the Holy Spirit of God..." - Ephesians 4:30
As Christ was being baptized in the Jordan River, the heavens opened above him. John the Baptist, Christ's slightly elder cousin, forerunner of the faith, testified before the gathered assembly that he saw the Holy Spirit descend on Christ as a dove.
Ever since John's testimony, the dove has been a symbol of the Spirit of God.
Present in the epistle written to the Church at Ephesus is an expression of the Spirit's capacity to grieve. It is one of the clearest characterizations of the Divine, that God intimately experiences suffering alongside God's creation. It reveals an imminent God not content in transcendently traversing human concern, but who is vulnerable enough to share in the human experience, weeping and grieving in solidarity with us.
As worshipers gathered together to study the scriptures and to offer their petitions before Almighty God at the historic Emanuel African Methodist Episcopal Church in Charleston, South Carolina, a gunman entered that sacred and sanctified space.
Inconceivably, nine of the faithful present were felled.
As a result of the horror now inflicted in Charleston, families mourn, and a church, city and nation remain in utter shock. Prayer circles now form on sidewalks, and prayerful petitions now reveal palatable pain as tears descend down like rain to the earth below.
Yet, this massive grief is not restricted to our terrestrial plane. Indeed, the very Spirit of God is grieved! Dare it be asked what the sound of God's grief is like?
Is it the sound of a million weeping widows receiving their loved ones back from war?
Is it the sound of one million Mamie Tills mourning over one million Emmetts, one million Sybrina Fultons mourning over one million Trayvons and one million Samaria Rices mourning over one million Tamirs?
Is it the sound of tens of millions of Africans while crossing the Atlantic, wailing in the hulls of ships?
Is it the wailing of tens of millions of their descendants separated upon the auction block?
Or is it a pain so deep that tears fall, yet no sound is made?
This is what it sounds like when doves cry.
Popular in the Community