The Sound of Music, a television adaptation starring Carrie Underwood, airs tonight on NBC. The story is based on the von Trapp family of Austria during the gathering storm of World War II.
The war in Europe led to an unprecedented number of refugees who needed food to survive. Even when the fighting ended in 1945, the struggle was far from over for the war affected population. Famine threatened as war causes food shortages. As one displaced Austrian said, "hunger is the most cruel enemy of mankind."
CARE was a charity created to feed the hungry in Europe. People in the United States would buy CARE packages of food and they would be delivered to a hungry family overseas.
The von Trapp family were among those who helped by purchasing these life-saving parcels.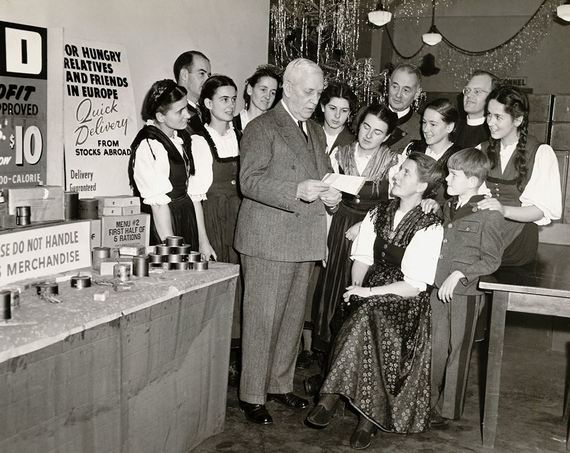 The von Trapp family being handed a telegram by CARE's then executive director Lt. Gen. William N. Haskell. Maria Von Trapp (played by Julie Andrews in the movie and Carrie Underwood in the television adaptation) is seated.The telegram is a message from the Archbishop of Salzburg thanking the Von Trapps for purchasing CARE Packages of food for the hungry in Vienna and Salzburg. According to the Archbishop, the Von Trapps, "brought confident cheer to many who otherwise would have a very dismal Christmas." (courtesy of CARE)
While that war is long past us, the tragedy of hungry refugees is not. In fact, Europe has seen a massive influx of refugees from Syria's civil war.
Today, there are more hungry and displaced refugees globally than anytime since World War II. The charity CARE is at this very moment helping to feed those displaced by another civil war in Yemen. Partnering with the UN World Food Programme, CARE recently brought food to 52,000 people in Abyan, Yemen.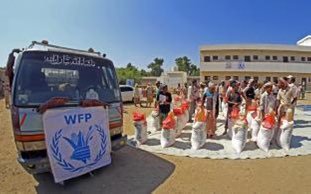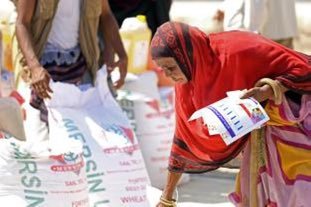 CARE and the World Food Programme (WFP) distributing food to Yemenis displaced by the civil war which erupted in 2015. (photos courtesy of the World Food Programme)
About half of the governorates in Yemen are bordering on famine because of the war. Within the Middle East alone you have three huge wars (Syria, Yemen and Iraq) which have each displaced millions and caused extreme food shortages.
In Africa, displacement is also widespread because of wars in South Sudan, Sudan, and theCentral African Republic.
Many of us have seen strange weather patterns of late with unusually high temperatures. In Ethiopia, extreme weather has led to drought and severe food shortages. Famine threatens that nation in 2016.
But one thing we do know from history, especially Austria, is that we can save people from this disaster of hunger. Austria was helped with CARE packages, such as those purchased by the von Trapp family. School meals were provided to children by the U.S and British armies, Catholic Relief Services, and UNICEF. The Red Cross and Save the Children set up feeding stations.
During the holidays of 1947 and 1948 Americans set aside places at their dinner tables for "silent guests" and bought them CARE packages.
Will our generation respond to today's global crisis, like the greatest generation of the World War II era did?
As we enter 2016, we need to bring peace to war zones. We must also deliver food so victims can ward off the enemy of hunger.
Where there is war, hunger will follow. Food is needed to save lives and build a bridge to peace. That is the challenge we face in today's world threatened by war and famine.
Related
Popular in the Community