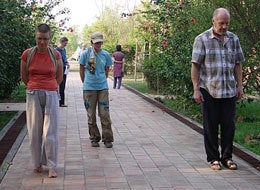 My silent treatments started 15 years ago. Stressed out, worn out and wigged out, I wanted out - of town, that is. But I was in no shape to make travel plans, so a friend of mine took one look at me and, over my feeble protestations, signed me up for a retreat in the Los Angeles mountains shepherded by a Benedictine monk. A silent retreat. No talking allowed.
I had never meditated in my life, nor have I ever been accused of harboring even the vaguest New Age tendencies. The possibility of my remaining silent for more than 10 minutes was a remote one. But my friend insisted and, besides, she was going, so I figured if things got too painful we could sneak in a conversation or two, but I quickly discovered something amazing: Once the burden of speech is lifted, so go all the social obligations and deliberations that clutter up your mind and time. Suddenly, I didn't have to decide or discuss a damn thing. All I had to do was show up and shut up.
Relieved of the usual distractions and endless, crucial daily chitchat, the mind and spirit can pay attention instead to thinking and reflecting in an internal workout called "meditative listening." It's amazing what you can hear when you stop talking.
We were pretty much on our own. Some read, some slept; I prayed and attended lectures on spirituality given by the monk. He invited questions, but I had turned purist and couldn't think of anything worth breaking my silence to say.
By weekend's end, I left reluctantly, arriving home so deeply refreshed I knew I had hit pay dirt. Since then, I've done my silent treatments in the California desert, in an old mansion in Montecito, in a cubicle in Big Sur, where monks serve your meals to you, prison-like, through a vestibule door; in a castle nunnery in France, and an old monastery in Ireland. I look to them as my yearly safety valve.
Apparently, I'm not the only one anxious for silence. There are now books that list retreats all over the country for the increasing numbers of 'silent disciplined.' And the last time I visited the Montecito retreat, nuns informed me that I should call May 1 at 9 a.m. sharp for a summer slot: So great is the stampede for silence that by 11 a.m. the entire summer is booked.
Amazing thing, silence. A sound you rarely hear.
***************************************
There are literally hundreds, if not thousands of wonderful retreat centers worldwide, many in the US. You can start your search via book. I recommend "A Place for God: A Guide to Spiritual Retreats and Retreat Centers," by Timothy Jones. It's a Christian-oriented book, but a good place to start. Online searches will also provide numerous retreat centers and make sure to choose by silence, as not all are framed to support the silent journey.

Here are a few of my favorite retreat centers - they go from the novice to the advanced silent pilgrim.

Immaculate Heart Center For Spiritual Renewal
888 San Ysidro Lane
Santa Barbara, CA 93108
805.969.2474
www.immaculateheartcenter.org

This is the center where I do my annual retreats, on 26 acres of prime Montecito land. The nuns border famed San Ysidro Ranch and are neighbors to Oprah. Has one of the largest native California Oak steeds still standing. Wonderful family-style meals with food from their organic gardens are served and private baths for all.

Abbey of Gethsemani
3642 Monks Road
Trappist, KY 40051
502.549.3317
www.monks.org

The home of Thomas Merton and a popular silent retreat site. You'll likely need to place yourself on a waiting list, but a warm and good experience in the Kentucky hillside. Some dates are reserved for men only.

New Camaldoli Hermitage
New Camaldoli
Big Sur, CA 93920
831.667.2456
www.contemplation.com

Beautiful retreat experience overlooking the Big Sur coastline in Northern California. You're mostly on your own here, but you can make an appointment to speak to a monk if direction is desired. Vegetarian meals are served and taken to your room.

The Jesuit Retreat Center of Los Altos
300 Manresa Way
Los Altos, CA 94022
650.948.4491
www.jrclosaltos.org

The JRC offers the Spiritual Exercises of St. Ignatius Loyola and they have an intensive 36-day retreat available. Not recommended for novices.


St. Benedict's Monastery
1012 Monastery Road
Snowmass, CO 81654
970.927.1162
www.snowmass.org

Home of Father Thomas Keating, author of "Open Mind, Open Heart" which helped give rebirth to Contemplative Prayer in the 1990's. He leads a week-long intensive silent/contemplative retreat annually. In the gorgeous Colorado mountains near Glenwood Springs, north of Aspen. There's generally a long waiting list, but many people cancel during the year, and you can slip in.

Assisi Retreat Center
Via Ponte Grande 71
06081 Assisi, Italy
Italy Tel: +39.349.499.1293
info@assisiretreats.org
www.sacredtravel.org

Stunning retreats in the countryside meadows of the ancient Umbrian city of Assisi, Italy. You can live in silence on your stay, or take part in workshops and Silent Movement with the owner. Husband and wife, Ruth and Bruce Davis started the Simple Peace retreats in 2000 and hold retreats in Germany, France and other European countries. Single or groups welcome.


A veteran Los Angeles journalist, Janet provides Media Consulting at www.janetkinosian.com. This piece originally ran in the Los Angeles Times Magazine.
Related