Looking back as I stared out over tiny sparkly pixels shimmering on the Libyan Sea on that day only one thing was missing. My soulmate Mihaela by my side would have made that early Spring day in the south of Crete perfect. Back at our rented villa farther north near Platanias, my wife was in her own little writer's paradise as "her boys" ventured south hunting undiscovered experiences. Staring into the forever as I was that day, I felt deeply the unique spirit that lives inside Greece's biggest island. There's a legend that whispers to you in the land of the ancient Minoans, if you only listen.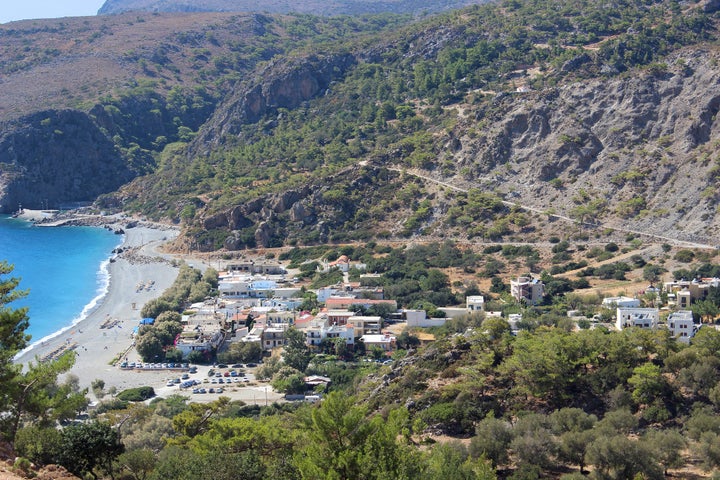 Since 2014 I've written 100 stories about our first visit to Crete. In all those stories, there is a magnificent truth missing however. I struggle to retell each and every experience you see, wanting my readers to share in my wondrous journey. Sometimes I think, "Maybe I can express it if I call to the forefront some sweet rumor?" And I wonder if it is even possible to relate such a sensation, a conversation, the moment, or even a fantasy made of only wind, sand, sea and something eternally nebulous? Then again, we all share such experiences out of sequence and time and place, so perhaps recounting a sojourn to the middle of nowhere will help you "get it"!
On a day in March my best friend Mike, me, and my little boy Paul Jules made an adventure from just outside Chania town in the northwest of Crete, to the less touristy southern coast of Chania province on the Libyan Sea. Driving the "finest car on Crete" (according to our rental agent friend) we made our way aimlessly up and down craggy mountain passes, through places most tourists would leave to the local mountain goats and careless local sheepherders. At length, the winding ribbon of sometimes perilous road took us down a gorge to a little town called Sougia. There we found an unimposing and even ordinary little seaside village most tourists would bypass for fabulous Falasarna or Balos Lagoon. I guess on an ordinary day we might have passed the little town too, but something about the semi-deserted place grasped at all three of us. We'd clung to the cliffs coming down our unconventional mountain trek after all, and it only seemed natural to get out and take a breather once reaching the sea.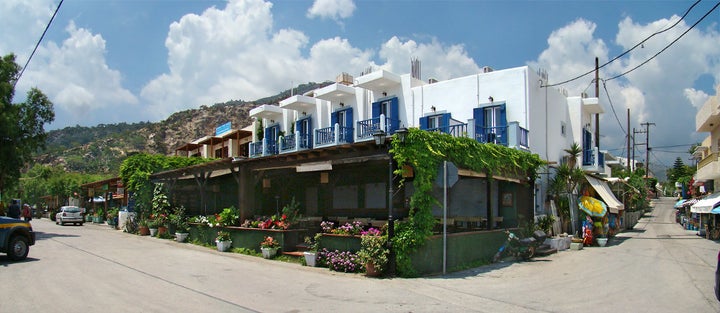 When I say "deserted", it will help the reader to envision off-season paradise. Sougia at that moment was like wild west ghost town teleported to the edge of an arid cliffside facing North Africa. Nobody was home. The Lotus Hotel café-bar across the road from the beach was apparently closed, the tiny shops on the approach to town were too, and the seaside market seemed a relic of some bygone touristic season. We felt all alone as we stretched our legs and shed our shoes to wade along a shore we'd never touched. Experiencing things for the first time, everyone can imagine that special glint in the eye. I saw it there with Mike and Paul, that instant in eternity captured – the moment when any creature stops to fathom and reflect on life. At that moment the hot, dust carrying "sorokos" that blows over from Libya lashed out at us, howling a bit in that reverberating way sea winds do. Then as suddenly as the African wind came, it disappeared leaving our eyes glazed. I remember time slowing perceptively, and the three of us standing dead still in the embrace of …. something.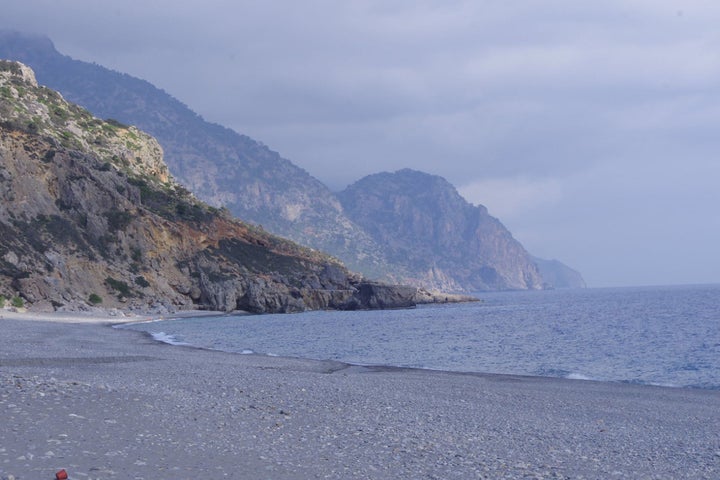 She startled us like a ghost in a midnight graveyard. "Kalimera!" she seemed to scream from behind us! It was then we turned suddenly and in unison to find a pretty young girl with pig tails and a brilliant smile standing right behind us. After our jaws snapped closed in chorus, we surmised the girl must be a waitress from the deserted café across the street. Her somewhat amused smile at our exaggerated surprise, set us further at ease though, and find the village not totally deserted was a strange relief. "Sorry, I did not mean to startle you", she said in perfect English. "I just thought you might like something to drink", she went on. The girl apologized for not being able to offer us food because the kitchen was not open out of season, so we asked for two Mythos beers and a Coke for little Paul. Later on her return we quizzed one another in curious conversation. This polite conversation seemed all the more appropriate give the fact time had literally begun to stand stark still. We learned, as turned out, she had come to Crete on vacation from Denmark, and on venturing to Sougia, she'd never left once since. At the time, Mike and I were naturally amazed at the girl's seemingly adventurous penchant, but later on we would discover this motif again and again while on the island. First time visitors there often end up being lifelong residents, the place is just that universally special. However, this girl's story, the role "chance" and "coincidence" seemed to play in our little escapades on Crete, and the fact Sougia is just not on the beaten path, it all added to the unique moment I am stumbling over telling you about. If you look at a map of Crete you may understand better. For Sougia is truly a place to "end up", with one road in and one round out. This was the sense we got of the place even without realizing the town lay at a dead end road. But I was later to find another possible source of the village's ethereal appeal.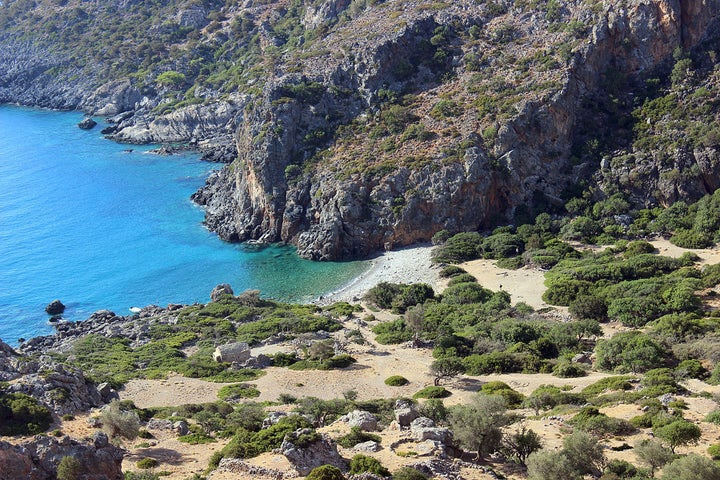 Sougia is the closest road connected village to a place called Lissos. This was the harbor of the ancient city of Elyros, an important maritime center from the Greek Classical Period in between 500 to 350 BC., which has yet to be fully excavated. In antiquity, Lissos was renowned for its famous for being a trading center, an for the Temple of Asklepios (Aesculapium), where people came from all over Crete to be cured by the magical waters. The city thrived until sometime in the 9th century AD, when is was destroyed by a powerful earthquake. What intriques me about this once great city is the fact an as yet undiscovered worship center to the goddess Diktinna was located there in between 330 and 69 BC. The goddess is actually the Minoan deity "Britomartis" worshipped on Crete as an aspect of Potnia, the "Mistress". The oldest of the Cretan goddesses, or the "Mother of the Mountains" is the now famous priestess seen holding the two snakes and bearing her breasts in ceremonial garments. Perhaps some archaic allure or magnetism powers this remote little spot on the world? Ah, but I have captivated you a bit too perhaps?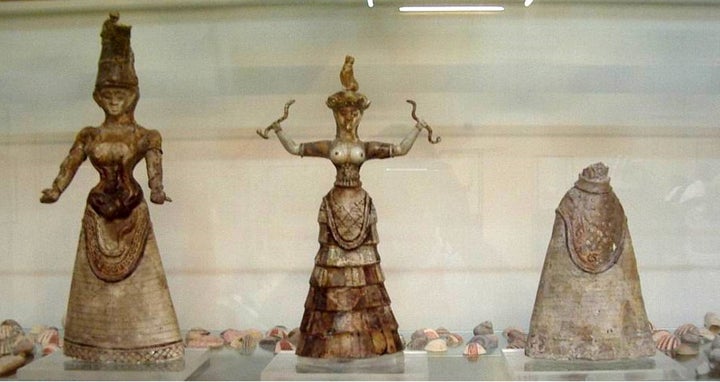 This is how it is on Crete. Life on the arid island slows down to a standstill in a way felt by all those who travel there. My wife was not with us on that beach in the south, but she felt this same spirt as we all did, everywhere we travelled. Mike, Paul and I continued on to the west that day venturing to the lazy town of Paleohora, where soft pink sands replace the colorful pebbles at Sougia. I'll remember the dead-end destination of Sougia most tough, a place that perfectly expresses Crete's melancholy and powerful soul. I only wish Mihaela had been there to interpret for us, the sensual experience of one of Crete's most powerful places. I'll surely take her there this Summer, maybe we'll see you there too. I sure do encourage you to visit my perfect destination out of a thousand.
Popular in the Community