I have always been a connector. I love meeting new people and bringing them together. As an executive recruiter at Russell Reynolds Associates, my job was to connect people with their dream jobs. At home, my husband and I enjoy having dinner parties where we put a lot of thought into the seating chart. Who would get along with whom? Who might make an interesting business connection? Connect on a romantic level? I even have three marriages to my credit, which I've heard means I am going straight to heaven.

As I was researching the impact of technology on relationships over the last few years, I uncovered a study on firemen by Kevin Knifflin out of Cornell University. The studies showed that firemen who eat together are better at their jobs. I always knew investing in and honoring relationships was a good thing. Now, thanks to Professor Knifflin there's science behind it. And it saves lives!
So as a hats off to the firemen and their favorite firehouse meal, I launched the Spaghetti Project--a research project focused on identifying how smart companies bring people together, as well as a series of homespun huddles where I create a space for folks to hang out, connect, and explore different themes.
Why? Because left to our own devices, (excuse the pun) we just aren't connecting.

So, on Friday, October 21st, 50 people joined me at my home for the Spaghetti Project Launch to honor the accomplishments of two inspiring women: Bobbi Rebell, multimedia video anchor, personal finance columnist at Reuters and author of the recently published How to Be a Financial Grownup, and Randi Zuckerberg, President of Zuckerberg Media and enthusiast of all things tech and girls. Randi recently wrote her first children's book Dot, which is now an animated series on the Sprout network.

Because we were in my living room, the vibe was instant cozy. The women chatted with Bobbi and Randi and with each other. When a critical mass had gathered, I facilitated a panel to give Bobbi and Randi a chance to talk about their projects and to share insight and advice on how they brought their passion projects to fruition while juggling day-jobs, children, and everything else in their lives. Not an easy feat.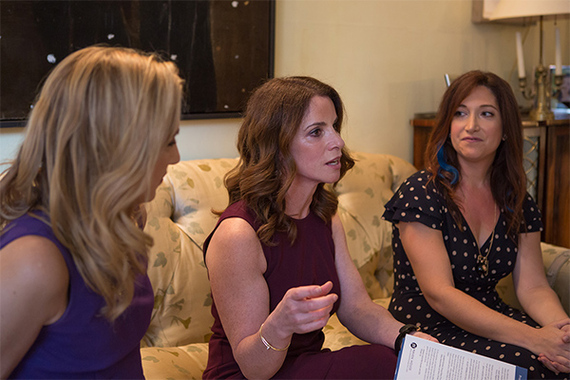 Bobbi and Randi on Sallie and Dot

Both Bobbi and Randi (aside from having such similar names!) are devoted to empowering women and girls in arenas often dominated by men and boys. Bobbi talked about the importance of financial literacy, especially for women. She highlighted Sallie Krawcheck, who heads Ellevate and Ellevest, companies focused on the economic empowerment of women. Krawcheck was 28 years old when she realized that despite an already high-profile career, she was, in her own words, managing her finances like a 1950's-era, stay-at-home housewife. Her husband paid the bills, and made all of the financial decisions. Bobbi is devoted to helping women like Krawcheck take care of their business like grown-ups.
Randi spoke about how after working in Silicon Valley for a decade, she couldn't live with the lack of diversity at the table. Where were the women? Where were people of color? After leaving Facebook, Randi created her own media company with the mission of creating pop culture projects that put smart, intelligent, tech-savvy women and girls at the forefront. Randi described her book's character, Dot, as a "bad ass" who wears a pink polka dot dress and loves building robots, flying drones, and dabbling in 3D printing, augmented reality, and artificial intelligence. According to Randi, tech-love is definitely not just for boys.
Hanging Out for Two Hours in the Middle of the Day? Who Does That?

The panel ended, and lunch was served--pasta and meatballs in celebration of the firemen, of course, and sponsored by The Meatball Shop. Delish! Desert came from the Treat House who I profiled in Huff Po a few months back, and wine was offered by Archer Roose, another of my favorite human companies. Yael Alkalay, Founder of RedFlower, was not able to make it, but she made her presence known by supplying some of her amazing bath products. And finally, my favorite human photography company, Coverd, documented the event so that I could spend my time actually being with all these bad-ass women instead of fiddling with my phone.

The event ended at 1:30 pm, but a lot of people stayed beyond in groups of two and three huddled around different parts of my apartment, exchanging business cards, making coffee dates, even indulging in a late afternoon glass of Sauvignon Blanc. One woman told me that it was her birthday and that while she usually takes the day off from work and goes to the spa, she was intrigued by the event and really wanted to come. She loved it and was glad that she invested the time to connect with others - even on her birthday. Another women in the finance industry came to support her friend Bobbi, and told me that she never takes a break for two hours in the middle of the day. But after coming to the event, she has decided to try to invest time each week to connect with others - even if the ROI is not always immediately obvious.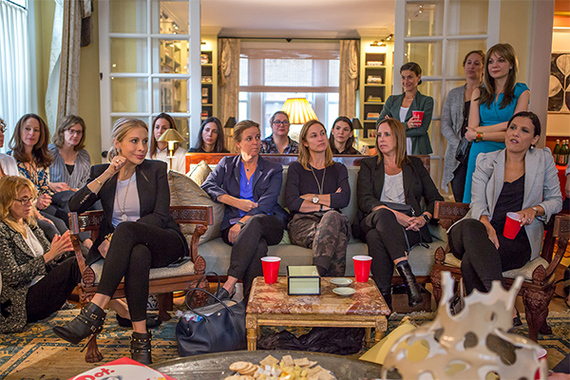 Later that day, as I was reflecting on how fun and inspiring the lunch was I began receiving emails from attendees:
I am writing to thank you for a great Spaghetti Project presentation on Friday. I came expecting to see Bobbi, congratulate her on her book, and learn a bit about Randi and your projects. I left enthused and re-invigorated to continue pursuing my ideas. I had the chance to meet and chat with several interesting women. I wish I could have stayed longer!
Thank you for the fabulous and fun lunch. I had no idea what to expect, and floated home as though I had just discovered something new and big and wonderful. Thank you.

I agree. The Spaghetti Project is something new, big and wonderful. And it's something that we all need more of in this world of 24/7 so-called connectivity: face-to-face human contact.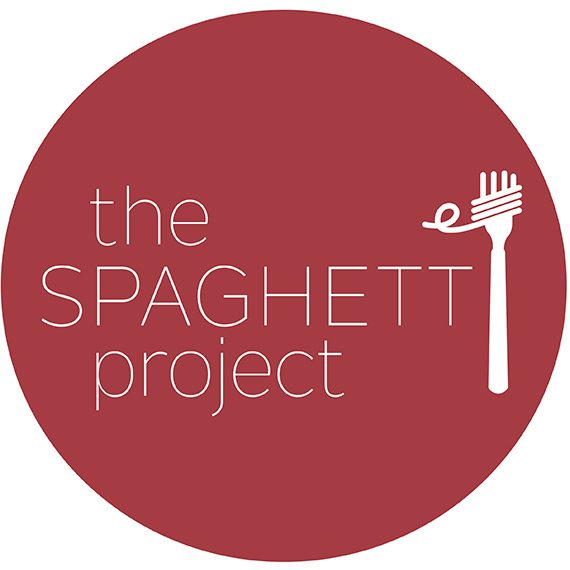 So, if you are interested in pulling up a chair to the next Spaghetti Project event, just shoot me an email. I look forward to seeing you at the table. I promise something good will happen.
Calling all HuffPost superfans!
Sign up for membership to become a founding member and help shape HuffPost's next chapter