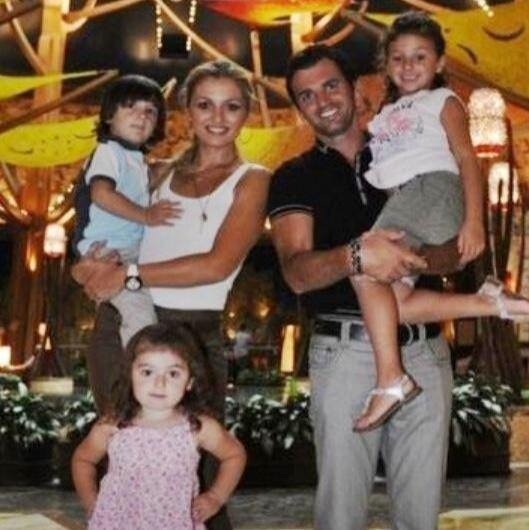 Tony Dovolani of ABC's Dancing With the Stars puts his family above all else: "Love your family more than anything else in the world. If you treat your family the way they should be treated, then your family will always, always be there for you -- through your successes, your failures, through everything." He feels if he can impart this value to his three children, then he will have been a successful dad.
Dovolani, who is a native of Kosovo, and immigrated to the U.S. as a political refugee, has been married to his wife Lina for 14 years. They have an eight-year-old daughter and five-year-old twins Adrian and Ariana. In fact, Dovolani was in rehearsals for the seventh season of Dancing With the Stars with partner Susan Lucci when he got the call that his wife was in labor with the twins.
Tony has been part of Dancing With the Stars since the second season and is returning this fall. The show premieres Monday, September 15 on ABC. Some of his celebrity partners from previous seasons include: Stacy Keibler, Leeza Gibbons, Jayne Seymour, Susan Lucci, Kathy Ireland, Audrina Patridge, Chynna Phillips, Wynonna Judd, Leah Remini, and NeNe Leakes. During season 15, Dovolani and Melissa Rycroft won the Mirror Ball Trophy.
Behind the scenes, when Dovolani's son Adrian was about nine-months-old, Lina was the first one to notice that he wasn't developing the same way as his twin sister. At 18 months, Adrian was diagnosed with autism. Tony remembers their reaction: "We thought, 'Okay we are going to be a great family.' We have always done work with special needs and the fact that this happened in our family, we were like, 'Alright, we are prepared for it.'"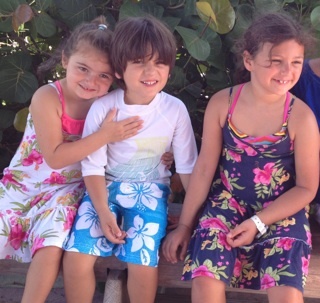 In a poignant and uplifting interview, Dovolani shared his thoughts and feelings on fatherhood and raising a child with special needs.
Coping and Learning From Children With Special Needs
Currently, the CDC estimates that one in 68 children in the U.S. were identified with autism spectrum disorder (ADS) and the number continues to rise. ADS is a developmental disorder that encompasses a wide range of symptoms which can vary in intensity including problems communicating and interacting with others, intellectual disability, deficits in motor coordination, as well as repetitive behaviors.
Dovolani's son, Adrian exhibits these types of behaviors such as self-stimulatory behavior, also known as stemming -- he tends to run in a circle. He also repeats himself often and frequently obsesses over things.
Dovolani and his wife view their son's special needs in a positive and meaningful way, which is undeniably why they have coped so well with the diagnosis. "It's funny because a lot of the times parents feel sorry for themselves and we didn't feel sorry for ourselves once. We were like, 'Alright, this is what it is and let's find the best help for him. Let's see what we can learn from him.' With every case of autism, there are amazing kids; amazing people and you learn so much from each one of them. We thought, 'Let's see what field he can excel in.' It has been very educational so far," says, Dovolani.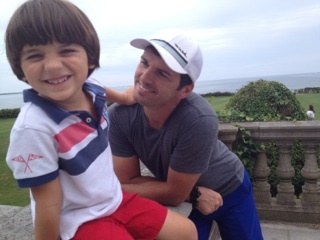 A Cohesive and Active Family
Dovolani also discusses the importance of the state assistance they are receiving. "We live in the great state of Connecticut where they have a program, where they send people to your home that help you with speech therapy, motor skills and everything else. It is part of the reason I live in Connecticut."
Adrian goes to elementary school as well and takes advantage of about everything that school offers. Tony adds, that he does physical therapy, "but no medicine, it's a personal choice. Our focus is just on him developing."
Interestingly, one of the methods the family uses with Adrian is to not stick to routines in order to free him from his obsessive need for routine.
Dovolani can't emphasize enough that they don't treat Adrian differently than their two daughters: We try to put him on the same schedule as them; we all eat together, we all hang out together, we play together. He does not get excluded from anything and I think that is the most important thing for any child with special needs; is not to exclude them.
And of course, all three of the children dance. "We're always active, we're always dancing, we're always doing something that has to do with activity -- whether it be a trampoline or swing sets or running or playing tag or rollerblading, ice skating, skiing, bike riding. You name it, we do it," says Dovolani.
I brought up the fact that sometimes in families who have children with special needs; there is a dynamic where the siblings feel they are not getting as much attention as the child with special needs. Tony is clear that they all get equal attention, "It depends on who needs the attention. As a parent you try to divide and make sure you give every single child attention, but we have been blessed with some really great daughters that are very sensitive to my son and they are helpful in every aspect, especially his twin sister. I call my wife my queen because she takes care of everything in such a wonderful way."
One of the main things that Dovolani wants people to know about having an autistic child or any child with special needs is that it's a blessing. "You can learn so much from an autistic kid. You start realizing that a lot of the petty stuff that you might have paid attention to that consumed your life, it's not important anymore. You see things for what they are; they are not judging you or anything. It's such a beautiful way to look at the world. Anybody that has an autistic child or has one in their family, should take some time to get to know them because their life will be enriched by it," says Dovolani.
Popular in the Community