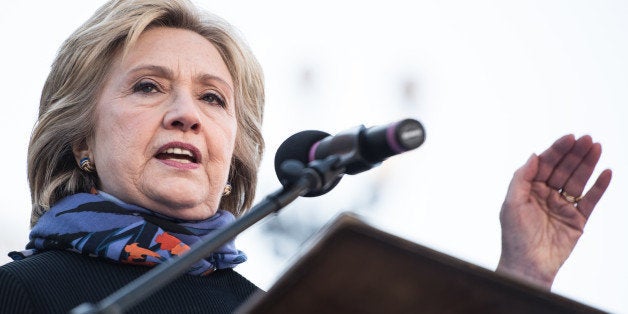 As a journalist, I rarely wrote about politics, but I don't think it takes a pro to see that Hillary Clinton could lose in Iowa and is likely to lose in New Hampshire. As a speechwriter for CEOs and others, I thought I could help her -- I like Bernie, but I don't think he can win, and I do think she can -- so I wrote a speech that, if sincerely delivered, might turn her campaign around. But... no way will Hillary Clinton give it. So... it's journalism.
When I came to Iowa, my goal was to shake the hand of every voter in the state. My thought was that if we met we'd have a sense of one another. Like speed-dating. You don't get to know the other person well, but in a moment, in a few words, while you're setting up the selfie, you do get an idea. Thumbs up. Or thumbs down.
I'm sure there are voters I've missed, and if that's you, please come up after these few words, and let's have our moment. But first...
I've learned something here in Iowa, and it's an important lesson for me and what I'm trying to do in my quest to be the next Democrat to serve as your President.
I want to thank Bernie Sanders for that lesson.
For all of his political life, Bernie has had a single idea: government for the people, government by the people.
That's also the idea that drives me. But unlike Bernie, I've spent most of the last two decades in the trenches in Washington. And I did what many of us do --- I've compromised some of my ideals in order to get things done.
Is it outrageous that big banks have paid about $200 billion in fines but no senior Wall Street executive has been prosecuted? Yes, it is. So why did I accept hundreds of thousands of dollars from Goldman Sachs to speak to its bankers and clients? I didn't need that money. I shouldn't have given those speeches. And I won't be speaking at the biggest banks again --- ever.
Is it wrong that our country has more people in prison than any other country in the world? Absolutely. So why did it take me six months after I called for prison reform to say I would no longer accept contributions from lobbyists who represent private prisons? One of the reasons that we have so many people in prison is because of tough-on-crime policies pushed by my husband when he was president. Bill has said his Crime Bill went too far. I agree. I should never have taken that money.
Talk is cheap, especially in an election year. But action is eloquent. So here's an action: I'm giving the money I got from private prison lobbyists and Goldman Sachs to charities that help struggling Americans.
One more thing. In 2002, I voted to authorize the invasion of Iraq. Congressman Bernie Sanders not only voted against the war, he was a leader of the opposition to it. Bernie was right, right from the start. I was wrong. And it took me until 2014 to admit that -- in my book. Let me get it right here: As President, I will be strong. But I won't endanger lives because the intelligence has been fudged and opposing voices are ignored.
People who don't know me personally often describe me as smart, cold, and calculating. People who have known me for decades and people in Iowa who have spent time with me tend to describe me as smart, warm, and responsive. The gulf between those views is wider than the Grand Canyon. Can both be true? I hate to say it, but... yes. In my public speeches and interviews, I've listened too much to advisers and pollsters and too little to my heart. Well, that stops here. Starting tonight, you're going to get the Hillary Clinton my friends and family know.
I've taken no poll on this, assembled no focus group. And some of you will think this is a stunt, fueled by desperation. It's not. It's simpler than that: I've always believed that the way to be successful tomorrow is to learn from today. Well, I've been schooled and inspired by Bernie's campaign.
With your support, I'm going to take what I've learned all the way to the White House. Because there's still a difference, a key difference between Bernie and me --- I can win.
Calling all HuffPost superfans!
Sign up for membership to become a founding member and help shape HuffPost's next chapter