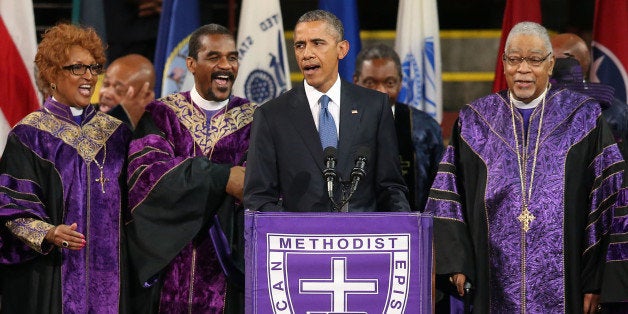 Healing is a painful process. Even the smallest scrapes and burns will itch intensely and scar before disappearing. President Barack Obama's eulogy for Reverend Clementa Pinckney and his spiritual family at Mother Emanuel AME Church offered a unique balm in the annals of American history. His words acknowledged arguably the worst scar on the nation's soul - white supremacy. Unlike any previous president, Obama unified nearly all Americans with a call to equal justice that no preceding generation had any realistic expectation to achieve. It was a moment desperately imagined by the voters who supported him in 2008 and 2012. It was an impossible expectation to meet. Yet, somehow, his simultaneous courage and vulnerability lifted virtually every witness to a new testimony.
For his doubters and detractors, last week was a combination of stinging political blows as the Fair Housing Act, Affordable Care Act and the sanctity of universal marriage equality all received the stamp of Constitutional legitimacy from the Supreme Court. The president extended a generous hand to his opponents in the eulogy. Against their strident cynicism, he reminded the audience about the promise of inalienable human rights. His challenge was to embrace difference and diversity in the spirit of social trust. The ongoing struggle from this perspective is the effort to balance skepticism about government with a larger civic faith in both the national and global bodies.
Most of the healing force in the eulogy focused on the grievous losses that the president's most ardent supporters have suffered - both during his time in office and for no less than 13 generations prior. The immediacy of the terrorist attack in Charleston sparked the painful reflection that burdened every word he delivered. The last three years of increasingly devastating news reports about the killing of African Americans gave way to a special outrage. For a generation whose memories of Selma, Montgomery, Birmingham, Little Rock, Wilmington and Ruleville shaped unprecedented breakthroughs in creating an inclusive society, the fresh wounds in Sanford, Ferguson, Staten Island, McKinney, Baltimore and Charleston carried a deeper trauma as young activists experienced their baleful initiation.
The national horror from a decade in war abroad and an infamous litany of mass murders across the continent compounded the specific history of racial violence, creating a nation starved for absolution, forgiveness, mercy and grace. While prayer and faith can carry the president's supporters along the road to a better society, his eulogy challenged them to take action. In this way, he insisted on individual responsibility to create a common good. This new social contract must rely on formerly enslaved Africans creating sustainable, global cooperatives with the children of immigrants, new and old. A generation with no personal memories of the previous century must reinvigorate values and traditions. The entire Obama coalition must place new limits on the role of government in a free world, so that new freedoms may still be discovered.
This speech is the one President Obama cannot give. It is a blueprint for a divided people - both Americans and humanity everywhere. How do we fulfill the promise of the Declaration of Independence: "We hold these truths to be self-evident that all [people] are created equal?" A first step into this uncertain future is an agenda more ambitious than Affirmative Action. An executive order for equal justice - in commerce, in education, in health care and in mobility - would mark a new day that honors generations of freedom fighters from David Walker and Lucy Terry to Bree Newsome and Pinckney.
Local and regional organizations would compile data on effective interventions to close the racial-wealth gap, to restore the excellence of public education, to guarantee sound medical practices and to secure safe travel across the G20 nations. Civil Rights organizations, school districts and universities have extensive resources to build this infrastructure by the end of 2015. Between President Obama's final State of the Union address in 2016 and the inauguration of the next president in January 2017, a global coalition can realize freedom dreams on an extraordinary scale. Neither the responsibility nor the legacy is the president's, however. They are ours.
Popular in the Community