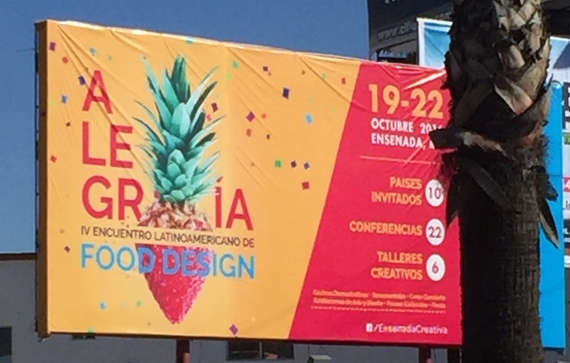 How can snacks and their packaging be designed so that blind persons cannot only know what they are buying and eating, but also bolster their autonomy and their desire to make food a part of a shared experience? What kind of affordable, easy-to-use, healthy and sustainable dairy products can provide an adequate intake of vitamin A to pregnant women? (A hint: think about carrots...) How can communities in the countryside protect the bees in their areas, ensuring the pollination of their crops while manufacturing value-added goods, from propolis to honey wine? These were some of the projects that young designers presented during the fourth meeting of the Latin American Network of Food Design, organized in Ensenada, Baja California, by its founder and president Pedro Reissig, by Victoria Molina from the organization's Mexico branch, and by Damian Valles, the founder and leader of Amar Abierto, the association that spearheaded the inclusion of Ensenada in the UNESCO network of creative cities of gastronomy.
After attending its second meeting, which took place in Bogotá, Colombia two years ago, I was quite amazed by the maturity of the Latin American network of food design. Delegates from several national nodes attended, each contributing specific experiences and reflections that ranged from academic to professional. This year Mexico, Costa Rica, Colombia, Ecuador, Peru, Brazil, Argentina, Uruguay and Chile were represented, some of them for the first time, showing how the network is expanding in breadth but also in depth. In fact, diverging approaches to food design have emerged, from more artistic to more production-oriented, from technological to those inspired by activism and social justice. The discussions were inevitably quite lively, but always respectful of the different points of view.
This variety of perspectives and practices is a testament to the vitality of the relatively new field of food design in Latin America, a huge geographical area. Despite sharing a common language and a past shaped by European colonialism, Latin America is incredibly varied and always in transformation, generating powerful and creative cultural, social, and political movements which are inevitably reflected in their arts and design. In contexts scarred by profound inequalities, the throes of guerrillas and criminal violence, institutional upheaval, and the consequences of neoliberalism in terms of trade and internal policies, food is not only a crucial element in everyday life, but it acquires profound symbolic and emotional values.
With the goal of improving the quality of life for as many citizens as possible, food sovereignty movements and solidarity initiatives in Latin America clash with market economies as they push design towards constant innovation. As a matter of fact, food turns into a relevant arena for considerations of human rights and citizenship, where ideas about who belongs and who is left on the sidelines of civil society are constantly negotiated. This background forces food designers, whatever their sensibilities may be, to take into account strategic and systemic issues that in other continents are less central to the development of the new discipline. The fourth meeting of the Latin American network of food design clearly indicated that even the most artistic and business-inflected design projects can never totally ignore the stark realities of the environments in which they exist. Collaborations with farmers, food producers, culinary arts experts, and chefs are essential in bringing food design endeavors to fruition, often generating connections that encourage and support sustainability, participation, and economic development, especially in rural environments. However, this engagement with serious issues and public life does not preclude the enjoyment of food from the sensual and communal points of view, which in fact can assume a transformative role.
Diversity and resistance to various forms of oppression generate a unique ecology of practical expertise and theoretical knowledge. Food design in Latin America is growing not only as an area of academic research and professional practice, but also as a transnational and multidisciplinary community of groups and individuals who are deeply involved and committed to collaboration. A community also characterized by a bold and infectious vitality - ánimo, as they say in Spanish.